Wembley Stadium: FA backs plans for new fences to help curb disorder
28 December 2022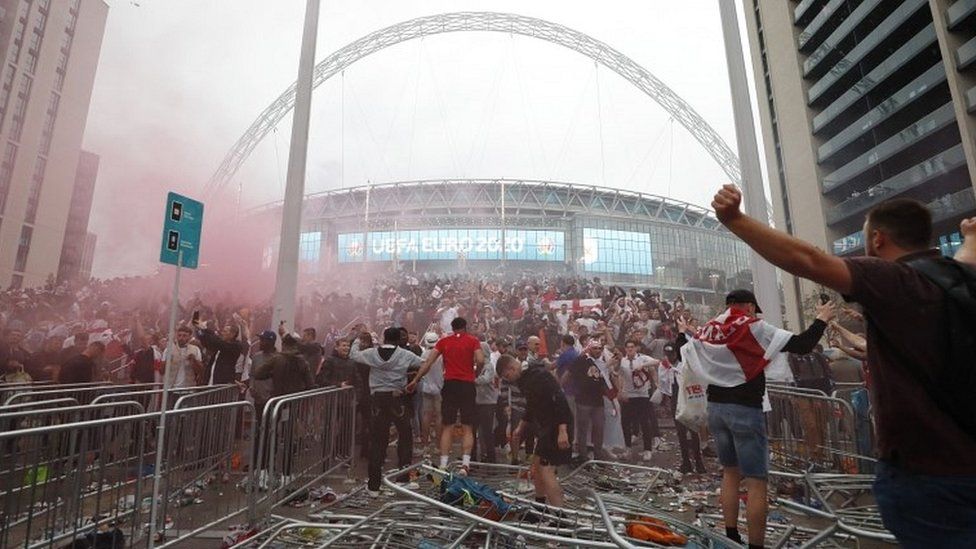 Image source,

Reuters
Image caption,
Twenty-six people were arrested outside the stadium before the Euro 2020 final
Wembley Stadium plans to install a new gated fence to bolster security around the iconic venue following violent disorder at the Euro 2020 final.
A report by Baroness Casey found there was a "collective failure" in planning for the match which saw about 2,000 people get into the stadium illegally.
The Football Association is backing new plans submitted to Brent Council which will "enhance security standards".
Under the plans, new perimeter fences at entrances will aim to "deter unwanted guests climbing and rushing" towards the gates.
The application claims this will "prevent unauthorised or unticketed fans from being able to push through as a way of access into the stadium".
Media caption,
Ros Atkins on... the trouble at Wembley
On the day of the Euro 2020 final, around 10,000 fans gathered at Wembley by midday despite the England and Italy match not kicking off until 20:00 BST.
Baroness Casey's independent report described many fans as "already drunk and carrying bags full of alcohol".
As many more people gathered near the stadium throughout the day, thousands of ticketless fans were able to storm the gates, breaking through 17 disabled entrances and fire doors.
According to the Local Democracy Reporting Service (LDRS) new entrance portals could be built at the Club Wembley, media, staff, and VIP entrances to protect visitors.
A decision on whether or not to approve the plans will be determined by Brent Council.

This news item was provided by the BBC Sport - Football website - the original link is: https://www.bbc.co.uk/news/uk-england-london-64110085?at_medium=RSS&at_campaign=KARANGA