A Maradona, a mission, a beacon of hope – the evolution of Naples' second club
21 August 2023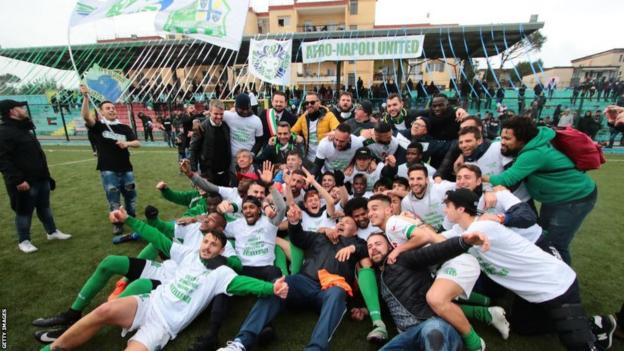 Napoli United were promoted to the Eccellenza, the fifth tier of Italian football, in 2019
Football stirs the soul and grips the heart in Naples as much as anywhere, but, for those forging their own stories and new chapters in the shadow of Napoli's Scudetto-winning heroes, it is also offers much-needed hope.
The city's second club began life as Afro Napoli United in 2009. Since then they have boasted a Maradona in their ranks, successfully lobbied Fifa and had former players rise to reach Serie A and European competition.
The club's journey has included a climb from the bottom of Italy's footballing pyramid to its fifth tier. But sporting success is just a happy by-product of their main objective.
More important is the fight against racism and discrimination as they help migrants, asylum seekers and young people at risk of exclusion find housing, jobs and a secure life.
"Football for us is not just a sport, we grew up playing in the street so it is a way of life," Luigi Di Nunzio, one of the club's directors, tells BBC Sport.
"It is our teacher, it is the way you learn how to get in touch with other people, how to share a place, how to respect each other."
It began with a regular pick-up game.
As happens the world over, Di Nunzio and his mates often found themselves short of players, so began asking strangers hanging around outside their office, near Naples' central station, to join in.
They soon discovered most had travelled from Africa in search of work and opportunities and - with many of the original group working in social integration and human rights - Di Nunzio and his friends wanted to help their new team-mates find their feet in the city.
"It was great, because we suddenly noticed it was a two-way relationship which was very effective for both of us," explains Di Nunzio.
"Anyone who had biases or prejudices about migrants really began to understand them and get in touch with them and suddenly started losing all that bias.
"From the migrants' perspective, it was the most effective way to get integrated in society.
"We think about bureaucracy, we think about housing, having food and a job. But usually they form a close community and the integration stops at a certain level - we never notice an actual integration into social life, bonding with local people.
"Football helped them do this, we made a lot of friends."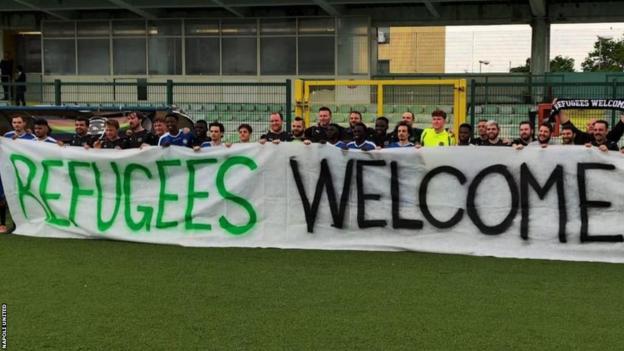 In May, Napoli United welcomed United Glasgow for a friendly, with both clubs sharing similar values
That casual kickabout soon evolved into an 11-a-side club through which the project could be delivered.
However, the club found world governing body Fifa's regulations over the registration of non-European Union players - designed to prevent the illegal trafficking of players - initially stopped them enrolling a squad of mostly migrants into the league system.
They encountered similar obstacles with Italian governing bodies, but after a national campaign, involving clubs and organisations active in the fields of migration and integration, the FIGC (Italian Football Federation) modified its regulations allowing migrants and refugees to represent the club.
They entered the league pyramid in 2013.
Alongside Neapolitans were players from Cape Verde, Senegal and Ghana, giving Afro Napoli United what Di Nunzio calls a "powerful mix of culture, physicality and technique".
"The word spread very quickly," he adds. "We were able to gather a lot of people and a lot of interest from organisations who wanted to take part or help. It has been very natural."
The project grew to also boast a women's team, amateur side, youth sector and futsal club. On Sundays, the community often comes together to watch the first XI in action.
They became simply Napoli United when players from South America and other European countries joined too.
"When you enter the United family you enter a network," says Di Nunzio. "This means we will help you with the bureaucracy, we will help you through our connections to get a job, get known in the job field and stuff like that.
"This is the aim of the project. Football is a tool for us, it is not the target. To spread our values we strongly believe we need to start from the grassroots level, start with the youngsters - we are a community and this is our strength."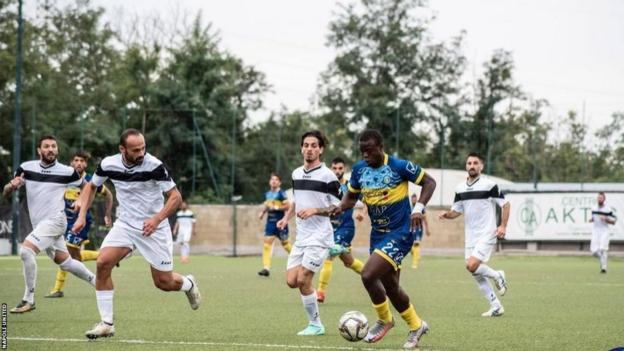 Abu Sheriff travelled by boat from Libya as a teenager
One player to have represented the club is forward Abu Sheriff, who left Sierra Leone as a teenager during the 2013-15 Ebola crisis and was spotted in a refugee camp after arriving in Italy.
"It is a family. It is a club that welcomes everybody. It's something I can call a second home," says Sheriff. "Football is where you find peace, a place you make friends.
"Luigi is like a brother to me, he showed me a lot of love and helped me. If I call him to help me, he comes. It is football, but they care about us."
Sheriff travelled to Italy by boat from Libya. His story is familiar. Like him, lots of United's players have travelled and suffered, escaping persecution or pursuing a better life and wanting the chance to send money back home to the family they left behind.
"A lot of people lost their lives to come here," Sarjo Conteh, who was smuggled through six countries to reach Italy, told BBC OS. "So I can say I am one of the people who are lucky.
"Some people die in the water. Even in the desert, some people die."
Afro Napoli: The migrant football team fighting racism
"The trip is pretty standard," adds Di Nunzio. "Cross the desert, get arrested in Libya and you have to find your way out, whether it is money or something you can offer, working.
"It is not a good or easy journey. Most of the people I get in touch with have suffered, they have signs and scars on their body. It is not easy at all. That is why when you give them a chance, they will catch it."
Napoli United became the first club to win four successive promotions after entering the league setup.
Some of their players have risen even faster and further.
Among those pursuing professional careers are 21-year-old defender Maissa Ndiaye, who arrived in Italy as an immigrant from Senegal, played for Napoli United, was scouted and signed by Roma and has subsequently joined Cremonese, who were relegated from Serie A at the end of last season.
Forward Dodo, who left Cape Verde for Europe, has played Europa Conference League football with Maltese side Hamrun Spartans and is now with Al Ain in the United Arab Emirates.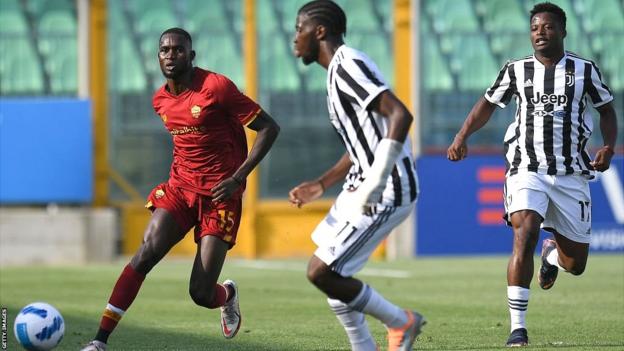 Ndiaye, playing for Roma, spent last season on loan at Serie C Vicenza
Their most famous former player never reached those heights however.
Diego Maradona Jr was born and raised in Naples, after his famous father's affair with a local woman.
During a much-travelled career that featured stints with Napoli youth teams and as a professional beach soccer player, Diego Jr represented Napoli United on the pitch, before returning as manager and guiding them to within a play-off defeat of Serie D, the fourth tier, in the 2021-22 campaign.
His father was always outspoken on issues outside the game, developing a friendship with former Cuban leader Fidel Castro and, alongside Eric Cantona, Rai, Gianluca Vialli and others, founding a short-lived global players' union in 1995.
Diego Jr was similarly drawn to Napoli United's mission.
"He is a good man, he lives our values, that is why it was so natural to get him in the project and he joined us very happily," says Di Nunzio.
However, Diego Jr and Napoli United departed on less positive terms.
The club became stretched financially after the pandemic, with others at their level working with bigger budgets, and Maradona, while emphasising his "love and respect" for the project, left in March in protest at the "injustice" of players and staff salaries going unpaid.
Those economical issues have forced the club to think about its future and in June they announced a merger with ASD Quartograd, an anti-racist, anti-fascist club based on the outskirts of Naples with a similar focus on social inclusion projects. They will play as Quarto Afrograd.
"If we seek partners, we have to find someone who shares our values, our view and our target," explains Di Nunzio.
"We aren't here to make money or get famous, we are here to help people and be happy about the football we support."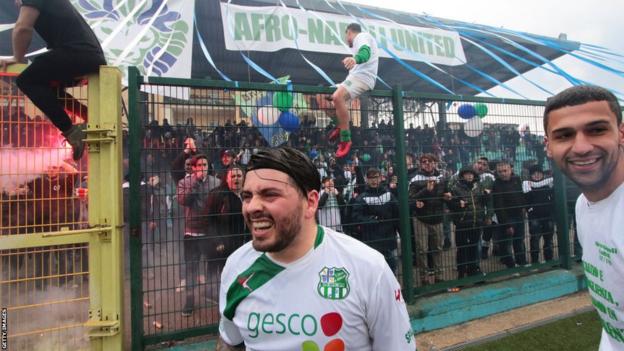 Diego Maradona Jr (centre) has both played for and managed Napoli United
The hope is the merger will provide a solid base for both clubs' work to continue.
"We always thought we could reach a certain level and then have to stop for the good of the project itself - to stay ourselves, to never betray our values," says Di Nunzio.
"Our model is not only about the value you profess, but the value you live with. We try to prove solidarity is not an ideological exercise you practise at your own expense.
"We are trying to prove that solidarity can be an economical, sustainable development model in the football field, in all the sectors.
"That's why our motto is 'United we win'."




This news item was provided by the BBC Sport - Football website - the original link is: https://www.bbc.co.uk/sport/football/66271937?at_medium=RSS&at_campaign=KARANGA