Brentford 2-2 Tottenham: 'Impediment or opportunity' – can Spurs find a new 'superstar'?
13 August 2023
Last updated on .From the section Premier League
As Tottenham's Harry Kane chapter closes, the Ange Postecoglou era begins.
Tottenham have not won a major trophy since lifting the League Cup in 2008 and new manager Postecoglou will not have the luxury of many of his predecessors in being able to have England's record goalscorer leading the attack.
The Australian was in the dugout for the first time as Tottenham manager as his side earned a draw in their season curtain-raiser at Brentford on Sunday.
Brazil forward Richarlison led the line in the role Kane had made his own, and Postecoglou challenged the 26-year-old and the rest of his squad to take on the challenge of filling the void.
"It is either an impediment to you or an opportunity," Postecoglou told BBC Sport.
"Harry Kane was a massive figure for this club for a long time and will continue to be, whether he is in the building or not. We wanted to go out and give our supporters some hope and belief in the team.
"Football clubs move on pretty quickly. I haven't needed to address it, I haven't needed to give them a warm fuzzy cuddle just to see how they are. We had a game to prepare for and they knew that."
Harry Kane unveiled at Bayern Munich
Will Postecoglou's Tottenham lose 'Spursy' tag?
Previous Tottenham teams have often carried the unwanted 'Spursy' tag.
The name is used to describe Tottenham's supposed habit of letting leads slip or choking when challenging for major prizes - something Postecoglou will be tasked with trying to change.
Having taken the lead, Spurs quickly found themselves behind as Brentford used the energy from their vociferous home support to wrestle the momentum.
But Postecoglou's side showed resilience as they weathered the storm and continued to dominate possession before Emerson Royal fired them level.
"Conceding the two goals, it would be easy to drop our heads but I don't think we did that," the Spurs boss told BBC Sport.
"We worked our way back in, scored and controlled the second half for the most part. We could maybe have been more creative in the final third to create some more opportunities.
"We showed a real resilience that we're going to need because it's going to be a challenging year for sure.
"It was a good starting point for us today, but we need to improve and we have to improve and we will."
Is Richarlison the answer to Kane-shaped void?
Kane's importance to Tottenham was undeniable. The England forward scored 30 of their 70 Premier League goals (43%) in 38 starts last season.
Since the 2013-14 campaign, Spurs scored 597 goals with the academy graduate in the team, compared to 80 without.
He could link play, stretch defences and finish from practically anywhere in the final third with either foot or his head.
It will take time for Richarlison to settle into the role but he cut an isolated figure in west London. His only real chance came in the second half as he latched onto James Maddison's through-ball but his effort was comfortably saved by debutant Bees goalkeeper Mark Flekken.
But former Wales and Everton defender Ashley Williams says Kane's departure could bring the best out of the Brazilian.
"It might work for Spurs," former Wales and Everton defender Ashley Williams told BBC Radio 5 Live. "You might get more out of a Richarlison or someone else. Sometimes, when you take a key figure out of team, the emphasis is suddenly more on them and they might benefit from it.
Former Stoke and Chelsea defender Robert Huth added: "Be the next Harry Kane, it's as simple as that. You can always look for excuses, 'Harry's gone what do we do now? Oh it's going to be terrible'.
"But take a chance. When one door slams another one opens. Teams adjust, managers adjust, the players will adjust - they still have the quality to score a lot of goals.
"Some players haven't maybe scored as much as they could have done [in recent times], but it is now time to step up.
"When he was at the club Harry Kane was the most important thing for Spurs, but now he is gone is someone else going to be the superstar?"
Speaking to Sky Sports, former Liverpool and England forward Daniel Sturridge said: "Richarlison is a different player to Kane but he is Brazil's number nine.
"He will get more chance to play where he wants to play. He has proved for Brazil he can play centre-forward and now he gets a chance to prove he can do it for Tottenham."
'We filled out the wrong paperwork'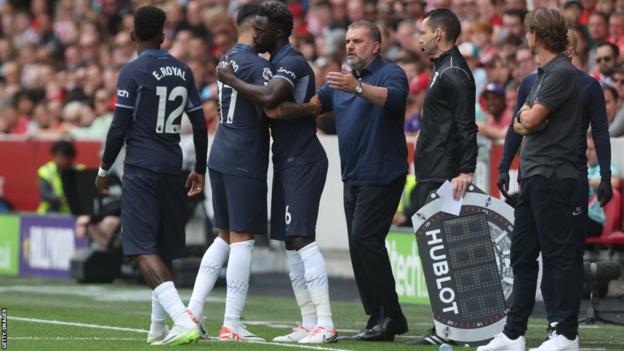 Ange Postecoglou wanted to replace Cristian Romero with Davinson Sanchez as a concussion substitute but did not have the correct paperwork
One concern for Postecoglou will be the availability of Cristian Romero for their next match at home to Manchester United on 19 August.
Romero's final involvement was his headed goal as he was taken off as a precaution by his manager after appearing to complain of a head injury in the celebration.
Postecoglou says he wanted to take Romero off as a concussion substitute for a head injury - which would have protected his regular five substitutes - but his side had a "disappointing" admin error.
"Romero had a head knock and the medical team were watching him the whole time," Postecoglou told BBC Sport.
"Their information was that he wasn't that steady and with his head after scoring, I'm not taking any risks in that scenario in this day and age and what we know of head injuries.
"The last person you want to be directed by is the player himself. He has no idea.
"The disappointing thing is that apparently we filled out the wrong form for a concussion sub. That is madness in this day and age.
"It is pretty clear why we took the guy off. It is black and white for us, we're not going to take any risks with our people when we know what the repercussions are. He seems fine but the player is not the one who knows these things."





This news item was provided by the BBC Sport - Football website - the original link is: https://www.bbc.co.uk/sport/football/66493785?at_medium=RSS&at_campaign=KARANGA