Luis Rubiales: Spanish Football Federation regional presidents call for resignation
28 August 2023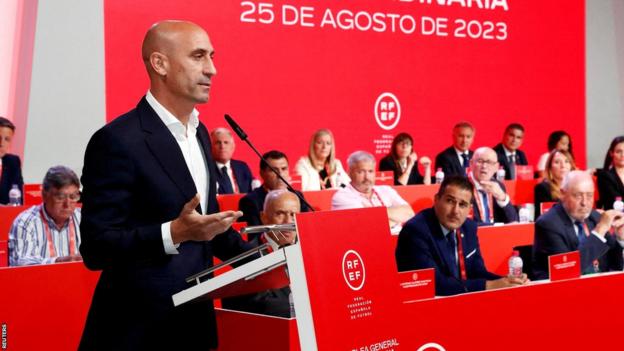 Pressure has been growing on Luis Rubiales from many quarters
Spanish Football Federation regional leaders have called on their president Luis Rubiales to immediately resign after he kissed player Jenni Hermoso.
Rubiales, 46, has been widely criticised after the incident following Spain's Women's World Cup final win.
Hermoso, 33, said the kiss on her lips was not consensual.
Earlier, Spanish prosecutors opened a preliminary investigation into whether the incident amounts to a crime of sexual assault.
In other developments on Monday, Rubiales' mother Angeles Bejar locked herself in a Spanish church and went on a hunger strike in protest of the treatment of her son. In the evening, hundreds of people gathered in the centre of Madrid in protests called by feminist groups in support of Hermoso and against Rubiales.
Rubiales was suspended on Saturday by world football's governing body Fifa, a day after he had insisted he would not resign and claimed the kiss was "mutual and consensual".
"After recent events and the unacceptable behaviour that has seriously damaged the image of Spanish football, the presidents request that Luis Rubiales resign immediately as president of the RFEF," the federation (RFEF) said in a statement on Monday, after an extraordinary meeting of its regional presidents.
The presidents also gave their "unanimous support" to interim RFEF chief Pedro Rocha and called for an overhaul of the federation's management.
"We will urge the relevant authorities to carry out a profound and imminent organisational restructuring in strategic positions of the federation in order to make way for a new stage in the management of Spanish football," the statement added.
When Fifa announced Rubiales had been suspended on Saturday, it ordered him, the RFEF and its officials and employees not to attempt to contact Hermoso, whom the RFEF had threatened with legal action earlier that day.
Meanwhile, Spain's Sports Tribunal (TAD) also met on Monday to discuss the Spanish government's request to suspend Rubiales, with a decision yet to be announced.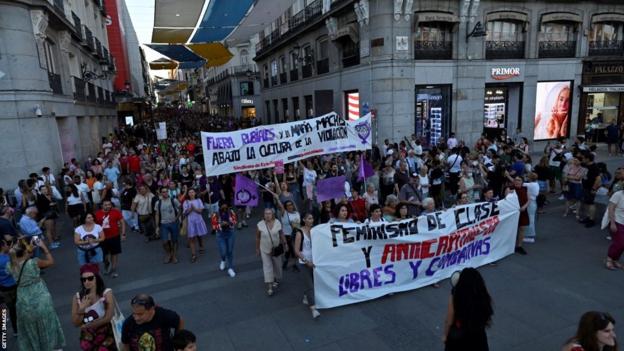 Protestors applaud during a demonstration called by feminist associations in support of Spain's midfielder Jenni Hermoso
Preliminary investigation opened
Spain's top criminal court said it was opening its investigation in light of the "unequivocal nature" of Hermoso's statements, saying it was necessary "to determine their legal significance".
"Given the public statements made by Jennifer Hermoso, the sexual act she was subjected to by Luis Rubiales was not consensual," a statement said.
Legal experts will also contact the player "to offer her the option of legal action, giving her the chance to contact National Court prosecutors within 15 days for information about her rights as a victim of an alleged sexual assault should she wish to file a complaint".
The statement added: "In order to proceed with a case for sexual assault, harassment or sexual abuse, it will be necessary for the injured party or their legal representative to file suit, or the public prosecutors' office."
Rubiales' mother goes on hunger strike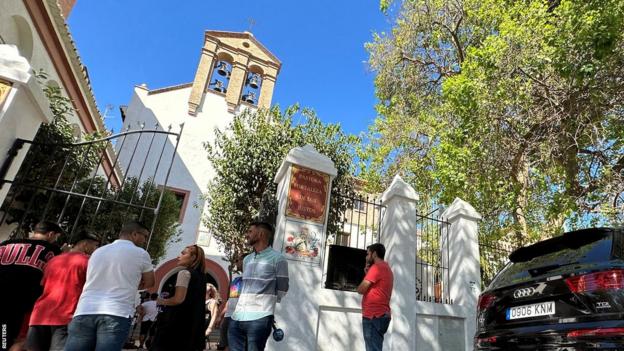 The church in Motril has become the centre of media activity
Rubiales' mother Angeles Bejar has locked herself in the Divina Pastora church in Motril on the southern Spanish coast - the town where her son was raised - and says she has gone on a hunger strike because of the "inhuman hunt" against him.
She told Spanish news agency EFE the strike would continue "indefinite, day and night" - and added the "inhuman and bloody hunt that they are doing with my son is something he does not deserve".
Rubiales' cousin Vanessa Ruiz, who acts as a family spokesperson in Motril, said: "We are suffering a lot for him. He has been judged before his time.
"They [the media] don't stop harassing us. We had to leave our house. We want them to leave us alone and for Jenni to tell the truth. It's not fair."
'Male chauvinism systemic in Spain'
Spain's acting labour minister Yolanda Diaz said on Monday that male chauvinism was "systemic" in the country and had been shown in its worst form in the incident involving Rubiales.
Diaz, who is also deputy prime minister and head of the far-left Sumar coalition, called for social attitudes to change more generally in the country - and for victims of sexual harassment and violence to be better protected. "On Friday we saw the worst of Spanish society, of the structural machismo of this country," she said after meeting with representatives of the women's players' union Futpro, which represents Hermoso.
"They clapped and humiliated and made fun of a person they had the obligation to protect under the sports law and far from doing that, they inflicted more damage, more pain, more vexation."
How did the situation get to this point?
20 August - During the ceremony following the World Cup final, Spanish forward Jenni Hermoso is first embraced and then kissed on the lips by Luis Rubiales.
Hermoso later reacts to the kiss during a live stream and says she "did not enjoy" it.
21 August - Rubiales issues an apology saying he is "sorry for those who were offended" after being fiercely criticised by other footballers, the media and even the Spanish prime minister, some of whom called on him to step down.
24 August - World football's governing body Fifa opens disciplinary proceedings to examine Rubiales' actions.
25 August - A defiant Rubiales insists at a RFEF emergency meeting that he will not resign, and calls the kiss "consensual".
25 August - The Spanish government says it is beginning legal proceedings seeking to suspend Rubiales, with the Spanish secretary of sport saying he "wants this to be Spanish football's MeToo moment".
25 August - Later that day, Hermoso releases a statement on Instagram rebuffing Rubiales' claims, saying that "at no time... was his kiss ever consensual".
25 August - 81 Spanish players - including all 23 players who went to the Women's World Cup - announce they will not play for Spain's women's team until Rubiales is removed from his position.
26 August - The Spanish football federation says it will take legal action over "each falsehood that is spread".
26 August - Fifa announces it is provisionally suspending Rubiales pending the outcome of its disciplinary proceedings.
26 August - World Cup-winning head coach Jorge Vilda criticises Rubiales, while his entire coaching staff resigns in protest against the federation president.
27 August - Federation's delegate for sexual violence protocol confirms an internal investigation into events is under way.
28 August - Rubiales' mother goes on hunger strike in a church in his hometown of Motril.
28 August - Spanish prosecutors open preliminary investigation to see if the incident amounts to a crime of sexual assault.

Sign up for our morning newsletter and get BBC News in your inbox.


This news item was provided by the BBC Sport - Football website - the original link is: https://www.bbc.co.uk/sport/football/66640485?at_medium=RSS&at_campaign=KARANGA