Neymar to Al-Hilal: Why is Saudi Pro League signing European clubs' stars?
14 August 2023
By Simon Stone & Shamoon HafezBBC Sport
Last updated on .From the section Football
Richard Masters: Premier League chief not worried about Saudi Pro League
Earlier this summer Gary Neville called on the Premier League to pause players' transfers to Saudi Arabia for "integrity" reasons, but it continues to be the biggest football story of the summer.
Henderson's former team-mate Fabinho has linked up with ex-Chelsea midfielder N'Golo Kante at Al-Ittihad, with Manchester City selling Riyad Mahrez to Al-Ahli for £30m and Al-Nassr bringing in full-back Alex Telles from Manchester United.
Now the interest around the Saudi Pro League has reached yet another peak.
Al-Hilal look set to complete one of the biggest scoops of the transfer window after agreeing a deal to sign Brazil superstar Neymar from PSG for £77.6m, plus add-ons.
The volume of transfers, the money paid and the profile of the players moving all underline the league's ambition to be one of the top competitions in the world in the next few years.
Former Manchester United and England defender Neville, though, is among those who has asked what all this potential activity means.
In June, Saudi Arabia's Public Investment Fund (PIF), confirmed it was taking over four leading clubs in the country, including Al-Nassr, who signed Cristiano Ronaldo in December.
There is uncertainty over whether PIF holds a stake in Chelsea's ultimate owners, the private equity firm Clearlake Capital, although club sources have rejected suggestions of any direct involvement.
And there were further concerns after Newcastle United sold Allan Saint-Maximin to Al-Ahli, who are run by the country's PIF - which also owns the Tyneside club.
But while Neville has called for an "instant embargo" on Saudi transfer activity, Premier League chief Richard Masters told BBC Sport in July that its rules to prevent inflated transfer fees were "robust".
Masters said he was not "too concerned" and emphasised Saudi clubs having "as much right to purchase players as any other league does".
He added: "They are investing in players and managers to try to raise the profile of the league and clubs.
"It has taken us 30 years to get to the position that we have in terms of profile, competitiveness and the revenue streams that we have."
A question of money - and Financial Fair Play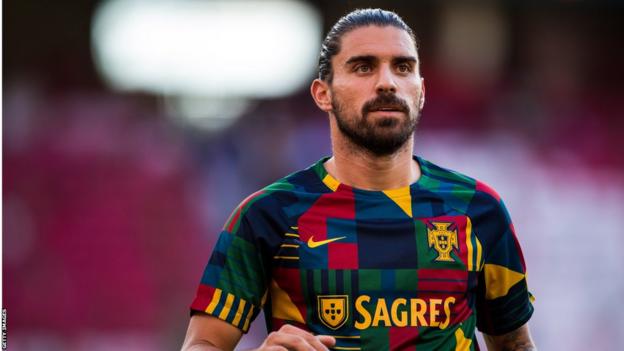 Ruben Neves had a year left on his Wolves contract and also had interest from Barcelona
The Saudi Arabian spending spree has come at the same time as some English clubs face a challenge balancing their books.
Both Chelsea and Wolves have faced difficult decisions around recruitment this summer as they try to keep within the Premier League's three-year limit on losses of £105m under Financial Fair Play (FFP) rules.
Chelsea spent more than £400m in transfers last season, while Wolves posted a £46.1m loss last year and former boss Julen Lopetegui said the club needed to "solve" FFP issues to compete in the top flight.
Wolves had thought Neves would join Barcelona this summer. However, the £47m fee agreed with Al-Hilal for the Portugal midfielder was far higher than anticipated.
Sources at Chelsea are adamant Saudi Arabia's PIF has "zero interest, financial or otherwise" in the club.
It has never been denied PIF have an involvement in Clearlake but it has been stressed the US private equity vehicle has 400 different investors across six continents and it is thought no shareholder is allowed to own more than 5% of the organisation.
Multi-club ownership is not prohibited by European governing body Uefa, which has so far refused to comment.
The Premier League does have a fair value assessment system to try to ensure deals, both commercial and transfers, are conducted at market value. Fifa's transfer matching system is designed to do similar.
The aim, ultimately, is to make sure the rules are followed. No easy task, given that markets fluctuate, and a player's value can change.
Will the Saudi Pro League make a big impact on that market?
What's the pedigree of the league?
Saudi Arabia has always had big interest in football - and a competitive league to go with it.
The national team have qualified for six of the past eight World Cups. They have won three Asian Cups - only Japan have more.
At the Qatar World Cup last year, all 26 members of the squad played for domestic clubs. No club has won the AFC Champions League more times than Al-Hilal's four victories.
In recent years, Saudi Arabia has become a more visual presence on the sporting scene, hosting Formula 1 races and high-profile world title boxing bouts as well as setting up LIV Golf.
The controversial purchase of Newcastle was further evidence of a growing interest in using sport to project Saudi Arabia to a wider audience. A joint 2030 World Cup bid with Egypt and Greece is planned too.
"Saudi Arabia sees itself as being at the centre of a new world order and investing in sport helps contribute to that national positioning," Simon Chadwick, professor of sport and geopolitical economy at Skema Business School in Paris, was quoted as saying recently.
Improving the Saudi Arabian league is part of that plan - with the help of high-profile names.
Former Leeds and Wolves forward Helder Costa, former Argentina international Ever Banega and former Watford and Manchester United striker Odion Ighalo all featured last season, when Al-Ittihad, coached by former Wolves and Tottenham boss Nuno Espirito Santo, finished as champions.
Is this another Chinese Super League?
When a league becomes a big player in the world transfer market, questions about its financial sustainability will follow.
The Chinese Super League, for a brief period, attracted much interest and paid huge sums to attract high-profile players, such as former Manchester United and City forward Carlos Tevez. Such levels of spending didn't last.
But the Saudi Pro League believes it is built on more solid foundations.
"The league is well established, going since the 1970s, and clubs have a real fanbase who care about football which makes it authentic and not artificial," a senior league source told BBC Sport.
"When it happened in China, it wasn't explicitly government money. It was about encouraging entrepreneurs to do things. Then that stopped.
"Here the funding is more secure and part of a long-term plan. The clubs are well established in the local communities and football across the country is by far the number one sport.
"Although the league has a fair amount of foreign players, it's the big stars who get you worldwide TV coverage. As soon as Ronaldo came in, the league started to be shown in every major market. It gets that immediate attention.
"The announcement that the top four clubs will be 75% owned by PIF, rather than by the state, turns them into a proper business.
"It is not just about bringing in top players but also about changing the economy of the game here to make it more private sector and develop clubs and companies and brands.
"The Ronaldo transfer proved it can happen. It is one thing to say 'we are going to sign the best players in the world' but for someone of Ronaldo's status to actually come, live in Riyadh and play every game, was a surprise to people and showed we could get other people to come."
Is Europe worried about a talent drain?
For European football, the rise of the Saudi league presents a challenge.
Losing key players is not a new experience - China and Major League Soccer have tempted stars away in the past. However, the departure of players in their prime, such as Neves, is a concern.
Even among the top 20 in Deloitte's rich-list, funds are not limitless and financial regulations have to be adhered to. If they try to compete over an extended period, it would materially impact clubs' biggest outlay - salaries.
And what about the Champions League? If its pre-eminence as a club competition started to be undermined by an absence of world football's biggest names, could clubs from outside Europe be offered entries?
Uefa president Aleksander Ceferin doesn't see it that way.
"It's mainly a mistake for Saudi Arabian football," he told Dutch broadcaster NOS. "They should invest in academies, bring their own coaches and develop their own players.
"The system of buying players that are almost at the end of their career is not the system that develops football. It was a similar mistake in China when they all brought players who are at the end of their career.
"It's not only about money. Players want to win top competitions. And the top competition is in Europe."




This news item was provided by the BBC Sport - Football website - the original link is: https://www.bbc.co.uk/sport/football/65956434?at_medium=RSS&at_campaign=KARANGA