Women's World Cup: England ride luck and stumble to victory after Lauren James sees red
7 August 2023
The outcome was testament to the resilience England have built under Sarina Wiegman's management, but the European champions were also reliant on a whole load of luck in their last-16 victory over Nigeria.
Twenty-four hours earlier, England supporters watched on eagerly as back-to-back champions and long-standing rivals the USA were stunned in a shootout defeat by Sweden, blowing the Women's World Cup wide open.
That result put the Lionesses right up there as one of the heavy favourites to go all the way. Therefore, few would have imagined the excruciating experience that was to come in Brisbane against a Nigeria side who had battled the odds to reach the knockout round.
England came agonisingly close to following the USA on a plane home but clung on to their World Cup dreams by the skin of their teeth, doing what some of their rivals could not and managing to find a way - even if it did involve penalties.
"A win is a win" was the motto from England's players as they moved through the group stages with 1-0 victories over Haiti and Denmark to open proceedings.
They had underwhelmed and stumbled along, not really imposing themselves on their opponents or the competition itself.
An injury to instrumental midfielder Keira Walsh cast further doubts until England finally turned up, thrashing China 6-1 in their final match of Group D, cementing their status as Europe's best.
All of a sudden, concerns over England's slow start evaporated and instead praise was showered on Wiegman's tactical masterclass, where a rarely seen back three allowed England to express themselves in a free-flowing and highly entertaining display.
Lauren James was the star of the show, netting twice and assisting three goals as England's stature grew overnight in the competition.
But six days later when they made their second appearance in Brisbane, it was not the China performance that was reproduced but the one we have become accustomed to seeing in recent months.
Wiegman had warned her players of complacency and defender Alex Greenwood had made it clear in a media conference they would ignore any external noise.
Nigeria, aiming to become the first African team to win a knockout match at the Women's World Cup, were certainly no easy opponents.
The nine-time African champions had beaten co-hosts Australia and finished above Olympic gold medallists Canada in the group stages. They were here for a giant-killing and almost succeeded.
England were lacklustre and predictable, struggling to create chances and growing frustrated as each minute passed, feeling as if they were repeating the same things to no avail.
They had been there before against Haiti and Denmark, but this time it was even more noticeable given how much of a drop-off in performance it was from the one that sliced open China.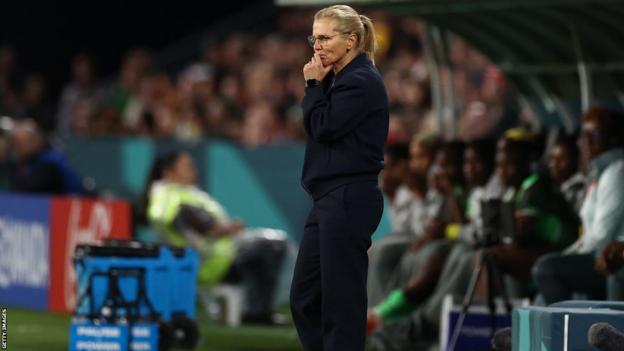 Sarina Wiegman did not make a substitution until after Lauren James' red card in the 87th minute
By half-time England had faced more shots (nine) than they had ever done in an opening 45 minutes under Wiegman.
After 120 minutes, Nigeria had attempted 405 passes - their highest in this year's tournament - while England only had 12 shots, their lowest since arriving in Australia.
But nothing was more unexpected during England's struggling performance than the lack of perceived ideas from Wiegman, a coach who usually has an answer to everything but did not seem to come up with anything to counteract Nigeria's growing control on the game.
Frustration was building, the drums brought by Nigeria's faithful in the stands were getting louder, and audible groans from England fans behind the goal were becoming more frequent.
Georgia Stanway's corner floated straight out for a goal kick after an hour, summing up England's performance, and then a moment of wild emotion saw James sent off. After the latest instance of her being dispossessed, the Chelsea forward snapped - standing on Michelle Alozie's back.
It was a deserved red card and it made England's job a whole lot tougher as they faced extra time a player down.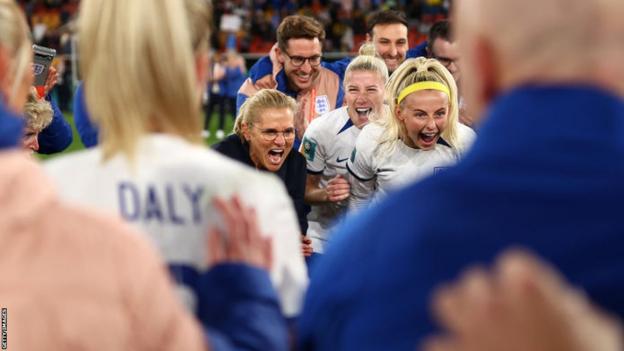 Sarina Wiegman let out a roar of celebration in the team huddle at full-time
However, it was from this moment that the real England - Wiegman's England - turned up.
Faced with adversity, the odds stacked up against them given Nigeria's stranglehold on the game and a player advantage, England seemed to spark into gear and Wiegman finally found an answer.
The Dutchwoman took off striker Alessia Russo and introduced midfielder Katie Zelem as part of a reshuffle as England returned to a back four with one up front.
It worked. Nigeria's momentum faded and England ground out half an hour of unattractive hardball to take it to a deciding shootout.
Stanway stepped up first and struck wide. Surely England had not just pushed through 30 minutes of extra time with 10 players to lose now?
Then Nigeria missed... twice. Goalkeeper Mary Earps did not need to make a save as the rest of England's chosen penalty takers delivered.
"I don't know what my heart rate is, I just know I'm 10 years older," Wiegman said afterwards.
"I have never experienced so many problems, but of course that's my job to think of things that can happen. You try to turn every stone and today we got totally tested on those stones!"
This game was perhaps the scare England needed. They got one in Euro 2022 when Spain took them to extra time having outplayed them for large periods in the quarter-final.
England do not always make it easy and they may not be so lucky next time.
But they are three games from glory now, and as the theory goes, the best teams find a way to win, even when they don't play well.

This news item was provided by the BBC Sport - Football website - the original link is: https://www.bbc.co.uk/sport/football/66429239?at_medium=RSS&at_campaign=KARANGA