England v Scotland: Football's oldest international fixture in numbers
12 September 2023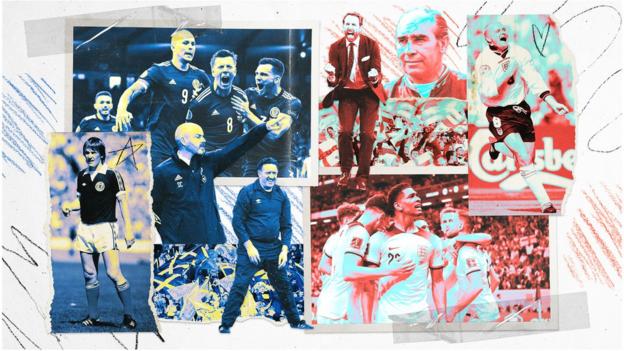 England are unbeaten in the six games played against Scotland this century
No two nations have a longer rivalry in football than England and Scotland.
The two first met on the field on 30th of November 1872 for an underwhelming 0-0 draw at Hamilton Crescent in the Partick area of Glasgow.
Since then, they have faced off in 115 official fixtures, with the 116th to come at Hampden Park, back in Glasgow, in Tuesday's 150th anniversary match.
Such a wealth of history provides a treasure trove of stats, which BBC Sport has dug through in order to showcase the best to tell the true story of football's oldest international fixture.
England edge the head to head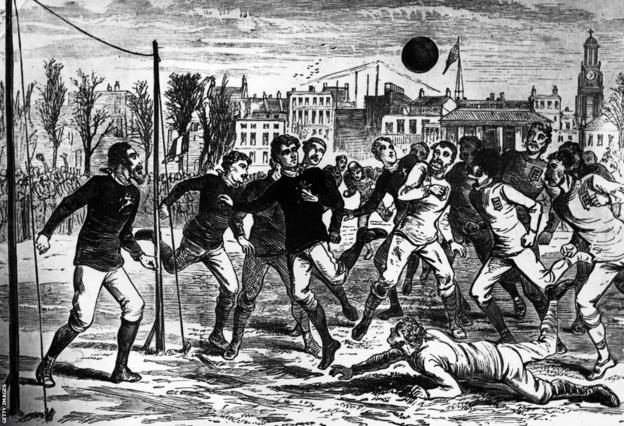 England v Scotland in the 19th century - a different look but no less fierce
There were five "friendly" encounters between the nations prior to that maiden official fixture in 1872, organised by the Football Association and classed as internationals by the media but not later recognised by football world governing body Fifa.
The first was on 5 March 1870 and the last on 24 February 1872. All were played at the Kennington Oval in London, with England winning three and the other two ending in 1-1 draws.
In the early years of the fixture, though, Scotland were the dominant force winning 10 of the first 16 matches. They also had the better of it in the 1920s and 30s.
It wasn't until the 1950s that England - roughly 10 times more populated - began to flex their muscles and they have been the nation in the ascendancy since. In 50 games since the start of the 50s, England have won 29 to Scotland's 11.
It was near the start of this dominance in the 50s that England established the longest unbeaten run in the fixture's history, going 10 games without defeat between April 1952 and April 1961.
However, it took until a 2-0 win at Wembley in 1983 for England to finally pull ahead on wins in the head-to-head stats.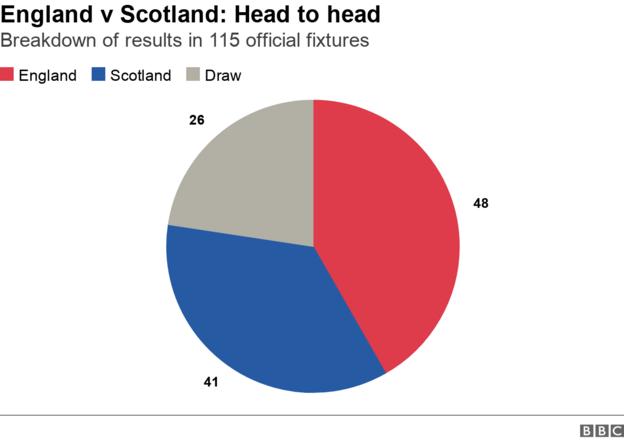 The Three Lions have 28 wins to Scotland's 18 from 58 fixtures in England. They also edge the head to head in games played north of the border, with 23 wins to 20 from 57 matches.
Befitting of the fierce nature of England v Scotland games, only 15 games have been classed as friendlies (with just three of those played since 1883), with the vast majority of matches (85 of them) coming in the now discontinued British Home Championships, which ran for 100 years from 1883-84.
There were also four meetings in the short-lived Rous Cup in the 1980s.
The two nations have met nine times in major tournaments, with six of those coming in qualifying. This includes three occasions in which Home Championship matches between them doubled up as qualifiers - in 1950 and 1954 for those years' World Cups and in 1967-68 for the European Championships.
They had to wait until 1996 for the first meeting at a major finals, when England claimed a 2-0 win at Wembley in the group stage of the Euros. Paul Gascoigne (then of Glasgow Rangers) scored his famous solo goal moments after Gary McAllister (then a Leeds United player, but soon to join Coventry City) had missed the chance to equalise from the penalty spot.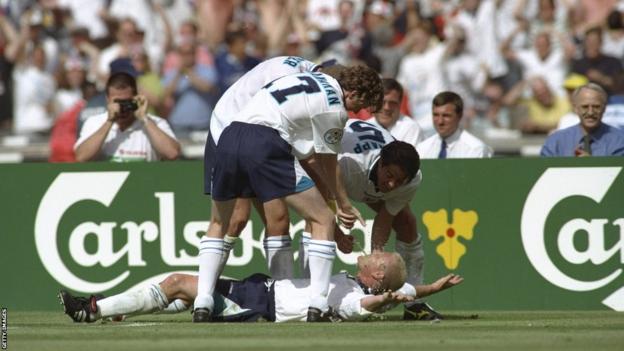 Paul Gascoigne scored one of the most famous goals in the fixture in an England win at Euro 96
Scotland have won just one fixture in either the finals or qualifying for a major tournament - an ultimately futile 1-0 win at Wembley in the play-offs for Euro 2000 after a Paul Scholes-inspired England had won the first leg 2-0 at Hampden Park.
That win in November 1999 is Scotland's only one in the last 37 years and 13 fixtures.
However, the last two games have both ended in draws that Scotland could have nicked. It took a 93rd-minute Harry Kane goal for England to snatch a share of the spoils in June 2017's World Cup qualifier after Leigh Griffiths scored two stunning free-kicks in three late minutes at Hampden Park.
At Wembley in Group D of the last European Championships, the Scots showed resilience and character to claim a goalless draw.
Goals, goals, goals
While the rivalry is currently bookended by goalless draws thanks to the stalemate in 1872 and the most recent just over two years ago, they are a rarity in the fixture.
There have been only four in total, with 98 years between the first and second, which came at Hampden Park on 25 April 1970.
In total, 377 goals have been scored by the nations over the 115 official fixtures at an impressive 3.28 goals per game. England lead, with 203 goals to 174 scored by Scotland.
The most prolific period came in a six-game run over five years between 1878 and 1883 when 45 goals were scored. This included back-to-back 5-4s - one for each nation - and a 7-2 victory for Scotland at Hampden Park in March 1878, which remains their record win over England.
The biggest victory in the fixture, though, belongs to the Three Lions, who smashed the Scots 9-3 at Wembley on 15 April 1961. Jimmy Greaves bagged a hat-trick that day, with Bobby Smith and Johnny Haynes both netting twice.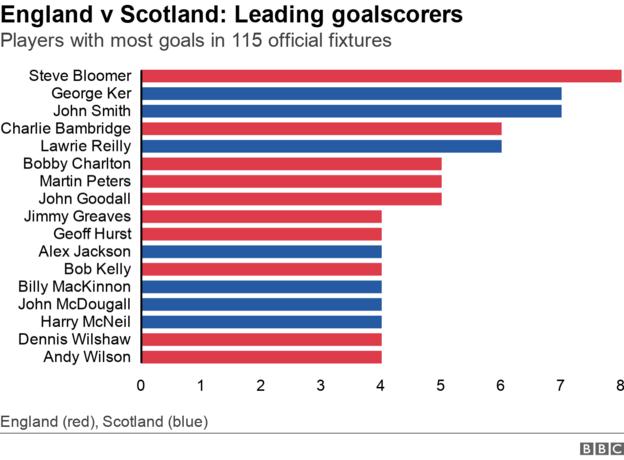 Derby and Middlesbrough forward Steve Bloomer leads the way for goals in the fixture with eight, scored in 10 matches played between 6 April 1895 and 6 April 1907.
George Ker is Scotland's leading scorer, with his seven goals coming in just three games, featuring a hat-trick on his debut in the 5-4 win at Hampden Park on 13 March 1880 and braces in each of the games in 1881 and 1882.
Ker is one of seven players to net three or more in the fixture.
Player

Date

Country

Venue

Result

John McDougall

2 March 1878

Scotland

Hampden Park

7-2

John Smith

12 March 1881

Scotland

Kennington Oval

1-6

Bob McColl

7 April 1900

Scotland

Celtic Park

4-1

Alex Jackson

31 March 1928

Scotland

Wembley

1-5

Dennis Wilshaw*

2 April 1955

England

Wembley

7-2

Jimmy Greaves

15 April 1961

England

Wembley

9-3
*Wilshaw would actually score four, making him the only man to do so in the fixture.
Of the five highest-scoring players, only one is from after the turn of the 20th century - Hibernian's Lawrie Reilly, who scored six times against England during a nine-year international career from 1948 to 1957 that included seven caps against the 'Auld Enemy'.
Just below him is a group of players fans will know very well. Bobby Charlton, Martin Peters, Greaves and Geoff Hurst were all members of the England squad that won the World Cup in 1966.
There are further names from 1966 in the list of most appearances in the fixture, led by legendary England and Wolves centre-half Billy Wright, who earned 13 of his 105 total caps against Scotland.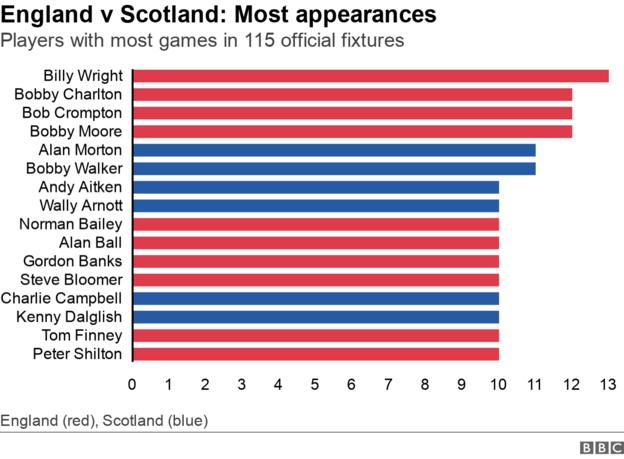 Clarke and Southgate yet to taste defeat
Until the break enforced by the Second World War, the England team had no manager with the team picked by a committee from the Football Association and coached by a trainer, usually picked from a London club. Scotland had a similar setup until 1954.
Since then, England have had 10 managers and Scotland 14 take charge of at least one fixture against each other.
The most successful Scottish manager in fixtures is Ian McColl, whose first game against England was the chastening 9-3 loss in 1961, but then oversaw a hat-trick of wins and a draw in his remaining four games against them.
Jock Stein has managed the most games against England for his country, but even a man of his prodigious ability with talent of the calibre of Kenny Dalglish, Graeme Souness and more to call on, could only win two of those, losing four.
He was able to sign off with a victory, though - Richard Gough's goal gave Scotland a 1-0 win in the Rous Cup in 1985.
The only Scotland boss without a negative record against England is the current one, with Steve Clarke's one game being the 0-0 draw at Euro 2020.
Manager

Games

Wins

Losses

Draws

Win %

Walter Winterbottom (Eng)

16

9

4

3

56.25

Alf Ramsey (Eng)

12

6

3

3

50

Bobby Robson (Eng)

7

4

2

1

57.14

Jock Stein (Sco)

7

2

1

4

28.57

Bobby Brown (Sco)

5

1

2

2

20

Ron Greenwood (Eng)

5

4

0

1

80

Ian McColl (Sco)

5

3

1

1

60

Willie Ormond (Sco)

5

2

0

3

40
England's current boss Gareth Southgate is also unbeaten in the fixture, with one win from his three games - that being a 3-0 victory over Gordon Strachan's Scots in a World Cup qualifier in November 2016.
Of the four England bosses to manage five games or more against Scotland, all have a win % of 50 or over, with Ron Greenwood's 80% (four wins from five games) the best.
The first Three Lions manager, Walter Winterbottom, who led England for a record 139 matches, took charge of the most of any against Scotland, winning nine of his 16 games.
The biggest show in town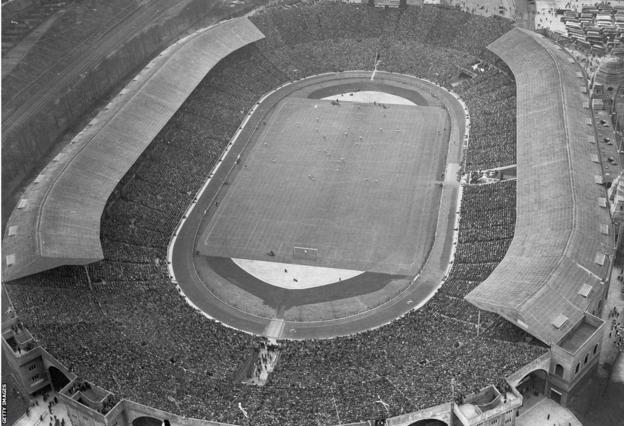 Wembley has hosted 33 games between England and Scotland, the first coming in 1924
Various venues have hosted England v Scotland games over the years, including Bramall Lane, Ibrox and Villa and Celtic Park.
Hampden has hosted the most, though, on 40 occasions, with each side winning 15 of those.
In the April 1937 fixture between the nations, the number of people packed inside the ground in Glasgow to watch was officially recorded as a world record 149,415. The unofficial attendance is thought to be higher.
This record stood until the 1950 World Cup Final in Rio's Maracana surpassed it. However, it remains a European record to this day.
The last encounter, at Euro 2020, had just 22,500 fans in attendance because of restrictions put in place as a result of the covid pandemic.
This will be surpassed on Tuesday when an expected crowd of over 50,000 pack into Hampden Park.
It is near impossible to calculate entirely accurately but from the information we do have, it can be estimated that attendances have totalled over 6.8m in the 115 official fixtures to date.





This news item was provided by the BBC Sport - Football website - the original link is: https://www.bbc.co.uk/sport/football/66729198?at_medium=RSS&at_campaign=KARANGA