FA Cup: Former Cambridge United forward Liam Hughes on addiction and self-harm
28 September 2023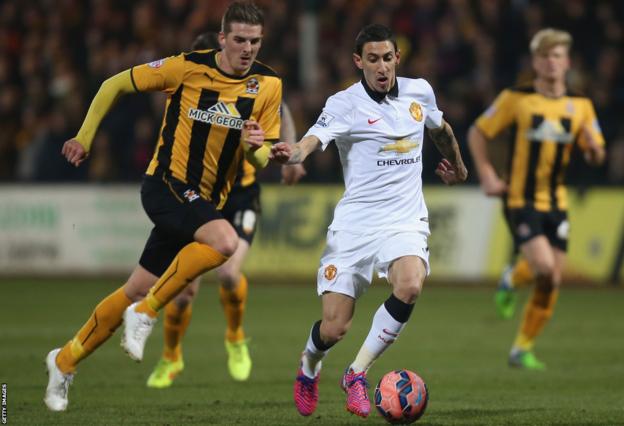 Liam Hughes (left) in action against Angel di Maria during Cambridge United's FA Cup tie with Manchester United in 2015
Warning: This article contains references to suicide and self-harm
It is January 2015 and Liam Hughes is standing in the players' tunnel at the Abbey Stadium, home of Cambridge United.
Hughes turns to his right and sees Angel di Maria, Radamel Falcao, Robin van Persie and David de Gea.
League Two team Cambridge are about to face Louis van Gaal's Manchester United in the fourth round of the FA Cup, one of the biggest nights in Hughes' career.
A few months later Hughes is rushed to hospital after he is found slumped in his back garden following an overdose. He is saved, but is on a path of self-destruction that would last four years.
"In my head I had convinced myself that everybody would be better off if I was no longer here," Hughes, now 31, told BBC Sport. "I was on a one-way street to an early grave."
Now playing at seventh-tier Worksop Town, who are at Blyth Spartans in the third qualifying round of the FA Cup on Saturday (15:00 BST), the forward has opened up on his struggles with mental health and how he is rebuilding his life.
"By telling my story, I want to try and help as many people as I can who might be going through something similar," he said.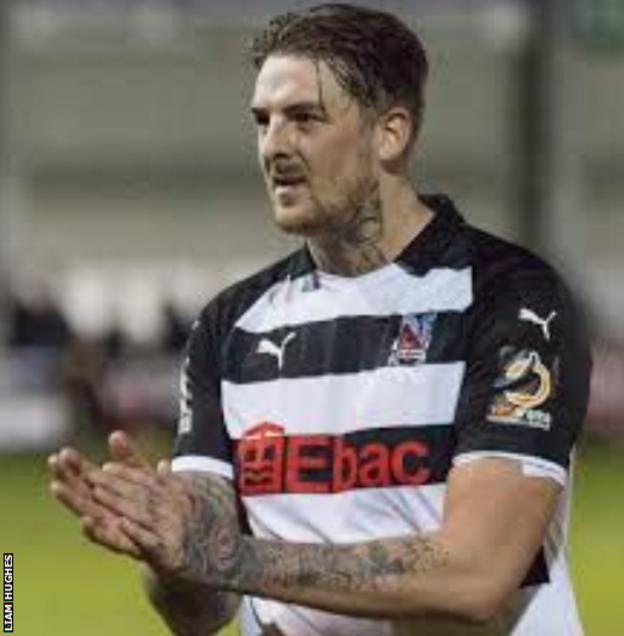 At the height of his drug addiction, Hughes says he was beaten up and robbed of £350 while trying to buy cocaine on Christmas Day in 2018
'My drinking became worse'
It was soon after Manchester United's visit to Cambridge that Hughes' life began to unravel.
The U's earned a money-spinning replay by holding Van Gaal's side to a 0-0 draw, but Hughes, a regular starter in Richard Money's side, was ruled out of the game at Old Trafford with a serious ankle injury.
Aged 22 at the time, Hughes' mental health deteriorated despite just becoming a father for the second time following the birth of Bella-Rae.
"All the elation and positivity I had been feeling, which masked over issues I had with my unhappy home life at the time, vanished," added Hughes.
"My drinking became worse. I felt isolated and my mental health went downhill to the point where I was starting to question life itself."
Hughes said he used to drink-drive and would have suicidal thoughts. He would frequently think about crashing his car on his way into training at Cambridge.
"Looking back, the concerning thing for me is the complete disregard I had in terms of my responsibilities as a father, as a provider - those things came second to how I was feeling," he said.
As the suicidal thoughts continued, Hughes was secretly storing up a supply of painkillers.
"I was asking the physio and doctors at Cambridge to give me a prescription because my ankle was playing up. I was milking it," he added.
"I stored them at home until I had a substantial amount. I remember my first suicide attempt as clear as day."
Fortunately, Hughes' then-partner found him in time and he made a full recovery after treatment in hospital.
The dark thoughts, however, continued.
'I spent up to £600 a week on cocaine'
Hughes was a fans' favourite at Cambridge after scoring the opening goal when they beat Gateshead 2-1 to win the Conference play-off final at Wembley in 2014, and was part of the U's side that also won the FA Trophy that year.
He was released by Cambridge in January 2016 after eight years and 161 league appearances.
Hughes quickly joined Inverness Caledonian Thistle in the Scottish Premiership, but within six months he was back in England.
By the summer of 2017, he was in the grip of a cocaine addiction after one season in the National League at Barrow.
"I was on good money at Barrow - almost £1,000 a week - and I was spending anywhere from £300 to £600 every week on cocaine," he said.
"I was taking it every day. I was in a spiral of self-destruction. I wasn't sleeping so I was drinking at night to try and sleep. To get through the next day I would take drugs."
By now, Hughes had also started to self-harm.
"I cut my face, I put cigarettes out on myself. It was just where my mind used to go. I was punishing myself."
Despite his volatile behaviour off the pitch, Hughes continued to receive offers from clubs.
"I had become a master in manipulation," he said. "Although I didn't want to be centre of attention, I didn't want to draw attention that I was struggling with drink or drugs so I would act like a clown to get a few giggles from team-mates.
"I was a functioning addict."
The suicidal thoughts continued, and after joining National League North club Darlington in 2018, Hughes had another attempt at taking his own life on a night out in York. There was another incident involving the police after he smashed up a hotel room.
Then on Christmas Day in 2018 he was attacked by four men and robbed of £350 when he tried to buy cocaine.
"They filled me in," he said. "I had a rib injury, a cut on my face and a fat lip. The next day I played for Darlington at home to York and scored in a 5-1 win."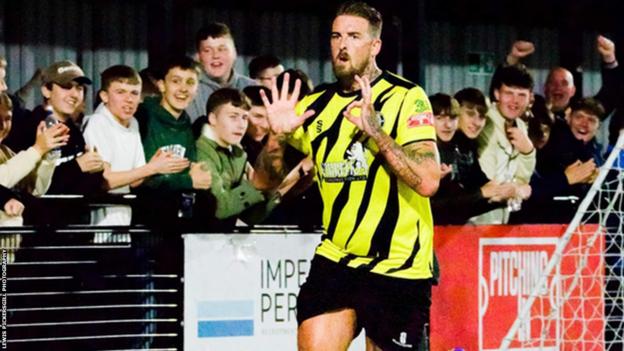 Liam Hughes joined Northern Premier League Premier Division Worksop Town in June 2022, and scored his 50th goal for the Nottinghamshire part-timers on Tuesday in a 2-0 win over Matlock Town
Rehab and wedding bells
Today, Hughes lives near Hull with Jenny, his partner of the past five years, and is stepdad to Polly, 10, and Nellie, eight.
He has three daughters from a previous relationship - Grace-Mai, 10, Bella-Rae, eight, and Hope-Willow, six.
"One day my children will be older and they will read things that will be upsetting," said Hughes, who is due to marry Jenny next summer. "But I want them to look back and say 'my dad fought mental health and addiction'."
It was soon after he was robbed that Hughes reached out for help and checked into rehab.
"I was taking more and more drink and drugs, and telling myself 'I'll get help the next day'. It became a repetitive cycle until I eventually realised I might not see the next day."
Hughes spent one month at Sporting Chance, which provides support to current and former professional athletes for a wide variety of mental and emotional health problems.
Four years on from rehab, Hughes describes himself as a "work in progress". He works full-time and hopes opening up about his problems will raise awareness of mental health and addiction issues.
"I'm not saying all my problems have gone away, and I still have the odd wobble," he added.
"I have to work on myself every day. I'm not perfect but I've gone from the bottom of the barrel and knocking on hell's door to trying to be a better human being. I'm dealing with my problems and being honest.
"I'm trying to help as many people as I can and be a good partner and a good dad."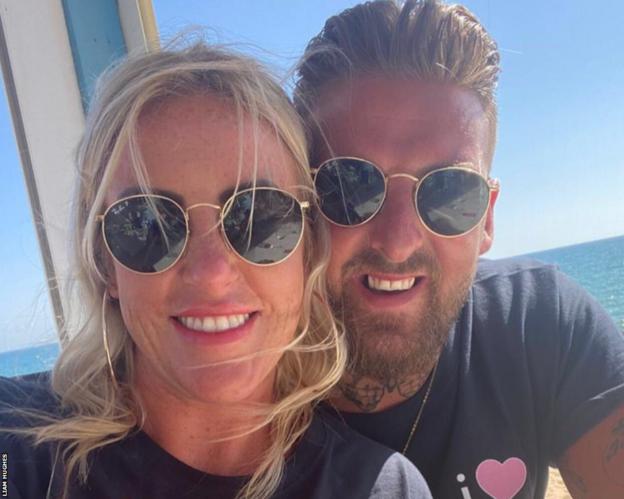 Liam is rebuilding his life and is due to marry his partner Jenny in Portugal in July 2024
If you, or someone you know, have been affected by any issues raised in this article, support and information is available at BBC Action Line.

This news item was provided by the BBC Sport - Football website - the original link is: https://www.bbc.co.uk/sport/football/66876177?at_medium=RSS&at_campaign=KARANGA