Luis Rubiales resigns as president of Spanish FA over Jenni Hermoso kiss
10 September 2023
Luis Rubiales has resigned as president of the Spanish Football Federation following criticism for kissing Spain forward Jenni Hermoso at the Women's World Cup final presentation ceremony.
Hermoso, 33, said the kiss after Spain beat England was not consensual and she filed a legal complaint last Tuesday.
Rubiales said he had submitted his resignation to federation acting president Pedro Rocha in a statement.
"I cannot continue my work," he told Piers Morgan on his television show.
The 46-year-old has also resigned from his position as vice-president of Uefa's executive committee.
The fallout from the kiss has engulfed Spanish football in recent weeks and overshadowed Spain's World Cup win, with Rubiales ignoring repeated calls to resign.
On Friday, a prosecutor filed a complaint with Spain's high court - following Hermoso's testimony on Tuesday - against Rubiales for sexual assault and coercion.
Rubiales claimed the kiss was "mutual and "consensual" but had been provisionally suspended by football's world governing body Fifa.
"After the quick suspension carried out by Fifa, plus the rest of open proceedings against me, it is evident that I will not be able to return to my position," Rubiales' statement read.
"Insisting on waiting and holding on is not going to contribute to anything positive, neither to the federation nor to Spanish football."
Rubiales said he hoped his departure would boost Spain's joint bid with Morocco and Portugal to host the 2030 World Cup.
He added: "I have faith in the truth and I will do everything in my power to prevail.
"My daughters, my family and the people who love me have suffered the effects of excessive persecution, as well as many falsehoods, but it is also true that on the street, more and more every day, the truth is prevailing."
Some 81 Spain players, including all 23 World Cup winners, said they would not play for the national team again while Rubiales was in his position.
World Cup-winning manager Jorge Vilda - considered a close ally of Rubiales - was sacked on 5 September amid the scandal, with Montse Tome named as his successor.
Politicians, footballers and celebrities have spoken out against Rubiales, while protesters gathered at the federation's headquarters last month to demand his resignation.
Spain's acting Labour minister, Yolanda Diaz, posted on X (formerly Twitter): "The feminist country is advancing faster and faster.
"The transformation and improvement of our lives is inevitable. We are with you, Jenni, and with all women."
Irene Montero, Spain's equality minister, added: "It's over."
Asked by Morgan whether something in particular finally led him to resign, Rubiales said he spoke to his family and listened to the advice of friends.
"My father, my daughters, I spoke with them - they know it's not a question about me - and some friends very close to me said to me 'Luis, you need to focus on your dignity and to continue your life because if not, you are going to damage people you love and the sport you love'," Rubiales said.
"This was a question of not only me. An attitude towards me can affect third parties [that are] very important. It was the intelligent thing that I had to do."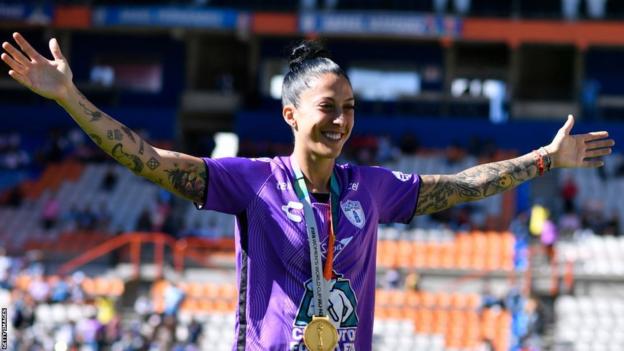 Jenni Hermoso paraded her Women's World Cup medal on the pitch to the delight of her Pachuca team-mates and supporters
On Sunday, Hermoso received a warm welcome from supporters and team-mates of her domestic club, Pachuca, before their 2-1 win against Pumas in the Liga MX women's league in Mexico.
The 33-year-old unveiled a mural on the walls of the Hidalgo Stadium celebrating her achievements with Spain in the Women's World Cup, and was also given a framed jersey with her number 10 on it.
Rubiales awaits high court decision
Hermoso's complaint was one of sexual assault but Marta Durantez Gil has also added an allegation of coercion when filing to the high court after the forward told the prosecutor her relatives had been pressured by Rubiales and his "professional entourage" to say she "justified and approved what happened".
It is now up to the court to present formal charges against Rubiales.
Prior to the kiss, Rubiales had been seen grabbing his crotch in the proximity of Queen Letizia and her daughter while celebrating Spain's 1-0 win over England in Sydney.
A high court judge will now assess the complaint and decide whether to accept or archive the request. If accepted, a magistrate will be assigned to lead an investigation, which will conclude either with a recommendation for the case to go to trial or be dismissed.
The charge of sexual assault under Spanish law can carry a punishment ranging from a fine to four years in prison.
"The high court often tackles crimes with an international dimension, such as terrorism or organised crime. It is involved in this case because the alleged assault by Mr Rubiales took place in Australia," BBC Madrid correspondent Guy Hedgecoe explained.
Spanish prosecutors opened a preliminary investigation on 28 August, looking into whether the incident amounts to a crime of sexual assault.
At the time, Spain's top criminal court said it was opening its investigation in light of the "unequivocal nature" of 33-year-old Hermoso's statements, saying it was necessary "to determine their legal significance".
Earlier this month, Spain's national sports tribunal (TAD) opened a misconduct case against him, ruling he had committed a "serious offence" by kissing Hermoso.
However, the TAD stopped short of the "very serious offence" the government had requested, that would have led to his suspension.
From kiss to resignation - the timeline
20 August - During the ceremony following the World Cup final, Spain forward Jenni Hermoso is first embraced then kissed on the lips by Luis Rubiales.
Hermoso later reacts to the kiss during a live stream and says she "did not enjoy" it.
21 August - Rubiales issues an apology saying he is "sorry for those who were offended" after being fiercely criticised by other footballers, the media and even by the Spanish prime minister, some of whom called on him to step down.
24 August - World football's governing body Fifa opens disciplinary proceedings to examine Rubiales' actions.
25 August - A defiant Rubiales insists at a Spanish FA emergency meeting that he will not resign, and calls the kiss "consensual".
25 August - The Spanish government says it is beginning legal proceedings seeking to suspend Rubiales, with the Spanish secretary of sport saying he "wants this to be Spanish football's MeToo moment".
25 August - Later that day, Hermoso releases a statement on Instagram rebuffing Rubiales' claims, saying that "at no time... was his kiss ever consensual".
25 August - 81 Spanish players - including all 23 who went to the Women's World Cup - announce they will not play for Spain's women's team until Rubiales is removed from his position.
26 August - The Spanish football federation says it will take legal action over "each falsehood that is spread".
26 August - Fifa announces it is provisionally suspending Rubiales pending the outcome of its disciplinary proceedings.
26 August - World Cup-winning head coach Jorge Vilda criticises Rubiales while his entire coaching staff resigns in protest against the federation president.
27 August - The federation's delegate for sexual violence protocol confirms an internal investigation into events is under way.
28 August - Rubiales' mother goes on hunger strike in a church in his hometown of Motril, while regional heads of Spanish football demand Rubiales' resignation.
30 August - Uefa president Aleksander Ceferin describes Rubiales' behaviour as "inappropriate" - but calls for Fifa's investigation to be allowed to run its course.
31 August - England manager Sarina Wiegman says the crisis surrounding Spanish football "really hurts" and shows there is still a "long way to go" in the women's game and society.
4 September - Spain's men's national team condemn Rubiales' "unacceptable behaviour".
5 September - Vilda is sacked as Spain head coach, 16 days after leading the team to World Cup victory.
6 September - Hermoso formally submits a complaint about Rubiales to Spain's national prosecutor's office.
8 September - Spain's national prosecutor's office files a complaint to the high court from Hermoso about Rubiales.
10 September - Rubiales announces his resignation.





This news item was provided by the BBC Sport - Football website - the original link is: https://www.bbc.co.uk/sport/football/66637879?at_medium=RSS&at_campaign=KARANGA