Man Utd top league of transfer losses with negative spend of more than £1bn in last decade
6 September 2023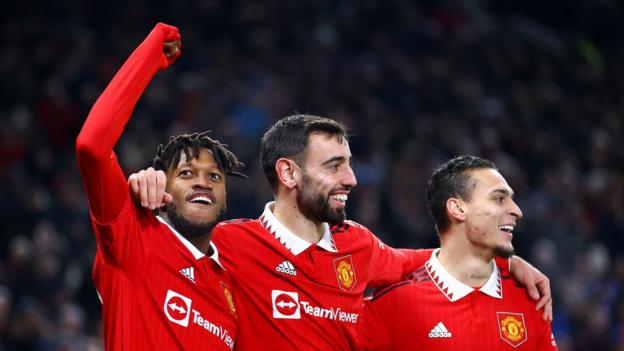 Fred (left), Bruno Fernandes (centre) and Antony (right) cost Manchester United about £195m in transfer fees
Manchester United have spent a record £1.19bn more on transfers over the past decade than they have recouped through player sales, according to a new study.
Since 2014 United have spent about £1.67bn on new players, and brought in about £481m, says Swiss-based research institute, CIES Football Observatory.
Chelsea are second with a negative net spend of £883m, followed by French side Paris St-Germain with £863m.
Arsenal (£745m) and Manchester City (£732m) complete the top five.
A total of 13 Premier League clubs are in the top 20.
1. Manchester United - £1,196.6m
11. Aston Villa - £414.3m
2. Chelsea - £885.5m
12. Liverpool - £395.3m

3. Paris St-Germain - £865.8m

13. Al-Hilal - £391.3m

4. Arsenal - £746.9m

14. Juventus - £385m

5. Manchester City - £733.8m
15. Everton - £336.1m
6. Newcastle United - £575.2m
16. Crystal Palace - £322.3m

7. Barcelona - £568.4m

17. Bournemouth - £294.9m
8. Tottenham Hotspur - £522.1m

18. Bayern Munich - £294.1m

9. AC Milan - £467.3m

19. Real Madrid - £277.6m

10. West Ham United - £451.9m
20. Nottingham Forest - £265.8m

Stats from CIES Football Observatory Monthly Report
The figures used in the study include fixed transfer fees, fee-paying loans and any add-ons regardless of whether they have actually been paid.
Notable United transfers include the then Premier League record capture of Paul Pogba for £89.5m in 2016, Romelu Lukaku for £75m in 2017 and Harry Maguire for £80m in 2019 - a world record fee for a defender.
Of that trio only Maguire remains at the club, with Lukaku joining Inter Milan for £74m in 2019 - their biggest sale of the past 10 years - and Pogba leaving on a free transfer last summer after his contract expired.
Chelsea have spent the most money on players, about £2.25bn, but have recouped £1.37bn.
The Blues have a negative balance of about £476m for 2023 - the biggest in the world - reflecting the heavy investment made by new owner Todd Boehly since taking over the club last year.
They broke the British transfer record when they signed Benfica's Argentina midfielder Enzo Fernandez for £107m in January, before bringing in Brighton's Ecuador midfielder Moises Caicedo in August for a fee that could rise to £115m.
In total all clubs have spent about £10.6bn on transfers in 2023 alone, smashing the previous record of £8.5bn in 2019 by about 25%.
The league with the most combined negative net spend since 2014 is the Premier League, at more than £9.5bn.
A distant second on this list is the Chinese Super League with £1.14bn, though clubs have reigned in their spending in recent years after significant investment in foreign players between 2015 and 2018.
Saudi Pro League clubs, in contrast, have ramped up their transfer spending over the past 12 months as the Saudi authorities push to make the league one of the most competitive in the world.
It is third on the list with a negative net spend of about £1.13bn, with £770m of those losses in the last year alone.
The league with the biggest positive net spend is the Portuguese Primeira Liga, which has made a profit of about £1.9bn on player transfers.
Benfica alone have made £653m, including the sales of Fernandez to Chelsea, Joao Felix to Atletico Madrid for £113m and Darwin Nunez to Liverpool for £85m.
The CIES Football Laboratory was created in 2005 and specialises in the statistical analysis of football.
It is a research group within the wider International Centre for Sports Studies, which was created in 1995 as a joint venture between world football governing body Fifa, the University of Neuchatel, and the city and state of Neuchatel, in north west Switzerland.





This news item was provided by the BBC Sport - Football website - the original link is: https://www.bbc.co.uk/sport/football/66726456?at_medium=RSS&at_campaign=KARANGA