Romelu Lukaku: Roma rescue forward who longs to be loved
4 September 2023

Stepping off the private plane to greet the latest rapturous set of fans, Romelu Lukaku smiled.
Finally, the longest transfer market saga of the summer had come to an end. The Belgian had a new home.
Roma is Lukaku's seventh club in 10 years. A decade of journeys for the Belgian enigma.
We have seen the footballer play for a variety of clubs, conduct a dozen revealing interviews, admire a handful of Italian murals painted in his honour and work with a few different representatives, leaving one to wonder: who is Lukaku and where does he want to be?
After acknowledging the mistake of leaving Inter to join Chelsea, Lukaku forced a move back to Italy, on loan, last summer. Inter became his home and his return resulted in the club contesting a Champions League final.
This summer, the Nerazzurri were looking for a way to bring the Belgian back again, permanently, and they eventually found an agreement with Chelsea.
They called Lukaku. No answer from him or his agent. The player had vanished.
Lukaku had been secretly negotiating with Juventus, their arch rivals, to move there instead. Cue a media explosion and headlines noting the betrayal. Inter's fans and players were so incensed, they firmly closed their doors to the player.
What happened to Inter? Why Juventus?
Those close to Inter noted there was friction between Lukaku and the club coach. Reports suggested it was the striker's mother who advised him to move on - after all, he didn't even start the Champions League final.
The truth was Inter had moved on after him and while they welcomed him back again, it was clear he was no longer the king of the club. Could that be the reason for his wandering eye?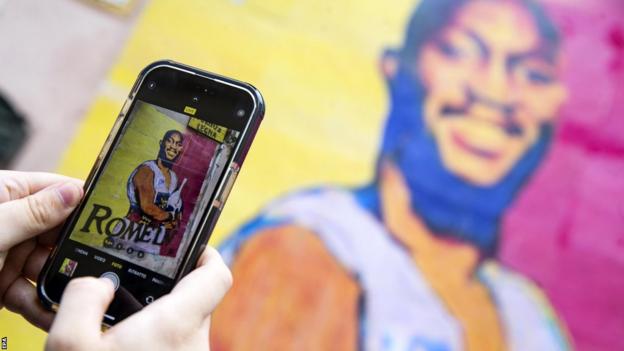 A mural depicting Romelu Lukaku as Russell Crowe's Gladiator has been painted in Rome
Money has rarely, if ever, been the motivating factor for Lukaku.
Saudi Arabia were swatted away when they came calling, the striker wanted Europe at all costs. He chose to reduce his wages to return to Inter last year and again to join Roma now.
So what is he looking for in his clubs?
In 2017, both Chelsea and Manchester United expressed an interest in the Belgian and he opted for the latter. Speaking to ESPN, Lukaku asserted: "This is an opportunity that I've always wanted since I was a child.
"Who would say no to the biggest club in the world?"
His childhood friend, Vinnie Frans, however, gave a different reason for his move to the Red Devils.
"At first he was like 'Let me wait a bit and see what other clubs are doing'," he told the Daily Mail.
"But United wouldn't take no for an answer. After the second offer he thought 'Hmmm, they really want me'. Then it was a third time and it was 'Hmmm' with a few 'm's then the fourth came and it was 'OK, I'm going to Manchester'."
At Old Trafford and under Jose Mourinho, the player performed well but he also came in for criticism. Just over a year into that adventure, he conducted an interview on Manchester United's next opponents in Europe, Juventus, and noted they were "one of the two-three best teams in Europe".
Asked if he would like to come and play in Serie A? "Why not? I hope it happens," replied the Belgian.
That following summer, in 2019, Juventus came in for him. Lukaku chose Inter. In a post published on his social media, the striker wrote: "Inter was a dream of mine when I was a kid. All of you guys know I loved Adriano as a kid so being here now, it's truly a blessing."
Expertly managed both technically by Antonio Conte and physically by world renowned fitness coach Antonio Pintus, Lukaku was allowed to thrive.
In his 95 appearances for the club, the striker scored 61 goals in all competitions and lifted the Serie A title in 2021. Pintus spoke admiringly of the player: "He weighs more than 100 kilos of muscles. He has truly impressive power.
"He's comparable to an American football player. When he starts, it's difficult to stop him."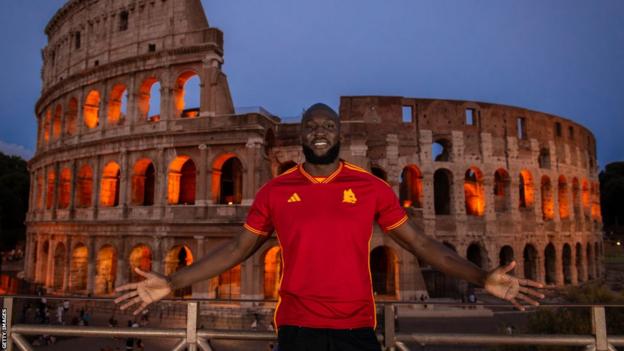 Lukaku has joined Roma on a season-long loan from Chelsea
Lukaku was only outscored by Cristiano Ronaldo when Inter lifted the Serie A title and the striker seemed immensely happy with his club. However, when Chelsea came calling in summer 2021, Lukaku asked Inter coach Simone Inzaghi to sanction the deal.
"I had him for a week so I saw why the fans loved him and why Chelsea paid a lot for him. He came with great honesty to me and told me that Chelsea was his dream," explained Simone Inzaghi.
The dream he spurned in 2017 for Manchester United.
Lukaku has had a lot of childhood dreams that he has looked to fulfil and for that, he has been heavily criticised. It's evident when Lukaku stops feeling the love, he starts to search for a new adventure.
In the interview he sat for in December 2021, he clarified about his motivations for leaving the Nerazzurri: "I'm 28, I wanted to plan my life in Italy with a new deal… but Inter said no. Maybe there wasn't the economic possibility. For me it was difficult to accept."
He continued: "There are three teams at top level: Barcelona, Real, Bayern. All the players dream of them, that's the truth. I thought I was going to one of those clubs after Inter."
Those clubs never came and for Lukaku and it seems he's never really understood why. He asserted in an interview with France Football in December 2020 that, "over the past five months, I am one of the top five strikers".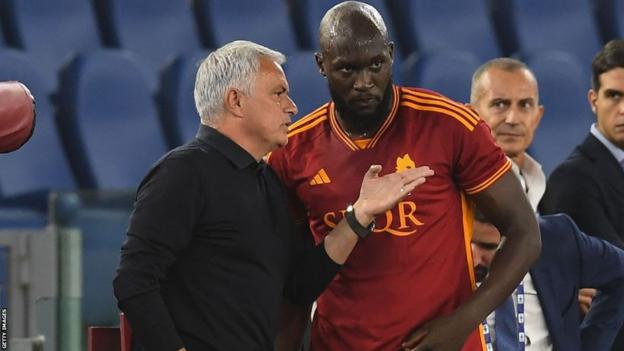 Lukaku came off the bench for his Roma debut during the 2-1 defeat by AC Milan on Friday
Seduced by unwavering love from a club and unwilling to fight to stay wherever he has been in recent history, Lukaku has become a footballing nomad. A footballer who won't sit still long enough to ride the highs and lows and eventually cement himself into history, something he has often spoke about wanting to do.
Roma have come to rescue him.
They have been searching for that effective striker to make Mourinho's tactics more bearable. They may not be the giant Lukaku dreams of but it's a city and a club notorious for showing love.
More than 47,000 people tracked his private flight to the capital and 5,000 of them showed up to greet him. A mural painted in his honour has already been found in Via dei Capocci in Rione Monti.
Roma is not just any club; it is a profound emotion that seeps into your soul and it will be difficult to walk away. In the immortal words of Daniele De Rossi: "My only regret was that I had only one career to give to Roma."
Perhaps this mutually beneficial partnership will prove fruitful and result in a strong challenge for trophies, and maybe, just maybe, Lukaku's eyes will stop wandering.
Mina Rzouki is a European football journalist and broadcaster who is writing for BBC Sport this season. If you have a question on European football that you'd like to ask her, then fill out the form below and she will answer a selection of them in subsequent columns.
If the form doesn't load properly, go straight to it here...

This news item was provided by the BBC Sport - Football website - the original link is: https://www.bbc.co.uk/sport/football/66688787?at_medium=RSS&at_campaign=KARANGA