Ansu Fati: How one-time Barcelona prodigy ended up playing for Brighton
5 October 2023


The triumphs and setbacks enjoyed and endured by Brighton's new loan signing from Barcelona, Ansu Fati, are so many it is hard to believe the young winger-cum-striker from Guinea Bissau is just 20 years old.
From new wonderkid hero at the Camp Nou and inheritor of Lionel Messi's number 10 shirt, to an almost forgotten man as his young body was ravaged by injuries.
Now injury free for the past 18 months, Ansu is back and keen to show the Premier League - and Europe - that Barcelona's loss will prove to be Brighton's gain.
'I will always value my father's sacrifice'
He was six years old when he met his father for the first time. Bori Fati had left his homeland and moved, first to Portugal and then to Spain as he did anything and everything to raise the funds that would allow him to support his family and eventually bring them to Europe.
He worked on the railways as he settled in the small Andalusian town of Herrera, then as a bricklayer, waiter and dustman before finding work as a chauffeur to Juan Manuel Sanchez Gordillo, the Communist mayor of Marinaleda who would help him with the red tape and documents that allowed his family to join him.
Ansu has often paid tribute to his father saying that without his hard work and sacrifice neither he nor the family would have made it to Europe.
"My father could have left and forgotten about us, like others do, but he worked hard to bring us here. I will always value the sacrifice that he made for us," he told L'Equipe recently.
Ansu arrived in Seville in 2009 where at the airport he ran into the arms of his father, who until then he only knew from photographs and occasional telephone conversations.
Bori had received special dispensation to leave work to pick his family up. He gave them the keys to their new home before returning to work the same day.
The winters in southern Spain can be cold, especially for a family short of funds. They would be grateful for the kindness of the local people who would provide hand-me-down clothes to Ansu and his siblings to help keep them warm.
At school, his inability to speak Spanish meant he was placed in a class with children a year younger.
But he quickly adapted and did so by playing football with his peers, the same game he had played with his brother and cousins back in Bissau, where they wrapped socks together to make the ball they would play with.
Nobody knew Ansu and his brother Braima when they went to the Municipal Sports Centre where all the local children would gather to play. They soon would. No one could get close to them.
The last person to find out would be his father who, despite being an amateur player himself, was working every hour possible to keep his family fed and clothed.
He only did when he returned from work late one night to find a group of neighbours and children at his door who told him: "Do you know what you have here? You have to see it."
It was soon after, in 2010, that Anssumane Fati Vieira signed with Sevilla. His footballing journey had begun. He was eight years old.
'He seemed destined to lead Barcelona for the next decade'
It was only ever going to be a matter of time before Barcelona and Real Madrid came calling.
Ansu and his family opted for Barca, mainly because of the protective environment offered by the La Masia residence - the club's academy.
A closeness to his first coach Marc Serra taught him to respect his surroundings as well as his opponents and encouraged him to concentrate more on scoring goals and less on showboating.
But it was never going to be plain sailing. When Barcelona were given a transfer ban by Fifa in 2014 it meant Ansu was unable to play for six months. Then, aged just 12, he broke his tibia and fibula in a youth derby.
On 24 July 2019, he signed his first professional contract with Barcelona and then a month later, aged 16 years and 298 days, he made his first-team debut, coming on as a late substitute in a 5-2 home win over Real Betis.
More accolades would follow. After being officially promoted to the first-team squad, he scored twice in a 4-0 win over Villarreal in the first game of the 2020-21 season and then followed that with another goal in a 3-0 away win at Celta Vigo.
He was granted Spanish citizenship on 20 September 2019 and made his full international debut on 3 September 2020, coming off the bench for the second half in a 1-1 draw with Germany.
He then scored his first international goal in his first start for Spain on 6 September 2020, netting Spain's third against Ukraine, making him at the time his country's youngest ever goal scorer, aged 17 years and 311 days.
Until the Argentine great's much publicised departure from the club, Messi and Fati had built a bond not unlike the godfather/godson relationship the Argentine had enjoyed when he was a youngster with Brazilian magician Ronaldinho.
When Messi published a picture on Instagram of the two men embracing after Fati's debut, his future looked to be assured.
Up until then Ansu used to be able to take a leisurely 10-minute walk from his home to the training ground.
When, the following day, he saw people waiting outside his house for pictures and autographs he realised that from now on he would be better off if he accepted his father's offer of a lift.
He seemed destined to lead Barcelona and the national side to success in the next decade.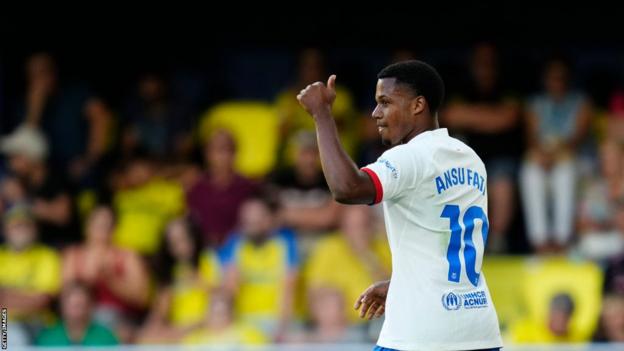 Ansu Fati came off the bench in Barcelona's opening three La Liga fixtures of the season before moving on loan to Brighton
Messi's brother Rodrigo acted as the player's representative for a season until the player decided to move to Jorge Mendes, the agent responsible for handling the career of Cristiano Ronaldo among many others.
And then on 7 November, 2020, against the same Real Betis side against whom he had made his debut, he tore a meniscus in his left knee.
He was operated on two days later with the club saying he would be out for about four months. In the end he was out of action for 305 days and missed 64 games.
But this was only the beginning of his problems with Barcelona.
What happened on his return from injury?
At first everything looked like normal service had been resumed. The reality was completely different.
This was a Barcelona in deep financial trouble but Ansu was desperate to help.
The day after sending Antoine Griezmann out on loan to get him off their wage bill, the club announced with great fanfare that Fati would be the proud wearer of the number 10 shirt worn by Messi for the past 15 years.
When it was offered to him, as he is humble and respectful of club and history, Ansu asked the captains their thoughts. They were happy for him to accept.
The emblematic shirt that Messi had inherited from Ronaldinho and that had been worn in the past by such names as Romario, Rivaldo, Riquelme, Lineker and Maradona, was now on the back of an 18-year-old kid who hadn't played for 18 months because of problems with his left knee that had seen him go under the knife no fewer than four times in the previous 10 months. No pressure then.
He could not have enjoyed a better return from injury, scoring his side's third goal against Levante after coming on with 10 minutes left.
Further injuries would follow though, hamstring issues and fitness problems meant that from November until the end of April he missed another 33 games. The club demanded his goals, he wanted to lead, but his young body was struggling.
The club wanted him to have an operation to resolve the last problem, but he preferred a conservative approach that, 18 months later, has proven to be the right one.
But why, since returning to what he believes to be full fitness, did he not feature in Barca boss Xavi's plans?
Although in Barcelona's squad for 37 out of the 38 league games last season he was only in the starting line up for 11 of them. He was the club's second top scorer but didn't feel he had the trust of the manager.
During the first month of this campaign he played just 47 minutes in three substitute appearances.
He was left feeling that he was constantly being asked to give cameo auditions for his right to be brought back into the starting XI.
Ansu began the campaign fully committed to establishing himself in the Barcelona side. All he needed was guidance from Xavi and his team. It just did not happen.
Meanwhile, the club needed to raise funds and they were tempted to sell a young player that had cost them nothing. Ansu was waiting for a chat with the club to see what their plans were, but that did not take place either.
In the end Ansu became a victim of his own success at Barcelona, paying the price for having been so successful from the age of 16.
The relationship between club and player did not decline so much as cease. The silence from the Barcelona side is deafening and rumours abound - although no one will confirm either way - that everything emanated from a difference of opinion relating to the player's fitness.
Ansu had no wish to leave Barcelona but in the end was left with no choice. What surprised most people is that from all the offers he had on the table he opted to join Brighton.
Why did he join Brighton?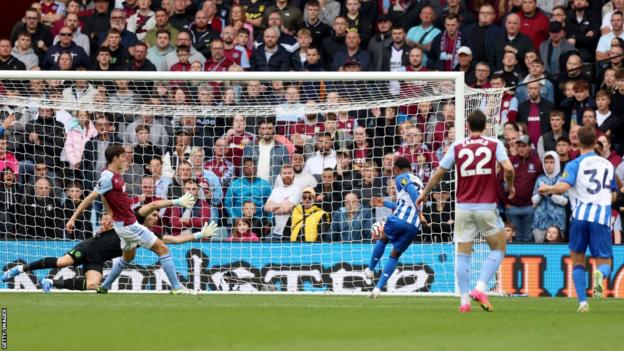 Ansu Fati scored his first Premier League goal for Brighton in the 6-1 defeat against Aston Villa last weekend
Ansu was never going to be short of offers to take him away from where he had been for just about half of his young life, where he dreamt of succeeding and where, in a perfect world, he would love to return.
Barcelona is his home, his lifelong team and having to leave there in order to move his career forward hurt him deeply. He needed to find someone that really believed in him and would give him the positive support he requires to regain his best level.
Tottenham were favourites to sign him and a deal was close to being done after Ansu had a long chat with manager Ange Postecoglou. Ultimately though, it was the persuasive skills of Brighton coach Roberto de Zerbi that brought him to the south coast of England.
The two men hit it off right from the start and what pleased Ansu was that De Zerbi took time to explain to him that he considered him to be very much part of his plans.
De Zerbi's commitment to the belief that while form may be temporary, class and talent are permanent, impressed Ansu and he was given confidence that if he stayed fit and focused then he will be given the time to help him return to being the type of player the world knows him to be.
Brighton's style of play, the allure of the Premier League and the chance of showcasing his skills in European competition also influenced his decision and his confidence will have been boosted by the fact that he has already got off the mark with a goal, albeit one that came as a consolation effort in a 6-1 routing at Aston Villa.
And most interestingly perhaps, his loan move to Brighton comes without any purchase option at the end of it, which might mean his days at Barcelona may still be far from over.

This news item was provided by the BBC Sport - Football website - the original link is: https://www.bbc.co.uk/sport/football/67002132?at_medium=RSS&at_campaign=KARANGA