Clarke, McKenna win September Championship awards
13 October 2023
Sunderland's Jack Clarke has been named the Sky Bet Championship Player of the Month for September.
Six goals in five games for the dazzling Clarke, whose dribbling ability and willingness to beat defenders makes him a constant menace, showcased delightful footwork and close control in his goals at Blackburn and Sheffield Wednesday.
Sunderland manager Tony Mowbray said: "Jack is an outstanding footballer who had a great month in September. He's full of confidence at the moment and I'm delighted for him. His career is on the up and his challenge now is to keep it going."
Clarke said: "I'm delighted to receive this award, but for me it's a reflection on how well the team did in September. I was fortunate enough to be on the end of some great moves. We have a good understanding as a group and the head coach gives me the freedom to express myself - we'll try to build on a solid start."
Ipswich Town manager Kieran McKenna has been named the Sky Bet Championship Manager of the Month for September.
Not only has McKenna built a side full of attacking intent, but he has also instilled the determination to fight back when they fall behind. The 3-2 win over Cardiff from 2-0 down stood out in a haul of 13 points from five unbeaten games.
McKenna said: "It's nice recognition for everyone at the club for a strong start to the season.
"When anyone wins manager of the month, it's really a reflection on the team and the team's reflection on all the people doing so well at the football club, and of course the supporters for their role in that.
"We hope to build on this and keep progressing."
Sky Bet League One
Player: Greg Leigh, Oxford
Oxford United striker Greg Leigh has been named the Sky Bet League One Player of the Month for September.
A momentous month for the Jamaica international who joined from Ipswich in August. Three goals from three games made the left-back Oxford's leading scorer this season. He galloped forward at will and scored twice at Stevenage, including a classy volley, on his birthday.
Oxford United manager Liam Manning said: "Greg settled in really well. The goals were a bonus, but he fitted into the defence extremely well.
"We had some really strong candidates and excellent performances within the team and it's nice for the players to get recognition for what was a really good month."
Leigh said: "I'm very grateful for the award and look forward to collecting it when I get back to Oxford. You always want to make a good first impression when you join a new club and that whole month was a really good one for the team."
"It's not often that the award is won by a defender, so I'll accept it on behalf of the defence. Maybe me scoring a few goals caught the eye but more importantly we have been keeping clean sheets and looking very solid at the back. Long may that continue."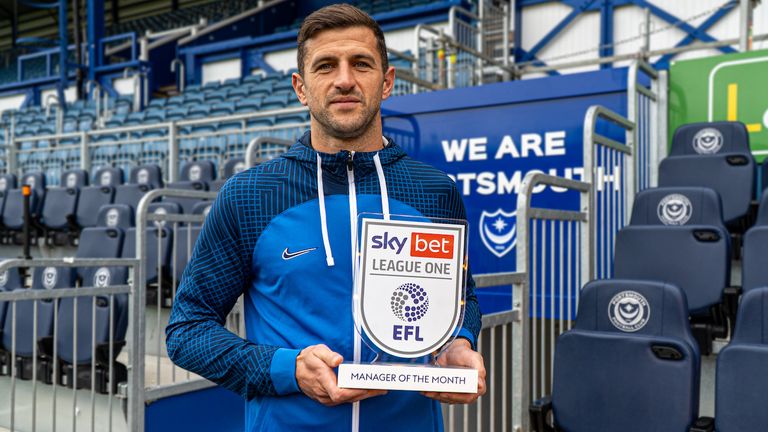 Manager: John Mousinho, Portsmouth
Portsmouth manager John Mousinho has been named the Sky Bet League One Manager of the Month for September.
A testing fixture list, which included games against Peterborough, Derby and Barnsley and had Mousinho's team trailing in four of their five games, was turned into 13 points with the resilience, belief and attacking flair he has instilled.
Mousinho said: "It's great to receive this award on behalf of all the staff and players for our run of positive results throughout September.
"Three of our five fixtures last month saw us on the road, making long trips to Derby, Barnsley and Wigan. The fact that we were backed by so many passionate Pompey fans at each of those games is a big reason why we were able to collect seven points from them.
"We have made a really pleasing start to the season but are all aware that there is still a very long way to go. Our focus now is on maintaining the high standards that we have set for ourselves."
Sky Bet League Two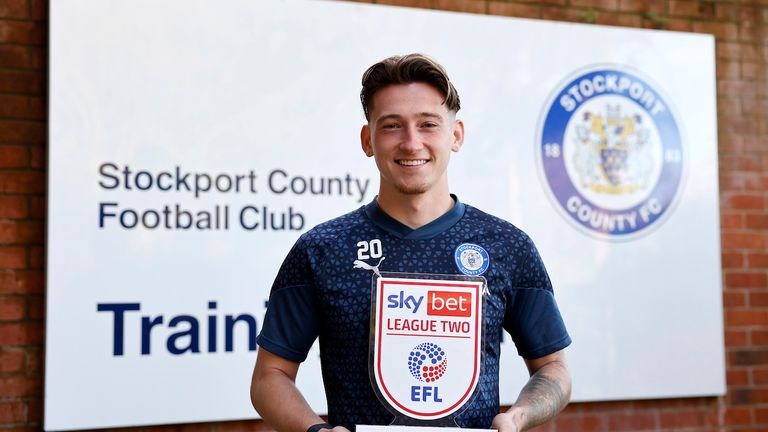 Player: Louie Barry, Stockport
Stockport County forward Louie Barry has been named the Sky Bet League Two Player of the Month for September.
Barry used his dynamic ability to beat defenders to score in all five of County's five games in September and add two assists. A stunning strike at Crawley and a solo goal against Wrexham were the pick of the 20-year-old's sharp finishes.
County manager Dave Challinor said: "I'm delighted for Louie, the award is obviously great recognition for him and his form, but I'm sure he'd also be the first to acknowledge that it's been a real team effort that has seen us, and him, be so successful over the last month or so.
"To break a club record of scoring in seven consecutive games was a brilliant achievement, particularly for someone so young, and the exciting thing for us is that we know there's still a lot more to come from him as well."
Barry said: "It's obviously been a great month for me personally, but for the team as well - picking up the points we have done in September has put us in a really strong position, and I'm pleased to have played a part in that.
"I knew coming here that I wanted to get my numbers up and start contributing with more goals and assists, so to score in seven straight games, breaking the club record - it's been the perfect start, and hopefully there's lots more to come."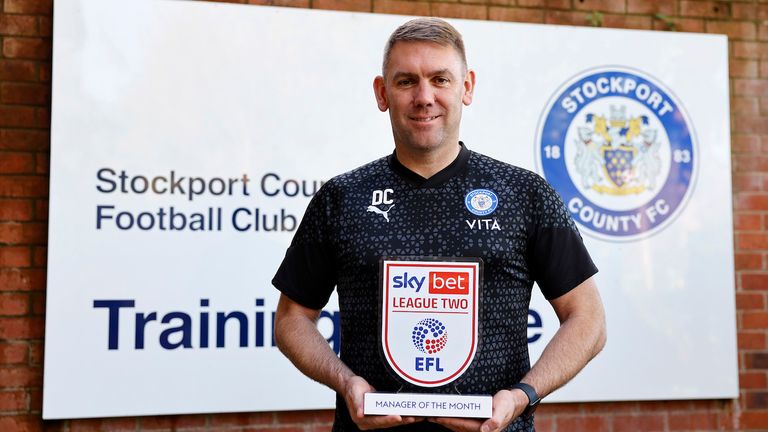 Manager: Dave Challinor, Stockport
Stockport County manager Dave Challinor has been named the Sky Bet League Two Manager of the Month for September.
Just like last season, Stockport began slowly, but Challinor has turned their form around emphatically and in thrilling attacking style. A 5-0 win over Wrexham was the highlight of 13 points from five unbeaten games and a 15-6 goal differential.
Challinor said: "It's really a management team of the month award for us, because a lot of work goes on from everyone behind the scenes every day to ensure that we're the best version of ourselves come match day. Performance-wise we've not been too different to what we were in August, but we've started to take our chances and cut out the mistakes at the other end.
"The results have put us in a really good place, but we're only a quarter of the way into the season, so the message is to keep that consistency in what we're doing, and make sure we're in a similar position come April and May."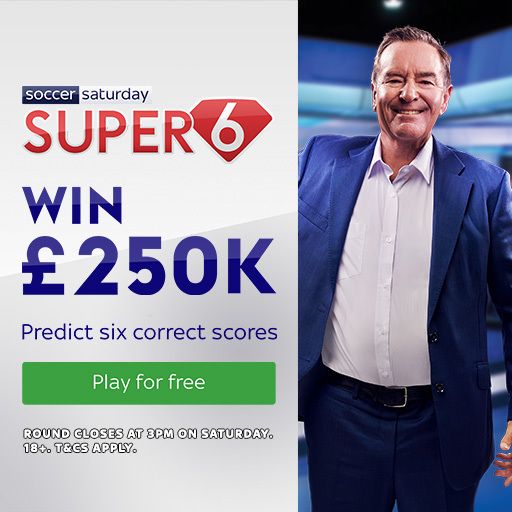 Win £250,000 for free on Saturday!
Do not miss your chance to land the £250,000 in Saturday's Super 6 round. Play for free, entries by 3pm.

This news item was provided by the SkySports | News website - the original link is: https://www.skysports.com/football/news/11688/12982665/sunderlands-jack-clarke-ipswichs-kieran-mckenna-win-sky-bet-championship-september-awards