Everton: The inside story of a turbulent 2022-23 season for the Toffees
12 October 2023
By Shamoon Hafez & Giulia BouldBBC Sport
Last updated on .From the section Everton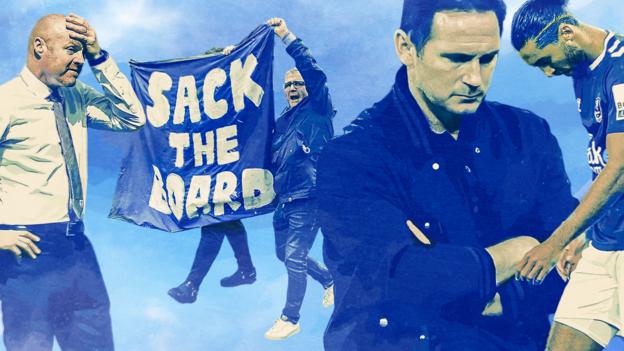 Frank Lampard was sacked as manager in January before being replaced by Sean Dyche
"Once Everton has touched you, nothing will be the same."
That famous quote from former Everton player and England World Cup winner Alan Ball was summed up by a rollercoaster 2022-23 season.
A dramatic campaign saw a managerial sacking, absent board members, fans' protests, a Premier League referral to an independent commission and was topped off by escaping relegation on the final day.
"Let's put it this way," says ex-Burnley manager Sean Dyche, who took charge of the Toffees in January. "In nine and a half years in my previous club I have probably got one book in me, in four months here I have probably got three. There is a lot going on and a lot more to come."
In autumn last year, BBC Radio Merseyside's Giulia Bould was given exclusive behind-the-scenes access to document the inside story of a turbulent season.
"I thought this would be a club on the up," Bould says when reflecting on what she expected.
"I thought it was very much going to be a building process of how Frank Lampard, Everton, the board and the fanbase turned it around."
The love for Lampard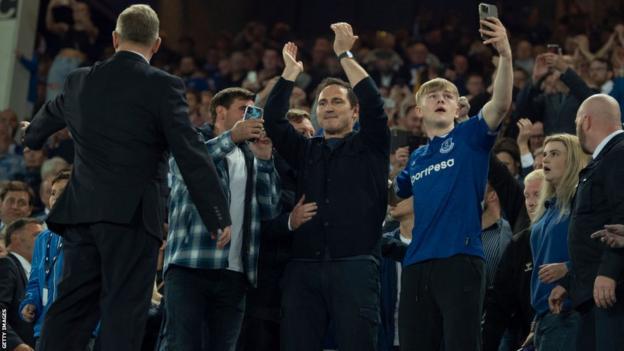 Lampard celebrated with the Everton supporters after securing survival in 2021-22
The previous season had seen Everton stay up with a game to spare, helped by a memorable victory over Crystal Palace at a raucous Goodison Park in which they came from 2-0 down at half-time to win 3-2.
There was optimism under manager Frank Lampard that the team could aspire for a better season next time around, but the reality was much more different.
By the time the mid-season break for the World Cup came around in November 2022, Lampard's position was under real threat following demoralising back-to-back defeats by Bournemouth to leave them languishing in 17th place in the league and out of the Carabao Cup.
The former England midfielder would not be able to turn the dire situation around, but many at the club say they enjoyed working with him, praising his approach to the job and how he took to the area and supporters.
"Living and being around Liverpool by managing Everton, you understand more issues people face in this part of the country that don't in London," Lampard says in the opening episode of the podcast series. "You understand a bit more why football feels like everything to them in certain ways.
"The change-around [against Palace] was completely player-led. It was special to me because in the short time here I have understood what it means to people.
"It is a club that has a distinct thing about the fanbase, local area and club. I wasn't aware of that. When I walked in, someone told me I really have to tap into the fans, they want to feel you are listening to them."
Director of football Kevin Thelwell adds in the same episode: "I regard myself as very lucky to work with Frank. Despite all he has achieved in the game, he is such a normal guy.
"He is a collaborator and has such a good way about him. You can see that in the way he brought the football club and fanbase together."
Captain Seamus Coleman says: "To this day I've not seen many managers galvanise the fans and have a connection with the fans as quickly, and as passionately, as they have done with Frank Lampard so that's credit to him."
Winger Alex Iwobi, who joined from Arsenal for an initial £28m in 2019, adds Lampard "is the guy that saved my career".
"He gave me the confidence to express myself and the opportunity to fall in love with football again," says the Nigeria international. "I am grateful for what he has done for my career."
Situation unravels under Lampard
The inside story of Everton in 2022-23 as the club face their most difficult season
After the World Cup break, the situation at Everton begins to turn really toxic.
On Boxing Day, the first game after the resumption of the Premier League, Everton lose 2-1 at Wolves and, a week later, heavily beaten 4-1 at home by Brighton.
There are chants of "sack the board" during the game and the relationship between the club and supporters starts to turn sour.
Before kick-off in the next game against Southampton, Everton release a statement saying the board of directors have been told to stay away from the game because of a "real and credible threat" to their safety and security.
BBC Merseyside's Bould describes the lowest point she felt in the series.
"There was a moment in training ahead of the Southampton game, which became a story in itself because of the board statement that came out," she explains.
"It was awful weather in January and Lampard was sat on a football in the rain.
"I asked if he was all right and he just said, 'yeah'. You could see people feeling sorry for him."
Shortly after, a story in the local media appears saying chief executive Denise Barrett-Baxendale was held in a headlock by a fan at the previous game, while social media footage emerges of players Anthony Gordon and Yerry Mina being confronted by supporters.
Some fans asked why there was no CCTV footage of the incident with Barrett-Baxendale and Merseyside Police confirmed they received no complaint from the club about an alleged headlock.
By the summer of 2023, Barrett-Baxendale, the club's chief finance and strategy officer Grant Ingles and non-executive director Graeme Sharp had all left their roles.
On the podcast, interim CEO Colin Chong reveals: "It was hard for the board members.
"Some of the criticism received was unnecessary and probably inaccurate. The board stayed away from some of the matches because of a threat to their safety and spectators saw their absence as something else, when it wasn't.
"We had some threats made on social media, there were some harsh letters that came into the club. It was certainly not the majority of Evertonians but, as soon as somebody sends in a threat, it has to be taken seriously.
"Spectators or Evertonians' perceptions of why the board were prevented from coming to football matches, they will have seen that as a personal affront, but it was never intended to be that way.
"It was purely about security of individuals and any statement that came out of the club was never directed at the majority of spectators, it was just those one or two individuals who probably take things more seriously than others."
One fan tells the podcast: "We need a complete revamp of this club. Everyone needs to go from the top to the bottom and we need to start from scratch because, at the moment, we are getting beaten by teams below us and deservedly so."
The debacle of Lampard's sacking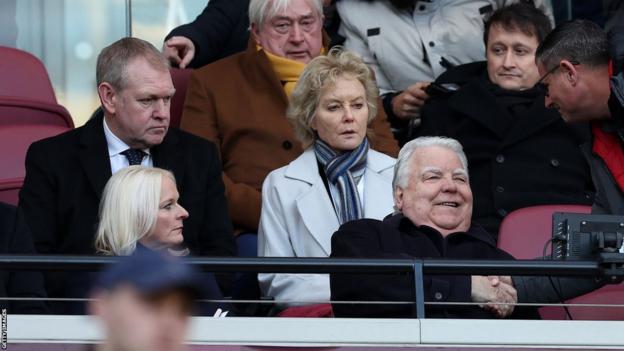 Chairman Bill Kenwright (right), chief executive Denise Barrett-Baxendale (left) and other board members did not attend any home games after 2 January
On Saturday 21 January 2023, away at West Ham, chairman Bill Kenwright, Barrett-Baxendale and former striker Sharp are present, as is owner Farhad Moshiri who appears at an Everton match for first time in 15 months.
The result doesn't go well with a 2-0 loss. Only a handful of players acknowledge the travelling support at full-time and Lampard looks a broken man.
He is sacked shortly after but the handling of his departure is chaotic. The club begin to discuss Lampard's future in the hours after the game and thereafter news outlets - including BBC Sport - report that he has been dismissed.
There is silence from Everton and it is not until Monday afternoon when they officially confirm he has left.
Thelwell says: "We all wanted Frank to succeed and he did a very good job in lots of ways. He united the fanbase at a very difficult time. He did help us to do a great job in helping us to survive last season.
"Fundamentally it becomes a results business and if you don't start to get the results, then of course it's very difficult to keep everybody in situ sometimes.
"We were desperate for it to work, everybody worked as hard as they possibly could for it to work."
Everton Under-21s manager Paul Tait and under-18s boss Leighton Baines take training and midfielder Gordon is missing, texting in to say he is sick.
Can Everton ever be great again?
On 30 January, Dyche is appointed as manager.
The former Burnley boss is battle-hardened and details are provided on the podcast of how he insists on shin pads in training and no woolly hats, putting the players through their paces with a gruelling bleep test.
But the transfer deadline shuts with Gordon leaving to join Newcastle for £45m while Everton fail to sign a player in the window.
Thelwell explains: "The reality of our situation is January is always a very difficult window. Everybody is overpriced.
"All the best players are very difficult to get unless you've got the money to spend on those sorts of players and generally people don't want to sell their best players because they recognise they've got a long part of the season still to go.
"Of course, then we get to a position whereby we sell Anthony Gordon for what we regard as a very good fee, but it's very late in the window then so we have to make a decision about whether we sign a player that is available and we all like, which we did in three or four circumstances, but couldn't quite get over the line.
"We have a very good group here, some good players for Sean to work with. He was comfortable with the group he had, let's stick with what we have unless we come up with something that is better than what we have. We didn't find that by the end of the window."
The Dyche-Woan dynamic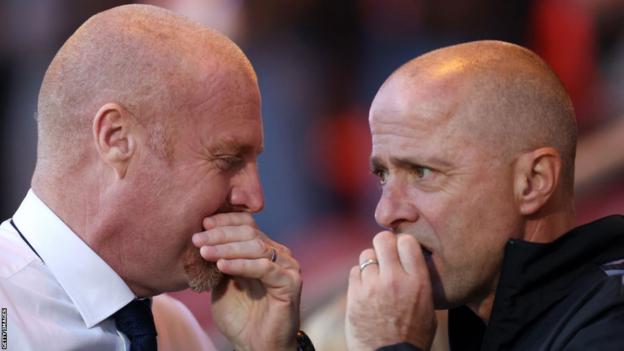 Sean Dyche (left) and Ian Woan have been friends for more than 30 years
The next episode details Dyche and his relationship, both on and off the pitch, with assistant manager and best friend Ian Woan.
Dyche and Everton achieve a dream start with a 1-0 win over league leaders Arsenal, to set Goodison Park rocking. He then gets to work with his players alongside Woan.
The pair met in the 1990s while at Nottingham Forest, shared a flat for nine years during their time at Burnley and Woan was also best man at Dyche's wedding.
Woan tells the podcast: "He's really good at kind of compartmentalising, working and playing. But he's such a down-to-earth fellow. We laugh about it now, but we were playing Arsenal at Turf Moor and we are in the flat on Saturday morning and I'm sitting there watching TV.
"I heard this noise in the hallway and I look around, it's the gaffer doing the hoovering. We just looked and I went, 'I'm sure Arsene Wenger's not doing that right now'.
"Our youngest daughters are best friends and the eldest ones are good friends too so it is not just about him being a gaffer, the families are intertwined too."
Dyche says: "The wins take care of themselves but the knocks are the ones where you need someone who gets what's going on - and it's nice to have a beer and decompress a little bit.
"I definitely want the staff to disagree, for a reason - and we have some good debates - but it can get tricky because you are dealing with mates. As a manager, you have to make a decision which everyone else might not want."
Club legend Coleman? Not for him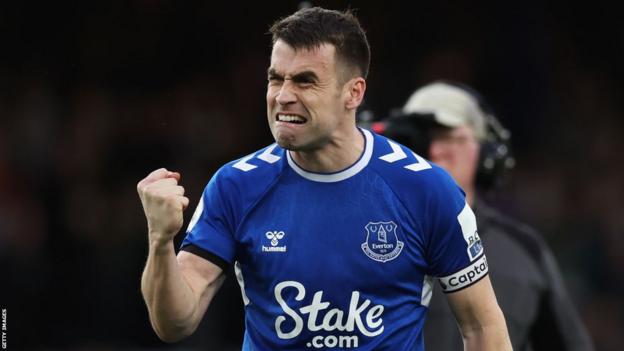 Seamus Coleman joined Everton for just £60,000 in 2009
The Merseyside derby against rivals Liverpool ends in defeat but a vital victory comes the following week against fellow strugglers Leeds, with skipper Coleman scoring the winner at Goodison Park.
The Irish right-back is the Premier League's longest-serving player and has been at Everton for 14 years, playing more than 400 games and costing a mere £60,000.
"Club legend? Not for me," says Coleman. "Because in my opinion, you have to have won something at a football club to be a club legend. I'll be someone that has played three or four hundred games forever but club legend, not in my eyes.
"I can go to bed at night knowing that I give everything for Everton Football Club and that is all I can ask of myself.
"[Former Everton manager] Carlo Ancelotti rang me a couple of days after [the Leeds game] and said, 'oh my God, what a goal' and we spoke for a couple of minutes and he is someone I have stayed in touch with.
"[Ex-Everton boss] Marco Silva [also] texted me after, saying it was an important three points and well done on the goal. It is nice because when they are here I give my best and do all I can and want them to stay in the job as long as possible.
"They respect how much I have tried to do for them and it's great to stay in touch with them."
Fans' protests ramp up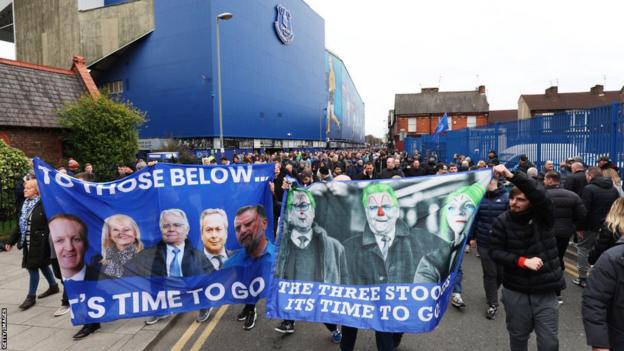 Everton fans protest before home games last season
By the beginning of February,fans continue to be disgruntled and the podcast describes how a number of groups got together for a meeting at the back of a takeaway outside Goodison Park.
They come up with a strategy to get the board's attention by making themselves heard with protests before every home game until the end of the season.
Meanwhile, the club have been referred to an independent commission by the Premier League for alleged breaches of the Financial Fair Play (FFP) rules, which the club robustly denies.
Losses have totalled £430m over the last five years and costs for the new stadium have increased from £500m to £760m, with major concerns the club could go bust if they are relegated.
On the pitch, they clinch a late draw against Tottenham but a loss at home to Fulham means they have collected just six points from a possible 24.
Supporters are now terrified the club's long, top-flight stay - dating back to 1954 - is about to come to an end this season, with one saying it is a "mess behind the scenes" and the "diabolical" showing against Fulham leaves the situation "fragile".
In episode six, Thelwell says: "We are a big club and at big clubs, 'enough' should never be enough.
"We should always be striving for a higher standard and the bare minimum is that we should be competing for trophies, we should be competing for titles.
"We need to understand that is what the challenge is and try to get us back to that spot as quickly as we possibly can. I don't feel the pressure in that at all, it is a privilege to work for Everton Football Club."
The side gain a point in a goalless draw at Crystal Palace and protests are halted to give the team a warm welcome for the next game with blue flares and chanting while the bus makes its way down Goodison Road.
The hope turns to despair as a shambolic Everton are thumped 4-1 by a rampant Newcastle.
Survival brings relief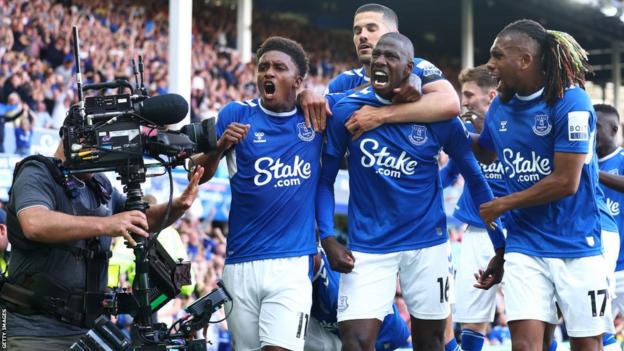 Abdoulaye Doucoure's winning goal on the final day against Bournemouth kept Everton up last season
It is now May, the final month of the campaign and, in episode seven, Everton have five games remaining to try to save themselves from relegation - they lie 19th in the table, but only two points shy of safety.
They gain a draw at fellow strugglers Leicester, helped by Jordan Pickford's penalty save from James Maddison, before arguably the surprise result of the Premier League season as Dyche's men go to high-flying Brighton and win 5-1.
Everton then lose against Manchester City but claim a last-gasp draw at Wolves, securing their top-flight status in a nail-biting 1-0 win over Bournemouth on the final day through Abdoulaye Doucoure's strike.
Despite the achievement, defender James Tarkowski is in no mood for celebration.
"It has been the most difficult season of my career for sure," the former Burnley player tells the podcast in the tunnel after the game.
"I have been in relegation battles as well, but this one has been really difficult. The performances of the players haven't been good enough, there has been stuff off the pitch that we can't control.
"When you say congratulations, I don't really feel like we should be congratulated because it has been a poor season from us. So today is relief more than anything.
"The size of this club is way beyond anything I have ever played for. That's no offence to the other teams but this is just something different."
Reflecting on staying up, Dyche tells the podcast: "I remind them of the work in the week, made it very clear they are in a good place. There was no 'Churchillian' wonder moments. I've had a few in my time when I thought it was necessary, but on that day I felt calmness was the key.
"When Doucs scored - I have been around the game all my life and have played some big games - that was the highest level of volume I have ever heard."
Following another struggle at the start of this season and a takeover from 777 Partners on the horizon, there are sure to be more stories told about this Grand Old Team.
Bould says: "Making this series has been an incredible experience and despite the level of pressure on everyone inside the club it was a privilege to be part of that group while they fought against relegation.
"It is hard to imagine without hearing the series just how intense it gets in that world and it is something I will forever be grateful to Everton for allowing me to be part of their inner circle, even when it was tough."





This news item was provided by the BBC Sport - Football website - the original link is: https://www.bbc.co.uk/sport/football/67053963?at_medium=RSS&at_campaign=KARANGA