Football calendar 'more than maxed out' – Celtic chair Peter Lawwell
9 October 2023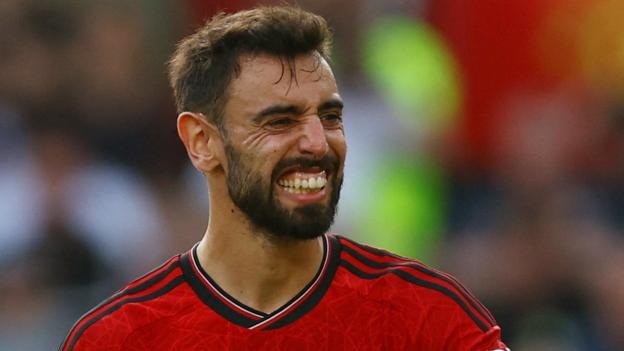 Manchester United midfielder Bruno Fernandes played more minutes of football than any other elite player last year, data has shown
The football calendar is "more than maxed out" because of the expansion of major competitions, Celtic chair Peter Lawwell says.
Lawwell, made a vice-chairman of the European Clubs' Association last month, says player welfare must be protected.
The men's World Cup finals will expand to 48 teams in 2026.
"It seems to me we have pushed it that bit too far, particularly with the new World Cup and the restart dates," he said.
"Between now and then we must come up with a process that covers everything in terms of player welfare, time on the pitch and time in training."
On Tuesday, the UK and Republic of Ireland are set to be confirmed as the 2028 hosts of a European Championship that was expanded from 16 to 24 countries in 2016.
By then, the first 48-team World Cup will have been held, as will the Club World Cup, Fifa's 32-team event that effectively replaces the Confederations Cup by being played every four years.
Next season, the formats of the Champions League and Europa League are changing, so each club will play eight first-phase matches rather than six group games as is presently the case.
On Friday, football's world governing body Fifa confirmed the key dates for the 2030 World Cup, which will be played across three continents.
The final is scheduled for 21 July, a week later than usual and less than three weeks before the Community Shield would be held if it was retained in the same slot as 2018, the last summer World Cup.
"We have probably more than maxed out," said Lawwell.
"It has got to a situation where it is impossible to expect high-quality performances from elite athletes over so many games in a year. Something has to be done."
The issue of the packed calendar has been discussed by Premier League managers this season.
Reflecting on the number of injuries to top-flight players since the campaign began in August, Manchester United boss Erik ten Hag said they can no longer cope with the "overload".
Burnley counterpart Vincent Kompany has called for a cap of between 60 and 70 games a season for each player.
Global players' union Fifpro released data last week that showed United captain Bruno Fernandes had played 6,666 minutes in the past year, more than any other player, while Manchester City had four players in the top 10 in Europe for appearances made. City and Argentina forward Julian Alvarez played 66 games as he reached both the World Cup and Champions League finals.
Historically, there has been a lack of trust between club and national team medical departments. In each case, the respective managers have their own pressures to deal with.
However, ECA chief executive Charlie Marshall feels the old enmities have to be set aside.
"How you manage player health and safety is going to come down to more sophisticated collaboration," he said.
"We have to move away from the traditional interaction between national teams and clubs, which is that the players go away and you don't know anything about what happens until they come back.
"We want to encourage much more trust, collaboration, science and objectivity when it comes to the management of player injury, so that sensible rotation of players, in the interests of either side, actually becomes a possibility.
"We want to see coaches look more sophisticatedly at squad rotation, particularly maybe in some of the less important games to try and achieve something that makes the calendar we are faced with a bit more healthy."





This news item was provided by the BBC Sport - Football website - the original link is: https://www.bbc.co.uk/sport/football/67057199?at_medium=RSS&at_campaign=KARANGA