Jordan Henderson: England midfielder says he has to take criticism 'on the chin'
15 October 2023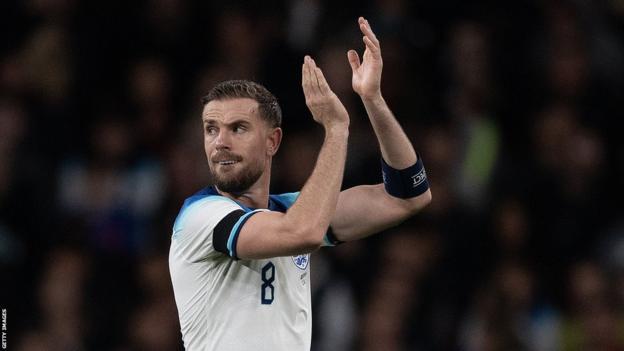 Jordan Henderson was playing in England for the first time since moving to Saudi Arabia
Jordan Henderson says he will play for England as long as he can and has to take criticism "on the chin" after fans booed him in Friday's 1-0 friendly win over Australia at Wembley.
The 33-year-old midfielder, who plays for Saudi club Al-Ettifaq, captained England in the game and was jeered when he was replaced after 62 minutes.
"It's not nice, your own fans [booing]. I love playing for England," he said.
"I have done for many years, that's why I'm still here."
Henderson, who has been capped 79 times, added: "I still want to play for England for as long as I possibly can and give everything for the team, for my country."
Henderson joined Al-Ettifaq this summer in a controversial £12m move from Liverpool, where he was captain.
Henderson was a prominent supporter of the LGBTQ+ community during his time at Anfield, but has been criticised by many for moving to Saudi Arabia, where same-sex sexual activity is illegal.
This was his first game back in England since that July transfer.
After the game, England boss Gareth Southgate said "it defies logic that you would give a player who is playing and putting his heart and soul into playing for England" that reaction, adding "why boo him?"
Henderson, when asked if he understood why he was jeered, said: "Not really. I don't know… if people want to boo if I'm playing in a different country, that's fine.
"Everyone is going to have an opinion over [it] when I'm playing over in Saudi.
"I've spoken in the past about the reasons for that. Whether people believe us or not is up to them.
"Of course it's disappointing, but it won't change what I do here. I want to keep playing and keep fighting and help the team become successful.
"I haven't been surprised by that because I can understand the reasons in what they're saying. I look at it from a different point of view, obviously.
"But I can understand it and I've got to take that on the chin."
England have another game at Wembley on Tuesday, when they play a Euro 2024 qualifier against Italy (19:45 BST).





This news item was provided by the BBC Sport - Football website - the original link is: https://www.bbc.co.uk/sport/football/67118817?at_medium=RSS&at_campaign=KARANGA