Newcastle: Sandro Tonali's 10-month ban begins after being extended worldwide
28 October 2023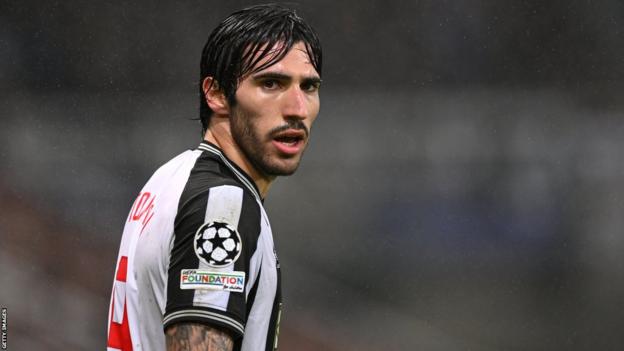 Sandro Tonali has made 12 appearances for Newcastle United
Newcastle midfielder Sandro Tonali has begun his 10-month ban from football after Fifa extended the ban worldwide.
The 23-year-old was banned by the Italian Football Federation (FIGC) on Thursday for breaching betting rules.
The FIGC said Tonali will also participate in "a therapeutic plan" to help "recovery from gambling addiction".
A Newcastle statement said the Italy international will be able to return to competitive football on 7 August 2024.
Newcastle manager boss Eddie Howe said on Friday morning that Tonali was in contention to play against Wolves in the Premier League on Saturday as the club had not received confirmation of the ban.
But on Friday evening world governing body Fifa said it had granted a request by the FIGC to have the ban extended worldwide.
Newcastle said on Saturday: "Sandro Tonali has been banned from competitive football for 10 months, as effective from Friday, 27 October 2023, following illegal betting charges by the Italian Football Federation."
The FIGC said Tonali breached a rule that prohibits players placing bets on football events organised by FIGC, Uefa and Fifa, and he had also been fined 20,000 euros (£17,380).
It said the federal prosecutor and Tonali agreed to an 18-month disqualification, eight months of which will be commuted.
Newcastle said Tonali will participate in "a therapeutic plan and educational programme in Italy consisting of 16 commitments".
Reports have suggested Tonali will be able to train with Newcastle, but Howe said "we don't know" if that is the case.
Tonali joined Newcastle from AC Milan in July for £55m, becoming their second most expensive signing.
Howe said the club had no knowledge of any potential betting breaches when they signed him.
"You make a decision at the time with the knowledge you have," Howe said. "We really liked him as a footballer and had no idea that this was even a possibility.
"There's a frustration and a disappointment that we're not going to have a quality player for a period of time.
"It shows nobody knows what tomorrow will bring. It is a valuable lesson. We need a squad robust enough to deal with these things. It is part of life and football."
Speaking about Tonali's mindset, Howe said: "From the moment this happened, his training performances have been very good.
"His mood is the same. It is there in the background and I'm sure there are difficult times for him."
Following the announcement of Tonali's ban, reports linked Newcastle with a move for former Wolves midfielder Ruben Neves, who moved to Saudi Pro League side Al-Hilal in the summer.





This news item was provided by the BBC Sport - Football website - the original link is: https://www.bbc.co.uk/sport/football/67245692?at_medium=RSS&at_campaign=KARANGA