Premier League predictions: Chris Sutton v The Football Academy's Tash & Gabe from Jamie Johnson FC
26 October 2023


For all their recent issues, Manchester United are on a three-game winning streak in all competitions - but will that last when neighbours Manchester City come to Old Trafford on Sunday?
"We know how United like to play on the break, and it worked for them when they won this fixture last season," BBC Sport football expert Chris Sutton said. "But if City click, it will be a very different story this time."
Sutton is making predictions for all 380 Premier League matches again this season, against a variety of guests.
This week, he takes on the stars of two CBBC shows - Tash, who features in The Football Academy, and Gabe from Jamie Johnson FC.
The Football Academy (TFA) is an access-all-areas series following the challenges of the boys and girls at Southampton Academy.
Season two, featuring cameo appearances from Mary Earps, James Ward-Prowse, Alex Scott and Jermaine Jenas, started on CBBC on 9 October and is available on BBC iPlayer now.
Jamie Johnson FC (JJFC) is set in the world of an elite academy at fictional Premier League club Hawx United and launched at the start of October.
It includes appearances from Kalvin Phillips, Arsene Wenger and, in a dream sequence including Gabe and comedian Romesh Ranganathan, The Weakest Link too. Episodes are available on BBC iPlayer here.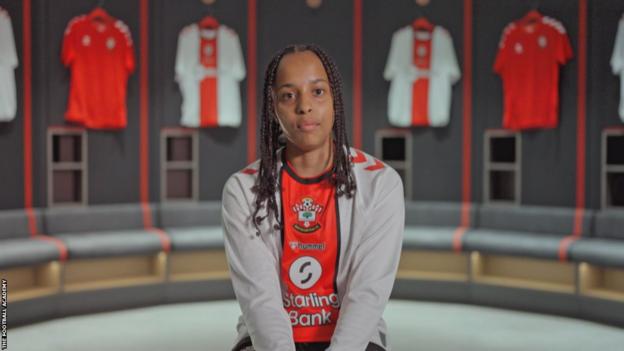 Tash is a striker who models her game on England captain Harry Kane
Tash, 15, is a Chelsea fan who plays for Southampton U16s and has been with the club since she was 11.
"I've really enjoyed my time there and I've definitely felt myself improve as a player," she told BBC Sport.
"Being filmed for TFA took a bit of getting used to but, when we got into it, it was fun be mic'd up and everything for the interviews, and have people focused on you and your game.
"I've really enjoyed it. The questions let you reflect on what you've done as a footballer and what you want to do in the future, which is quite cool.
"I'm a striker and if there's a player I model myself on, it's probably Harry Kane.
"That's hard for me to admit as a Chelsea fan as despite playing for Bayern now, Kane is always a Tottenham man, but you have to admire the amount of goals he has scored and also his technique with his positioning, not just his finishing.
"Those are the kind of things I definitely look out for to try to fit into my own game."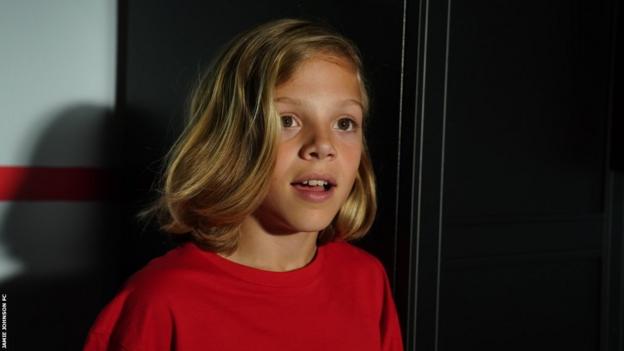 Gabe is a forward who tries to play like Liverpool stars Mohamed Salah and Cody Gakpo
Gabe, 13, is a Liverpool fan who plays for Bradford City U14s, ISFA Yorkshire U14s and the ISFA England U14 side.
He plays the character of Andrew Finch in JJFC and finished filming his second series of the show earlier this year.
"We all just live together for a while over the summer holidays so we have created a really strong bond," he told BBC Sport. "It kind of turns into like having a long sleepover with your mates.
"We play a lot of games while we are filming and have skill competitions between us too. There's quite a range of ages, from year six up up to some who are doing their GCSEs - it can get pretty competitive, but it's always good fun and everyone gets along.
"We've all got our own tricks that we try to use. I play on the wing and I'm sort of like an attacking midfielder so I try to play a lot like Mohamed Salah and Cody Gakpo, who are two of my favourite players at Liverpool as well."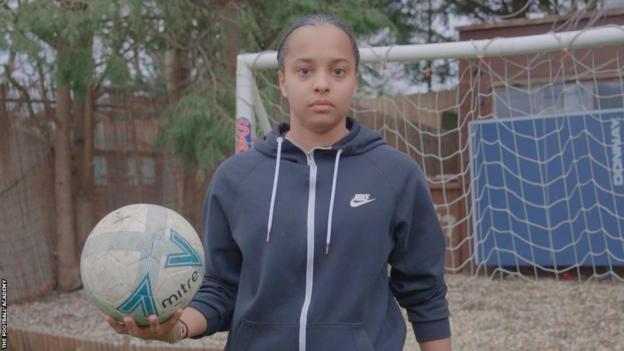 Tash and her Southampton Under-16 team-mates go for cup glory in series two of The Football Academy
Tash and Gabe have already met on the football pitch, when TFA met JJFC in an epic five-a-side showdown last summer.
JJFC made a flying start and Gabe turned on the style with an audacious rainbow flick as they tried to extend their advantage.
But TFA fought back strongly and, after Tash equalised to make it 5-5, went on to triumph 7-5.
Tash had the last word that day with a mic-drop moment at the end of the game, where she said "we came, we saw, we conquered Jamie Johnson!"
But who will triumph when it comes to predictions - and will they beat Chris as well?
"I reckon I've got it this time!" said Gabe. "I'm pretty confident!"
"No chance!" said Tash. "I'm here to win this one too!"
Sutton, as you'd probably expect, thinks otherwise.
"My 12-year-old daughter, Sophia, and her friend Hetty are helping me pick my scores this week," he explained. "I'm doing well at predictions anyway but, together, we will be unbeatable!"
Chris Sutton, Tash and Gabe were speaking to BBC Sport's Chris Bevan.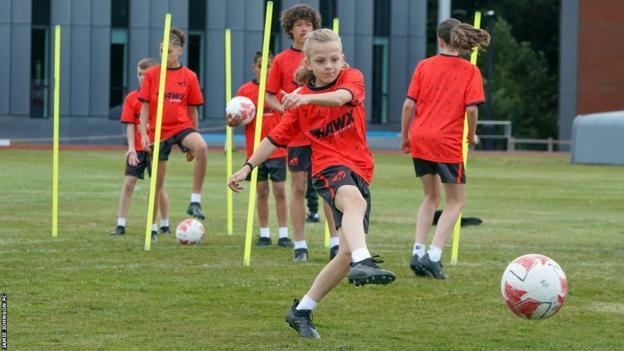 Gabe plays the character of Andrew Finch in Jamie Johnson FC
When?

Result

Sutton

Tash

Gabe

FRIDAY, 27 OCTOBER

Crystal Palace v Tottenham

1-2

0-2

0-3

1-3

SATURDAY, 28 OCTOBER

Chelsea v Brentford

x-x

2-1

3-1

2-1

Arsenal v Sheff Utd

x-x

3-0

3-0

4-0

Bournemouth v Burnley

x-x

1-1

1-1

1-1

Wolves v Newcastle

x-x

0-1

1-2

1-2

SUNDAY, 29 OCTOBER

West Ham v Everton

x-x

1-1

2-1

1-0

Aston Villa v Luton

x-x

2-0

4-0

2-0

Brighton v Fulham

x-x

2-0

2-1

2-0

Liverpool v Nott'm Forest

x-x

3-0

2-0

3-1

Man Utd v Man City

x-x

1-5

1-2

1-2
A correct result (picking a win, draw or defeat) is worth 10 points. The exact score earns 40 points.
SUTTON'S PREDICTIONS
All matches kick off at 15:00 BST unless otherwise stated.
FRIDAY, 27 OCTOBER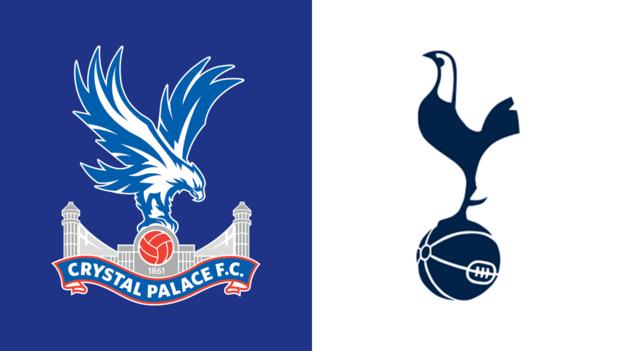 Crystal Palace 1-2 Tottenham
After a slow start, I'd like to point out how good my predictions have turned out this season.
I thought I should get two points for beating both my guests last week but even just getting one point [editor's note: as per the actual rules] means I am quite far ahead now in the table, and I haven't been beaten since week four.
That probably just means I am going to lose soon, though, which is kind of the way I am thinking about Tottenham too, and their fantastic unbeaten start under Ange Postecoglou - when will it end?
Spurs' win over Fulham on Monday means 'Big Ange' has taken 23 points from his first nine games, which is the best start to any Premier League managerial career after that number of matches.
I actually figure in that statistic, as it happens - along with Guus Hiddink at Chelsea in 2008-09, my old Norwich boss Mike Walker is joint-second with 22 points from nine matches in 1992-93. I played in five of those games, in case you were wondering.
I am obviously a big fan of Postecoglou and am delighted to see him doing so well, but this is not going to last forever, and I still think Spurs will hit a bump in the road sometime soon.
Will it be at Selhurst Park? I am not sure. This is not an easy game, and I definitely think we will see a reaction from Crystal Palace after they were smashed 4-0 by Newcastle last week.
But what is really impressive about Spurs is the number of clean sheets they have kept - four, the joint most with Arsenal, Palace and Newcastle. Their overall defensive record is excellent too, with only eight goals conceded so far, and only Manchester City have a better record at the back this season.
I wasn't expecting to see that kind of resilience from a Postecoglou team because he puts the emphasis on attack, but it has been a big part of their success so far.
We won't see a big scoreline here because Palace will look to frustrate Tottenham and keep things tight, but I am going for another Spurs shut-out and three more points for Ange.
Sutton's prediction: 0-2
Tash's prediction: Palace aren't in the best form but Spurs have definitely improved under their new manager. It's hard to say it as a Chelsea fan, but they are on their way up - unfortunately. 0-3
Gabe's prediction: I reckon Palace will get a goal but Spurs are doing so well at the moment. James Maddison has been brilliant and Son Heung-min is scoring a lot of goals. 1-3
SATURDAY, 28 OCTOBER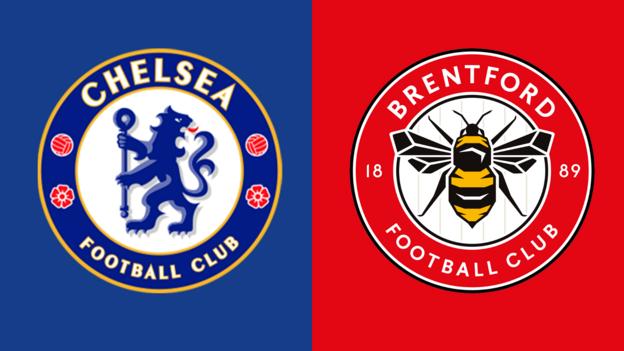 Chelsea v Brentford (12:30)
Sophia has gone with Chelsea to edge this one, and I think that's a good shout.
Brentford ended a six-game winless streak by beating Burnley last time out, but I feel Chelsea are improving every week.
They haven't cracked it yet under Mauricio Pochettino, but they are getting there. They were probably the better team for most of their game with Arsenal last weekend, and ended up being disappointed with a draw.
I'm going to go with Chelsea but, every time I do that, they seem to to find a way of stuffing it up. Brentford are exactly the type of team who could upset them too, so I am fully expecting to get this one wrong.
Sutton's prediction: 2-1
Tash on Chelsea: I've grown up a Chelsea fan because of my dad and my favourite players are Raheem Sterling and Lauren James, who both play for Chelsea and England. My favourite moment as a Chelsea fan is definitely when we won the 2021 Champions League - we were all celebrating when Kai Havertz knocked it past Ederson to score the winner - and with England it was winning the Euros in 2022. I got to be a flagbearer at the games that were played at St Mary's, including England versus Northern Ireland, and it was amazing to be on the pitch with the players before the games.
Tash's prediction: I might be a bit biased here but Chelsea are going to win. We are scoring more lately and we are improving all the time. We dominated against Arsenal last week but conceded an equaliser because the defender wasn't watching where his man was, which was annoying, but I feel like we are going to have a good run of results now. 3-1
Gabe's prediction: I am going with Chelsea to get the win but both teams are in mid-table and I don't see this being a very good game to be honest! 2-1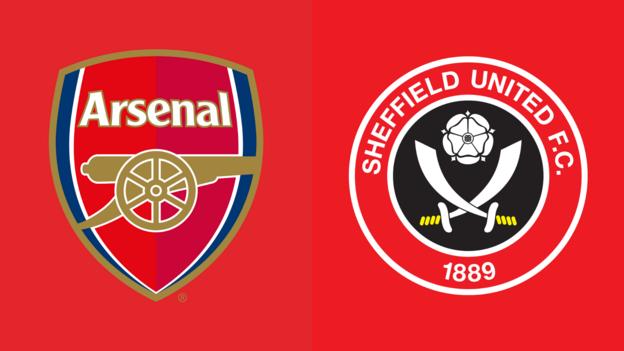 Arsenal v Sheff Utd
Sophia and Hetty thought this might be close but I really don't see it that way.
Sheffield United have one point from their first nine games, and with a quarter of the season gone, they are basically relegated, aren't they?
Things look desperate for the Blades already and you do wonder how they can shape up to try to stop Arsenal.
We already know that is what they will do - just hang in there and be resilient, and hopefully nick something, but I don't see it working out for them at the Emirates.
Arsenal's main worry ahead of this game is their schedule and their squad, because the games are coming thick and fast for them at the moment, but I think they will be pretty comfortable here.
I am still not sure about Gunners boss Mikel Arteta sticking with David Raya over Aaron Ramsdale in goal, but that situation is unlikely to affect how this game goes.
Sutton's prediction: 3-0
Tash's prediction: Once Arsenal score they will find their rhythm and they should win easily. Sheffield United are struggling and this could be a tough game for them. 3-0
Gabe's prediction: Arsenal are doing well again and they have a few players who can get them goals. Sheffield United are bottom and I think this will be a high-scoring game. 4-0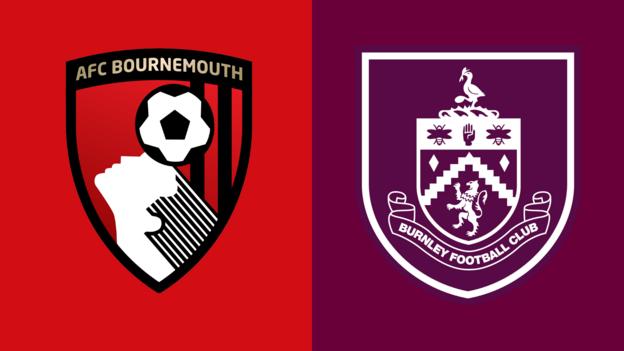 Bournemouth v Burnley
Bournemouth boss Andoni Iraola looks out of his depth to me and he is desperate for his first win.
He was unlucky to see Lewis Cook sent off in last week's defeat to Wolves, but the result itself did not surprise me.
For his predecessor Gary O'Neil to come back and get the win the way he did sounds like something you couldn't write a script for, but you probably could if you had already seen Bournemouth play this season.
Iraola looks to me as if he isn't going to last too much longer, but this is a good opportunity for him to turn things around.
Burnley have shown glimpses of being a good team but each week that they don't get a result must be another big blow to their confidence.
Both teams are in the bottom three for a reason and, being honest, I think they will probably both stay there for a while longer.
Sutton's prediction: 1-1
Tash's prediction: This is going to be a tight game. 1-1
Gabe's prediction: There won't be a lot of goals in this one. 1-1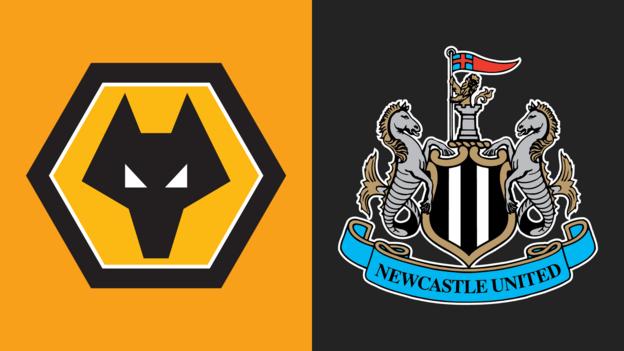 Wolves v Newcastle (17:30)
This is not an easy one to call - Wolves have put together a four-game unbeaten run and Newcastle have got a few injuries to contend with, as well as Sandro Tonali's ban for breaching betting rules.
I like the job Gary O'Neil is doing at Molineux, but the Magpies are defending really well at the moment and that is going to hold the key here.
I am going with Newcastle to withstand a bit of pressure and bounce back from their Champions League defeat by Borussia Dortmund by nicking the points.
Sutton's prediction: 0-1
Tash's prediction: Newcastle are in great form but Wolves are definitely difficult to beat. I've gone for Newcastle to just edge it. 1-2
Gabe's prediction: Newcastle started the season slowly and it seemed like they had dropped off a a bit after last year, but they have found a bit of form now. 1-2
SUNDAY, 29 OCTOBER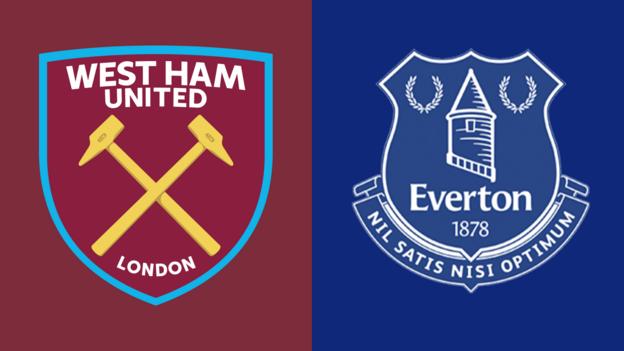 West Ham v Everton (13:00)
Sophia and Hetty went for a 2-0 West Ham win, but I am going to have to overrule them.
I just have a sneaky feeling that Everton are going to get something, especially with Dominic Calvert-Lewin fit and looking sharp.
Calvert-Lewin has obviously had a lot of injuries but I am not going to apologise for admiring him. Everton's season depends on him, and he can definitely help them get a point here, for starters.
West Ham are a well-balanced side and Everton fans will know very well how organised teams are under David Moyes, but I can see the Toffees scrapping this one out for a draw.
Sutton's prediction: 1-1
Tash's prediction: This is going to be close too. 2-1
Gabe's prediction: I've not watched a lot of either of these teams but I know West Ham have been doing pretty well. 1-0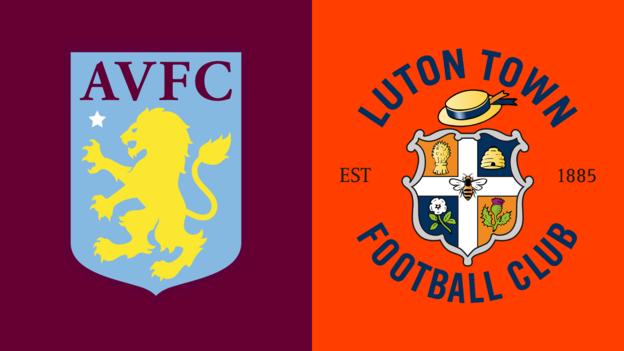 Aston Villa v Luton (14:00)
Out of the three promoted teams, Luton are the ones who have surprised me the most so far and they showed they had a bit about them when they fought back from 2-0 down to draw with Nottingham Forest last week.
Fighting back for a point at the City Ground was a good sign but, let's be honest, going to Villa Park is a much tougher task.
Aston Villa are on fire, especially at home, and the goals they are scoring through Ollie Watkins and his link-up with Moussa Diaby makes them very hard to stop.
Sutton's prediction: 2-0
Tash's prediction: Aston Villa are flying at the moment and I can see them scoring a few goals. 4-0
Gabe's prediction: Luton have been finding it tough and Ollie Watkins is scoring a lot of goals, so I am going with Villa here. 2-0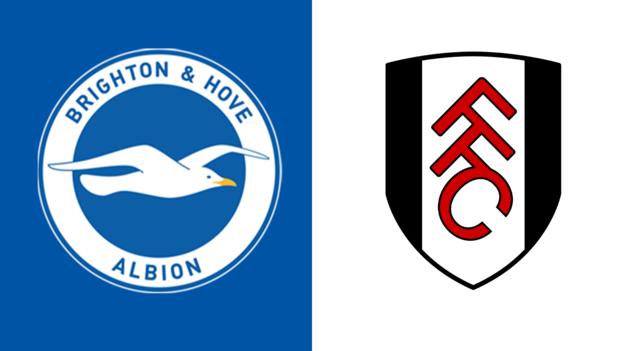 Brighton v Fulham (14:00)
A Brighton fan screamed a rude word at me at Manchester Piccadilly station while I was on my way home from the Etihad Stadium last weekend, because I had predicted that City would beat the Seagulls 6-2 and the final score was 2-1.
He wasn't the only one to remind me about that prediction during the course of the afternoon when I was co-commentating for 5 Live, but I did make the point to him that his side had still lost, so was he celebrating defeat?
James Milner will probably still be dizzy after being asked to try to deal with Jeremy Doku, who was sensational in the first half of that game, but I am expecting a much easier afternoon for the rest of his Brighton team-mates.
City pressed them so well, especially early on, that they could not get up the pitch. Fulham will not be able to match that, and I don't think they offer too much of a threat.
I'm still not sure what to make of Marco Silva's side this season. They don't look quite the same going forward as they did last year, although I do think they have enough to stay up.
Sutton's prediction: 2-0
Tash's prediction: Brighton to take the points here. 2-1
Gabe's prediction: Brighton are not doing quite as well as last year, but they should still beat Fulham. 2-0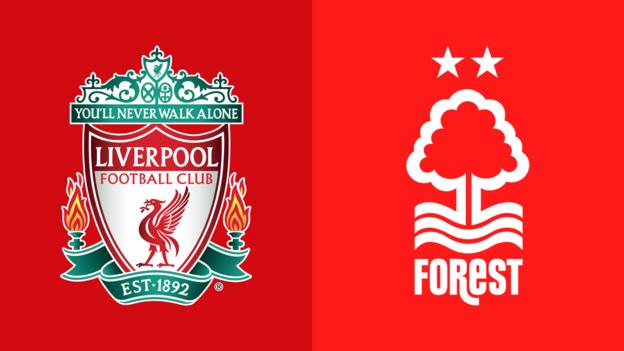 Liverpool v Nottingham Forest (14:00)
Nottingham Forest's away form is clearly much improved but a trip to Anfield is a pretty daunting task right now.
Sophia and Hetty say 1-1 for this one but I am bringing in my son Harry, who is a Liverpool fan, to make the call here.
Harry says Mohamed Salah has scored in every home league game this season, and also that Liverpool don't lose at Anfield.
He's gone for them to win 3-0 and, although I am not convinced they will keep a clean sheet, I will go along with that.
Sutton's prediction: 3-0
Tash's prediction: Salah is coming off a good performance against Everton and I think he will pick up where he left off there. Liverpool should win this one pretty comfortably. 2-0
Gabe on Liverpool: I support them because of my dad - I watched them because he did and ended up being a fan too. We've got quite a new team this season but I thought we started off really well. What happened against Tottenham at the end of September, with the disallowed goal and VAR and everything, was annoying and knocked us for our next game as well but I think we are back on it now, and we are definitely in the title race.
Gabe's prediction: Hopefully we can play like we were doing at the start of the season, and forget about the past couple of games. We often concede first and then fight back to win and hopefully we can keep on doing that. 3-1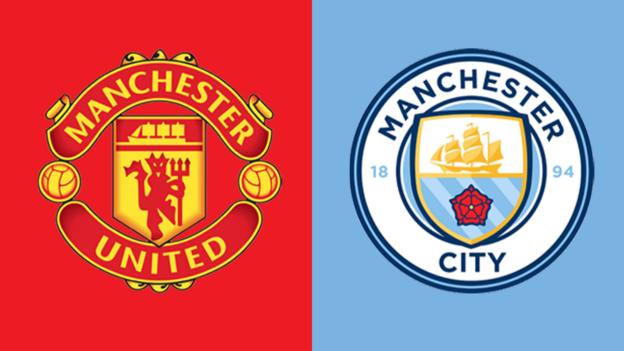 Man Utd v Man City (15:30)
Manchester United are very good at playing on the counter-attack, and that style does suit playing City.
But United are an average side and, to predict how this might go, I think you have to look beyond their past three results and consider the unconvincing way they have won those games.
City, in contrast, look to me like they are going to smash someone sooner or later, and Sunday could be the day that happens if they return to their ruthless best.
The talk before the season started was whether United were any closer to City but, from what we've seen so far, they are miles off - and I am expecting this game to prove it.
I might give United a goal, because of their threat on the break, but City should still run away with it.
For some reason there seems to be some negativity about Erling Haaland's form this season, but I don't agree with that.
Haaland has still scored loads of goals and is the Premier League's top scorer with nine so far - he is a ridiculous talent and I will be surprised if he doesn't show it in a big way here.
Sutton's prediction: 1-5
Tash's prediction: Derby games are always hard to call but I have gone for City to take it. I was a bit shocked when they lost two Premier League games in a row a few weeks back but they have bounced back from that. 1-2
Gabe's prediction: This should be a really good game to watch, especially for City fans! It will be close but I think they will win it. Marcus Rashford is showing some form for United but Haaland is just class - he's the best striker in the Premier League at the moment. 1-2
How did Sutton do last week?
Chris got eight correct results from 10 matches in week nine, including one exact score, for a total of 110 points.
That was enough to beat both his guests, Joelah and Keke, the award winning presenters of 1Xtra's Throwback Party on BBC Sounds, although it all came down to the final game, Tottenham's 2-0 win over Fulham on Monday.
Chris backed Spurs to win 3-1 while Joelah and Keke both went for a 3-0 Tottenham triumph - and if they had been right, Joelah would have overtaken his final tally.
In the end, Joelah got six correct results with one exact score, for a total of 90 points, while Keke managed four correct results with one exact score, giving her 70 points.
Anthony Joshua

150

Eddie Hearn

130

Anish Kumar

100

Chris Sutton
94 (average after eight weeks)

Fabian Edwards, Joelah from 1Xtra, KSI, Midas the Jagaban

90

David Earl, Keke from 1Xtra, Jazzie Zonzolo

70

Tommy Fury, Joe from Nothing But Thieves

60
How did you get on?
There is a pattern emerging here, where you lose out if the points are shared.
The only two results you got wrong this time were the draws between Chelsea and Arsenal, and Nottingham Forest and Luton - maybe you need to sit on the fence more often?
=1. Chris

8/10

=1. You

8/10

3. Guests

6/10
*Win, draw, loss prediction based on highest % of vote for each match. Joelah's score is used in these tables.
1. Chris

56/90

2. You

54/90

3. Guests

51/90





This news item was provided by the BBC Sport - Football website - the original link is: https://www.bbc.co.uk/sport/football/67193238?at_medium=RSS&at_campaign=KARANGA