VAR: Chelsea manager Mauricio Pochettino says he 'trusts the car but the driver is the problem'
6 October 2023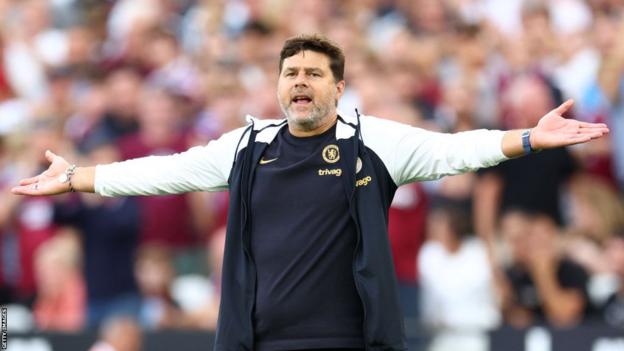 Mauricio Pochettino's Chelsea face Burnley on Saturday
Chelsea manager Mauricio Pochettino said he "trusts in the car but it is the driver that is the problem" amid the ongoing debate around the use of video assistant referee technology.
Pochettino says he is in favour of the technology but would like to see its use during matches simplified.
"We understand people make mistakes, it is not easy," Pochettino said.
"I think when the referee makes mistakes, we can all accept [it]. When it happens with technology it is difficult to understand."
He added: "For me it is about simplifying the situation. The most important is to return to giving [more] power to the referee. I think one step back may make things easier and more clear."
While insisting he trusts VAR after initially being critical, Pochettino said he would only keep the offside and goalline aspects of the technology.
Luis Diaz's goal was incorrectly disallowed at 0-0 last Saturday despite replays showing he was onside. A breakdown in communications between the on-pitch officials and VAR teams meant the original decision was not overturned.
Also speaking on Friday, Tottenham manager Ange Postecoglou accepted Liverpool were denied a "legitimate goal" but said it was "clear it wasn't an integrity issue" which caused the error.
Meanwhile, Wolves boss Gary O'Neil said he believes there "seem to be more errors made" so far this season.
What is the new 'VAR communication protocol'
Referees' body PGMOL committed to a full review following the incident at Tottenham Hotspur Stadium.
From this weekend, PGMOL said VARs will confirm the outcome of any decisions with their assistant VARs before notifying the on-field officials to prevent a repeat mistake.
PGMOL, which said it is committed to introducing a new VAR communication protocol as part of a review, believes the move will enhance the clarity of communication between the referee and VAR team in relation to decisions.
The hope is that this will also build trust with the players and managers following the controversy around the disallowed Diaz goal.
Howard Webb, who is PGMOL's chief refereeing officer, will speak about the VAR incident at Spurs when the latest edition of the 'Match Officials: Mic'd Up' programme airs on Tuesday.
Webb will join former England striker Michael Owen for the 26-minute show, which analyses a number of refereeing decisions from the recent match rounds using game footage as well as audio between on-field officials and VAR teams.
'A faultless VAR system doesn't exist' - Postecoglou
Postecoglou's Spurs moved above Liverpool to second place after Joel Matip's late own goal decided an eventful and contentious Premier League match last weekend.
The magnitude of the VAR mistake did not become clear to the managers and players until after the match, in which Liverpool were also controversially reduced to nine men.
"It's a weird one," said Postecoglou. "Usually when something major happens, you get a sense during the game. I don't think anyone really had a sense anything significant had happened."
He added: "Whatever I say is maybe going to be seen through the prism that we were the beneficiaries of the mistake. The facts are there was a legitimate goal that Liverpool scored which wasn't given.
"It is an unusual one in that it has never happened before. At the same time, we are in a new space with technology and there are going to be a lot of firsts with this technology.
"My view is that we want a faultless system - that will just never exist, unless we turn our game into an event which goes on for four hours and we explain every decision."
Liverpool manager Jurgen Klopp has said the match should be replayed.
Postecoglou was asked, had he been aware of the error at the time, whether he would have potentially gifted a goal back.
However, the Tottenham boss insisted that such a level of responsibility, making quick decisions based on limited information, should not fall on managers.
"We have got pretty hefty responsibilities as managers at our football clubs but we are not the custodians," he said.
"I wouldn't make a decision which could potentially send your club down on the back of what my beliefs are.
"It is different if something is clear. It wasn't easily explainable because, if it was, I would assume there would have been more uproar than there was."





This news item was provided by the BBC Sport - Football website - the original link is: https://www.bbc.co.uk/sport/football/67027909?at_medium=RSS&at_campaign=KARANGA