Anwar El Ghazi takes legal action against Mainz over dismissal for Israel-Gaza posts
15 November 2023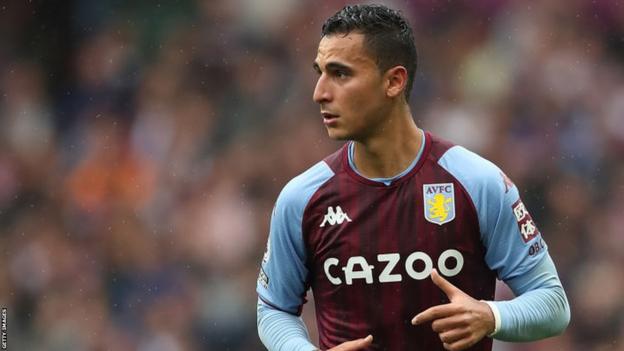 Anwar El Ghazi played over 100 times for Aston Villa between 2018 and 2022
Dutch winger Anwar El Ghazi is taking legal action against former club Mainz for wrongful dismissal.
"I don't see any statement in the latest post that is not covered by freedom of expression," the winger's lawyer told Allgemeine Zeitung.
Mainz say they have been informed about the case by El Ghazi's legal team.
In a statement to BBC Sport, they added they will not be commenting further "as it is an ongoing legal proceeding".
Meanwhile, BBC Sport has seen a spate of abusive messages sent to the 28-year-old on social media, a number of which include death threats against the player and his family, as well as referring him to as a "terrorist".
Some of the abusive messages appear to be from accounts in the United Kingdom and have been passed on to the UK Football Policing Unit to investigate.
El Ghazi was originally suspended by Mainz on 17 October, following a social media post which included the controversial phrase "from the river to the sea", a pro-Palestinian message. Critics say the phrase implies the destruction of Israel, but some pro-Palestinian figures disagree.
Mainz said El Ghazi's post "took a position on the conflict in the Middle East in a manner that wasn't tolerable for the club".
The former Everton and Aston Villa player was threatened with contract termination by Mainz on 27 October, but returned to the squad three days later, saying that he stands "for peace above everything".
"Given his commitment to upholding the club's values and the remorse shown, and in keeping with the club's culture of using mistakes as an opportunity to learn, El Ghazi will return to training and matchday-related activities," said the Bundesliga club.
El Ghazi subsequently revealed, however, that he had not authorised the club's statement confirming his return, saying: "I do not distance myself from what I said and stand for humanity and on the side of the oppressed until the last day I breathe."
The German club then terminated his contract with immediate effect "in response to the player's statements and posts on social media."
Following the termination of his contract, El Ghazi said: "Stand for what is right, even if it means standing alone.
"The loss of my livelihood is nothing when compared to the hell being unleashed on the innocent and vulnerable in Gaza."
One of Mainz's founding members, and its first chairman, was Eugen Salomon - a Jewish man who was stripped of his club functions by the Nazis in 1933 before being killed in the Holocaust in 1942.
The Holocaust, carried out by Nazi Germany during World War Two, claimed the lives of an estimated six million Jews.
A road leading up to Mainz's stadium is named Eugen Salomon Strasse.

This news item was provided by the BBC Sport - Football website - the original link is: https://www.bbc.co.uk/sport/football/67338002?at_medium=RSS&at_campaign=KARANGA