Colombia 2-1 Brazil: Luis Diaz scores twice in emotional victory
17 November 2023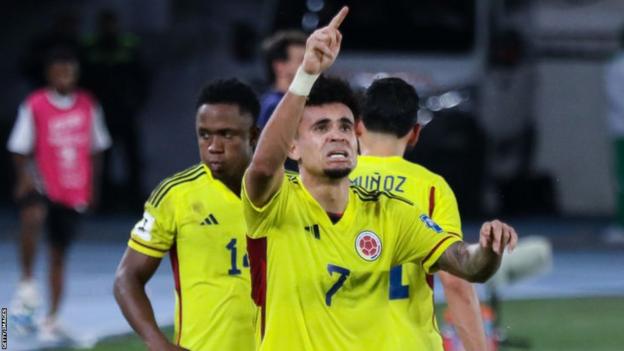 Luis Diaz and his father cried as they hugged each other when they were reunited on Tuesday
Luis Diaz inspired Colombia to victory over Brazil on an emotional night as his father watched from the stands after being released by his kidnappers.
The Liverpool forward scored twice in five second-half minutes to complete a surprise Colombia comeback in the 2026 World Cup qualifier in Barranquilla.
He was reunited with his father, Luis Manuel Diaz, on Tuesday after rebels had held him hostage for 12 days.
Diaz was surrounded by team-mates and staff following his first goal.
The 26-year-old pointed to the crowd after his 75th-minute equaliser and television cameras showed his teary-eyed father, wearing a Colombia shirt, celebrating with his arms raised.
Diaz said he had experienced "hard moments" over recent weeks but added: "Life makes you strong and brave and I think that's football, and not just football but life.
"I'm grateful to my team-mates, to the coaching staff who were always there for me at every moment," he said.
"And I dedicate the victory to the people, who deserved it."
Arsenal forward Gabriel Martinelli had given favourites Brazil a fourth-minute lead before they lost Real Madrid's Vinicius Jr to injury later in the first half.
But Diaz's quick-fire double secured an important win which lifted hosts Colombia above their opponents and up to third in the South American standings.
It came just two days after he was reunited with his father, who was freed by Colombia's National Liberation Army (ELN) guerrilla group after being kidnapped in his home town of Barrancas on 28 October.
Diaz's mother, Cilenis Marulanda, was also taken but was rescued a few hours later, and a massive search operation was launched for her 58-year-old husband.
Luis Diaz was surrounded by Colombia team-mates and staff following his equaliser
Luis Diaz directed his celebrations into the crowd, where his father was watching

This news item was provided by the BBC Sport - Football website - the original link is: https://www.bbc.co.uk/sport/football/67447739?at_medium=RSS&at_campaign=KARANGA