England's Beth Mead and Ben Chilwell among stars leading new mental health initiative
2 November 2023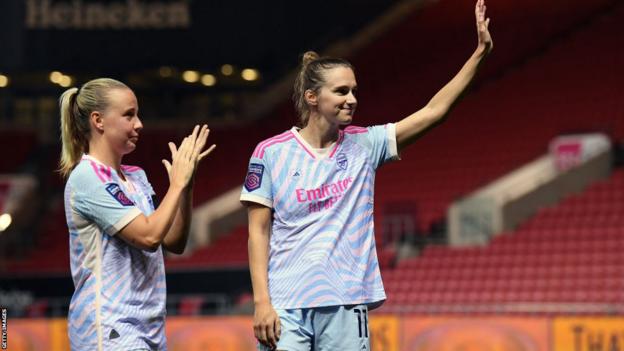 Arsenal's Beth Mead and Vivianne Miedema are among a group of players who have helped launch Create The Space
England's Beth Mead and Ben Chilwell are among the stars leading a campaign to help people in football tackle mental health issues.
The pair have discussed their own experiences with mental health.
Arsenal forward Mead has says she had "very dark" moments after losing her mum to cancer while unable to play because of a serious knee injury.
"There's not a perfect way of dealing with it, but if you feel you're not alone it helps so much," Mead said.
The Arsenal player has recently returned to action after 11 months out with a cruciate ligament injury that caused her to miss this year's Women's World Cup.
While the 28-year-old was sidelined and worked through rehabilitation, her mother June died after a "long and brave battle" with ovarian cancer.
"In January I lost my mum and because of the injury I couldn't play football, which was always my escape, my happy place," Mead said.
"Moments when people thought I was fine because of my outgoing personality, were very dark.
"It's been a tough process to understand. Team-mates, people at the club, family and friends that supported me were so important, without them I could have been in a far darker place."
Mead has put her name to Common Goal's 'Create The Space' initiative alongside Chelsea defender Chilwell, Arsenal team-mate Miedema - who is also Mead's partner - Tottenham captain Molly Bartrip and former England Under-21 striker Marvin Sordell.
The players believe the initiative will allow football to be used as a vehicle to tackle mental health issues at grassroots level, while allowing those at the elite end to have a space where they can be comfortable expressing themselves.
Miedema, 27, says she was told she "needed to train harder" when she tried to discuss her mental health while playing in Germany.
"At Arsenal when I had the opportunity to see someone, I was suffering from panic attacks, but even then I still wasn't sure if I should, as it had never been OK to address my mental health.
"The proudest moment of my career so far was to take care of myself and look after my mental health, not just the physical. Everybody needs support."
Common Goal will team up with Football Beyond Borders in the UK and E-Motion in the United States in an effort to create what they say will be an 'integrated, experiential and holistic programme'.
It aims to create mental health advocates in clubs that will offer greater support on and off the pitch.
Chilwell, 26, suffered a cruciate injury two years ago and is currently out of action with a hamstring problem for the third time in the past 12 months.
"I have had my own mental health journey and I felt unsure about where to turn to for support," he said.
"It's down to our generation to change this and ensure that throughout football, all the way from the elite level to young people in community organisations, we have each other's backs and we're equipped with the tools to help ourselves and those around us.
"We need to move from talking about mental health to taking action, and providing a platform for everyone wishing to play a role in tackling mental health issues, whether they are playing in the Premier league, in the playground, or in the park."





This news item was provided by the BBC Sport - Football website - the original link is: https://www.bbc.co.uk/sport/football/67282466?at_medium=RSS&at_campaign=KARANGA