Everton points deduction: Sean Dyche's side gear up for another relegation fight
17 November 2023
By Shamoon HafezBBC Sport
Last updated on .From the section Everton
Former Everton midfielder Leon Osman says Everton 'feel they did all they could'.
Everton Football Club and their supporters have now had a little time to digest the shock news of the Premier League's biggest sporting sanction being handed down to them.
After a poor start to the season, Sean Dyche's side had improved and were comfortable in the table but have now dropped from 14th to second bottom on goal difference, two points from safety.
Everton narrowly escaped relegation in the past two tumultuous seasons and - despite an appeal to be heard - they are now gearing up for a third consecutive battle to avoid ending up in the Championship.
The Everton faithful have made Goodison Park a bearpit in times of adversity and supporters will need to bring that cacophony of noise once more.
Only one side in Premier League history has survived relegation from a position of having four points from 12 games - however, that team was Everton in 1994-95.
"It is a shock," Everton fan and host of A Game of Two Halves podcast Ellis Nordhoff tells BBC Sport. "When we were starting to do really well it's a hard one to take.
"But this fanbase is like no other because in the face of adversity we stand up like no-one else. We will back the team and club through absolutely everything. The unity between Evertonians will be stronger than before."
Players will play 'like their lives depend on it'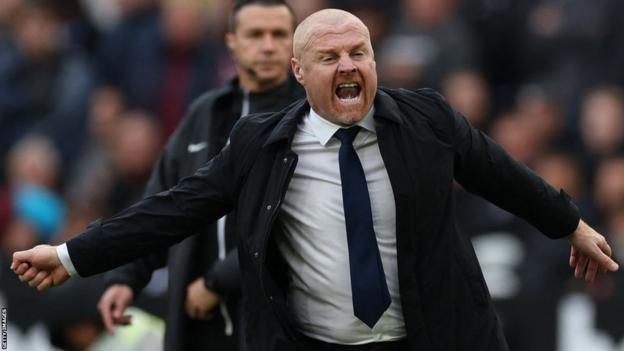 Manager Dyche has been a galvanising figure in times of adversity at Everton
Despite the points deduction, Everton are only two points behind Luton in 17th position with 26 games still remaining.
Opta's data analysis gives Everton a 34.1% chance of going down - up from just 3.4% before the sanction, but still less than Burnley (80.6%), Sheffield United (78%) and Luton (70%).
And it is the first Premier League season where as many as three clubs - those newly promoted sides - failed to win at least seven points from their opening 12 games.
Frank Lampard saved the club from relegation in 2021-22 with 39 points and Dyche needed an Abdoulaye Doucoure winner in the final game last season to preserve their top-flight status with just 36 points.
Dyche's football may not be attractive stylistically but like at former club Burnley, it is effective and he has stamped his mark on a functioning team with six victories in their past nine games in all competitions.
Now the Blues must summon the spirit to evade the bottom three, a task which is new territory for Dyche as nine points is the lowest total his previous teams have collected after 12 games.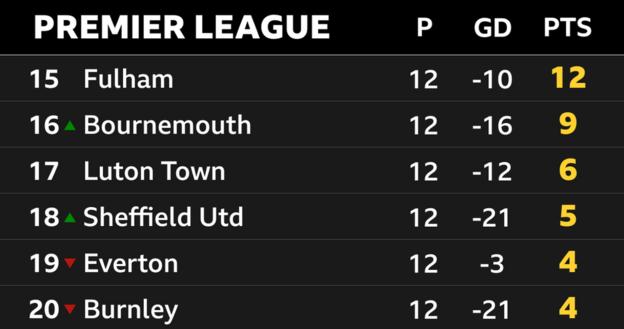 Everton's plight has drawn parallels with the 1993-94 campaign when Mike Walker kept them up on the last day after coming from 2-0 down to beat Wimbledon 3-2 in the final game.
The following season under Joe Royle - whose side were dubbed the 'Dogs of War' - was the last in which the club won a trophy, stunning Manchester United in the FA Cup final at Wembley.
And it has not gone unnoticed by supporters that a trip to the national stadium will be within touching distance if they defeat Fulham in the quarter-finals of the Carabao Cup next month.
Everton's next game is at home in the Premier League to United next Sunday and Goodison Park is expected to be cauldron of defiance from now until May.
"The positive trend we were on will now be intensified by the players, manager and fans coming together," says Nordhoff. "Everyone will push the club to get over the line and it will be difficult but I think we will stay up.
"The atmosphere at Goodison Park now is going to be raucous, the players will be driven by it and Sean Dyche is the right man for this because he will be the face of the siege mentality - us against the world.
"It will get the fire in the bellies of the players to fight and we know this club has that fight in them. Everton fans are so passionate, they live and breathe the club.
"We were in this position in 1993-94 and then ended up winning a trophy too, will the stars align for us again and history repeat itself? The core values of the club are to stand together in what we believe in.
"This will be the 'Dogs of War reborn'. I imagine the players are now going to be playing like their lives depend on it and it will mean even more to them now."
What is at stake if Everton do go down?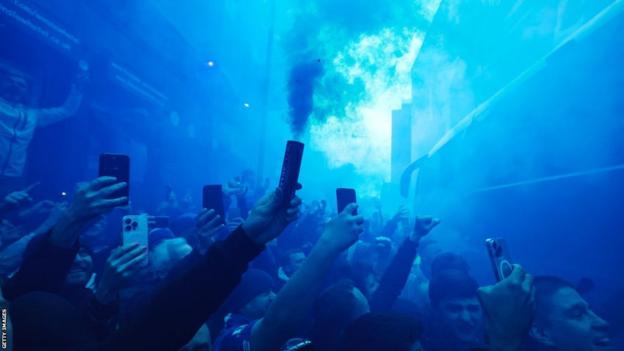 Everton fans gave a hair-raising welcome to their players before facing Newcastle at home last season
Everton say the financial breach centres around interest payments on Everton's new £760m stadium on Bramley Moore Dock, which the club felt were permissible 'add backs' for profit and sustainability calculations in the 21-22 financial year.
But the commission disagreed and did not accept the club's claim of mitigating factors such as being fully compliant with the Premier League over the past two years, the direct impact of the Russia-Ukraine war by forgoing the lucrative USM sponsorship; and the impact of the Covid pandemic on the transfer market.
There is further off-field uncertainty with the takeover of the club by 777 Partners on the horizon, but the Miami-based investment firm decline to comment as it is understood it would be prejudicial to the ongoing regulatory processes.
If the takeover does not get the go-ahead from the Premier League, Everton may well face further financial concerns with cashflow issues. The could eventually end up facing administration and with it a potential further nine-point sanction.
Everton appeal will be heard this season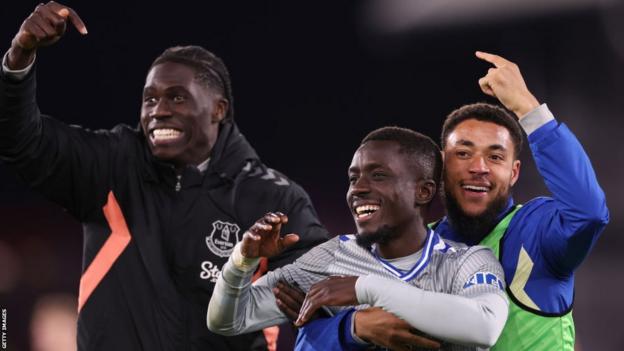 Everton have won six of their past nine games in all competitions
Everton say they have not been given clarity on how the commission reached the figure of 10 points and sources believe a sporting sanction for a technical breach on the accountancy of building their new stadium is not appropriate.
They will be appealing against the decision, and that will be heard by a judicial panel, who will be tasked with assessing the commission's process and whether the penalty handed out was fair.
The appeal will be heard and concluded before the end of this season, which means Everton and other clubs in danger will be clear which division they will be competing in next term.
In Premier League history only two other clubs have received a points deduction - Middlesbrough (three points) and Portsmouth (nine) - and neither was able to avoid relegation.





This news item was provided by the BBC Sport - Football website - the original link is: https://www.bbc.co.uk/sport/football/67456386?at_medium=RSS&at_campaign=KARANGA