Man Utd 1-3 Man City: Statement win as United recognise 'clear gap' in WSL
19 November 2023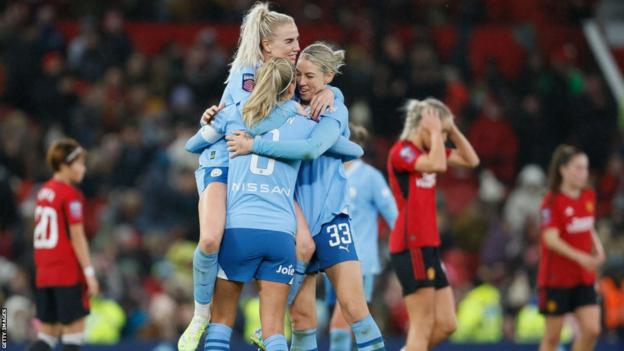 England defender Alex Greenwood was back in the Manchester City side after recovering from concussion
Manchester City knew there was no room for error when they turned up at Old Trafford with their Women's Super League title race prospects hanging in the balance.
Back-to-back defeats meant City were nine points behind leaders Chelsea on Sunday morning and a third loss in a row, at the hands of rivals Manchester United, could have been irreparable.
No team has won the WSL title having lost more than two games. City had already lost two of their opening six matches and in the space of eight days they had dropped from the top of the table to sixth.
It was understandable then that City's players celebrated their 3-1 victory more than usual - jumping on each other's backs while fist-pumping and roaring towards the away end in Old Trafford.
Their title challenge was back on track and they had harmed United's prospects in the process.
"We spoke a lot this week about what we wanted to achieve and we've not hidden away from that," said City boss Gareth Taylor.
"We take perspective on where we're at. To be first [in the table] one week, then within eight days we're down to sixth…
"The contrast is really huge in the WSL and it's difficult. We knew [the derby] was important."
Three points did not come easily for City.
They started with intensity and pressed United into mistakes, but the hosts took the lead when Katie Zelem scored from the penalty spot.
City's response was immediate. Jill Roord and Lauren Hemp both scored in the space of 90 seconds to make it 2-1, then Khadija Shaw added a third after the break.
Down to 10 players after Laia Aleixandri was sent off for a second booking, City had to dig in for the final 15 minutes plus stoppage time, but they were rewarded for their superiority on a day when it really mattered.
Shaw said City had "wanted to make a statement" and they did - but manager Taylor was keen to stress there is still a long way to go.
He said in the build-up to the game that City needed to go unbeaten to stand a chance of stopping Chelsea from winning a fifth successive WSL crown, and this was a big step in that direction.
"I won't go over how it feels and how important it is - but it's fantastic for the girls to come here and celebrate," said Taylor, once the win was sealed.
"The emotions in football are so high. When you win, everything is amazing; when you lose, it can feel like a disaster. But that's not the case.
"It's about finding that balance as it's just another step in our journey."
'There is a clear gap - we have to deal with that'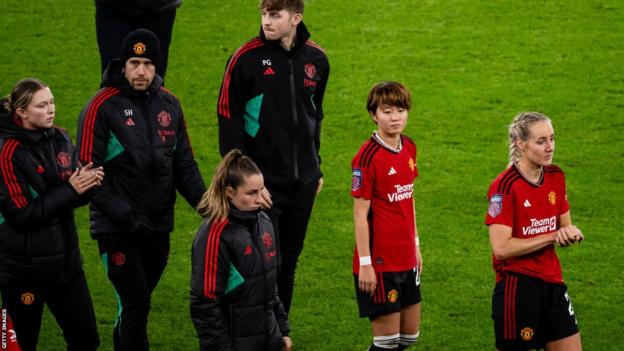 Manchester United have won just one in eight meetings with rivals Manchester City
Outclassed and outfought for large parts, it was a tough evening for United in front of the biggest crowd Old Trafford has hosted for a WSL game - 43,615.
Supporters came in their masses to cheer on Marc Skinner's side, in the hope United could repeat the victory they achieved in May, which is the only time United have beaten City in eight meetings.
But individual errors proved costly as City's quality shone through, and United could not find a response, even when the visitors went down to 10 players in the second half.
Having spent money in the summer transfer window in an attempt to make ground in the WSL title race, as well as compete in the Champions League, United now find themselves out of Europe and seven points off the pace domestically with two matches against Chelsea still to play in the league this season.
"There is a clear gap. We have to deal with that fact. When you deal with facts, you have a choice on how you can next attack that gap," said manager Skinner, when asked if the gap had become too big.
"I just wasn't happy with us as a collective. We weren't our usual selves. We set ridiculously high standards and we fell short of those. We allowed Manchester City's press and pressure to get on top of us.
"The goals we conceded are not like us. They are not good enough. When we look at the gap we know what we have to do. We have to play Chelsea twice. [It puts] pressure on those moments - but we do that every single day anyway."
While Taylor thinks his City side must remain unbeaten for the rest of the WSL campaign - like they did last season when they went 14 games without defeat following losses to Aston Villa and Chelsea in September - Skinner acknowledged United probably need to do the same.
However, having already lost points in draws with Brighton, Leicester and Arsenal before this latest defeat, Skinner knows United will need results against their title rivals to prevent the gap getting even bigger.
"We are a team that aspires to win. We know historically if you drop too many points you don't win the league. I do think it will be a different story this season though, but I might be proven wrong," said Skinner.
"What we do have this early in the season is a chance to rectify it. In defeat comes an opportunity. Tonight our opportunity is that we can look at what didn't go well and look at how we put that right quickly in games coming up.
"The head-to-heads [against title rivals] become more important and we need to deal with them but not lose sight on the other games too. We have to be better than we were tonight and we will be."

This news item was provided by the BBC Sport - Football website - the original link is: https://www.bbc.co.uk/sport/football/67469525?at_medium=RSS&at_campaign=KARANGA