Newcastle & Manchester United: Why are Premier League injuries at a new high?
19 November 2023
By Alastair Telfer and Simon StoneBBC Sport
Last updated on .From the section Premier League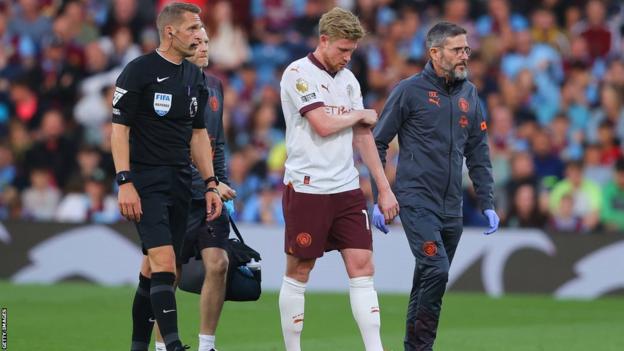 Kevin de Bruyne has not featured for Manchester City since his injury in their opening game against Burnley in August
When Newcastle defender Kieran Trippier confronted his own "emotional" fans after the defeat at Bournemouth his message was clear: "How many injuries have we got?" he repeated three times.
The Magpies are currently the worst-hit team in the Premier League with 11 players injured - and the total across the league this season has hit a new high.
There have been 196 injuries in just over three months at the start of the 2023-24 top-flight season, according to data analyst Ben Dinnery, founder of Premier Injuries - a 15% increase compared with the past four campaigns.
What is the full data? Why are so many players getting injured, and is this a trend? BBC Sport takes a look.
The stats
Newcastle, who qualified for their first Champions League campaign since 2002-03, have 11 players currently registered injured, with a total of 14 separate injuries to players this season. That is a league high shared with Manchester United, whose absences have also been well documented this season.
So, is it simply more games, with high-intensity European campaigns for both sides, meaning more injuries? Not quite, as West Ham, who are competing in the Europa League, currently having zero recorded injures with only five all season - the lowest in the league.
One reason for the stark difference, with a similar schedule, according to Dinnery is that the efforts of Newcastle's core squad in 2022-23 is starting to catch up with them. They only had 15 injuries across the whole of last season.
Dinnery added: "Newcastle were the only team across Europe's top five leagues where nine of their outfield players were able to play a minimum of 75% of their domestic league minutes last season, which is unheard of."
Arsenal

9

Aston Villa

10

Bournemouth

7

Brentford

11

Brighton

10

Burnley

9

Chelsea

12

Crystal Palace

13

Everton

7

Fulham

10

Liverpool

9

Luton Town

8

Manchester City

7

Manchester United

14

Newcastle United

14

Nottingham Forest

13

Sheffield United

13

Tottenham

9

West Ham

5

Wolves

6

Average

9.8

Source: Premierinjuries.com as of 19 November 2023 - not including suspensions or disciplinary issues
2022 winter World Cup 'hangover'
The impact of last year's winter World Cup may also be adding strain to players, says Dinnery.
One of the main concerns before the men's World Cup in Qatar last November was injuries and player welfare. The first half of the 2022-23 Premier League season was therefore condensed to ensure more games were played before the tournament.
Despite an unforeseen break because of the death of Queen Elizabeth II, 11 matches were played by 24 October, with some teams playing 12.
By gameweek 11, 151 injures were recorded - 45 fewer than this season, and a catch-up on fixtures was required after the World Cup.
"From the outside things looked like they returned to a bit of normality, but the reality of the situation is that we are still suffering a little bit of a hangover from that World Cup," Dinnery explained.
"Going into the World Cup numbers were actually down compared to the last three or four seasons.
"Why? You can never be quite sure. There was talk the players were lowering intensity ahead of the World Cup to try and protect themselves."
'Load on players is too much' - Manchester United manager Erik ten Hag on injuries
New data from global insurance group Howden's 'Men's European Football Injury Index' shows the average length of absences because of injuries across the Premier League, La Liga, Serie A, Bundesliga and Ligue 1 rose from 11.35 days before the 2022 tournament to 19.41 days in the January immediately afterwards.
The Premier League and Bundesliga were impacted most, despite a difference of domestic football in England resuming two days after the World Cup final on 18 December with the Carabao Cup, while German clubs were given a break of just over a month.
The report states the "increased tempo" in the Premier League and Bundesliga may explain why the injury rate was higher than in Italy, Spain and France.
Hamstring, ankle and calf/shin injuries saw the greatest increase in severity.
Hamstrings lead the way this season
Manchester City midfielder Kevin de Bruyne has not played since the opening game of the season against Burnley because of a hamstring injury.
Likewise, Wolves forward Pedro Neto is out for an extended period of time with the same injury after pulling up against Newcastle at the end of October.
Dinnery's team has been collecting data for more than 20 years, with hamstrings accounting for about 42% of soft tissue and muscular injuries.
This season there has been an increase of about 96% for hamstring injuries compared to the last campaign, with 53 incidents - 26 more than during 2022-23.
Overall, it accounts to a 55% increase compared to the previous four-season average. The previous high was 40 hamstring injuries during the 2020-21 season.
There was debate this season about games regularly lasting more than 100 minutes. because of an increase in added time to stop timewasting, and the impact of that on player welfare.
Hamstring

53

Thigh

7

Knee

28

Shoulder

6

Calf/Achilles

17

Back

4

Ankle/foot

21

Groin/hip

16

Head/facial

4

Not specified

40

Total

196

Source: Premierinjuries.com
The cost of injuries
The report by Howden used wage data provided by Sporting Intelligence to calculate the injury cost, with the overall financial impact on the 2022-23 Premier League season listed as £255.4m, a £70.8m rise on the previous campaign.
While the 946 reported injuries across Europe's big five leagues amounted to a 25% reduction on the previous season, the report says "increased injury severity" was behind the rising cost to clubs.
It works out the cost based on how much a player is a paid while unavailable through injury.
Premier League champions Manchester City recorded 40 injuries at an estimated cost of £11.9m. Manchester United and Nottingham Forest had the highest number of injuries, with 69. Chelsea's 68 injuries in the 2022-23 campaign, when they finished a disappointing 12th, cost them £40.1m, the most of any English club.
Overall, the cost of injuries across the Premier League, La Liga, Serie A, Bundesliga and Ligue 1 during the 2022-23 season increased by 27.3% from £485.2m to £617.8m.
Will it only get worse?
As we approach December it means one thing - a lot of football.
There are three rounds of fixtures between 21 December and 2 January, with the Premier League saying "no club plays within 60 hours of another match".
Chelsea have the least total recovery time across the period with 143.5 hours, and Brighton have the most with 287.5 hours.
"The injures have been unprecedented. I also expect the festive period to be significantly higher as last season had its own build-up," Dinnery said.
"In terms of recovery and those optimum levels, recovery needed we'd say is 72 hours. Anything before that you see it as a bit of a worry."
Dinnery stressed it is impossible to pinpoint the exact reasons for injuries, with every player and team having different circumstances.
However, one thing is clear - it is likely to get worse.
Next season will see the Champions League and Europa League group stage each feature 36 clubs and increase from six match rounds to eight, running into January, with a two-leg play-off to reach the last 16 for the clubs ranked nine to 24 in the overall table.
In addition, 12 European clubs will also participate in the 32-team Club World Cup in the United States in June and July 2025. Manchester City, Chelsea and Real Madrid have already qualified for that, with the current campaign's Champions League winner joining them, plus eight more clubs decided on their coefficient, although there will be a limit on the number of clubs from individual leagues.

This news item was provided by the BBC Sport - Football website - the original link is: https://www.bbc.co.uk/sport/football/67417862?at_medium=RSS&at_campaign=KARANGA