Northern Ireland: 'Denmark win must offer glimpse of future after poor Euro qualifying campaign'
21 November 2023
Watch: Denmark win big for 'self belief' - O'Neill
It started with a Dion Charles goal in a 2-0 win, and ended with a Dion Charles goal in a 2-0 win - but with so much more in between.
When a Charles double secured a comfortable victory away to Group H minnows San Marino in March, Northern Ireland supporters were hoping it would launch a genuine bid for Euro 2024 qualification. After all, Michael O'Neill, the architect of their joyous journey to France in 2016, was back at the helm for a second spell in charge.
However, fast forward eight months and Charles' goal nine minutes from time at Windsor Park on Monday night sealed a 2-0 win over Denmark that, in practical terms, did little more than ensure a positive end to what was a dreadful qualifying campaign.
It felt like the post-mortems on this failed bid for qualification, riddled as it was by an injury crisis that ripped the heart out of O'Neill's side for large parts, had almost all been written before the group-winning Danes arrived in Belfast.
There is no doubt, though, that while it had no impact on either team's final Group H standing - Northern Ireland were doomed to finish fifth regardless of the result having lost seven of their nine outings - Monday night's morale-boosting win definitely added a more upbeat tone to what had been a deflating narrative.
"Look, I'm not going to get carried away," O'Neill reflected afterwards.
"We have an awful lot of work to do with this team. Tonight was a step in the right direction and we have to keep taking steps in the right direction."
With long-term injuries to influential players such as captain Steven Davis and Stuart Dallas forcing O'Neill to choose from a very young and inexperienced squad throughout this qualifying campaign, he has continually stressed the importance of giving the youngsters time to grow into international footballers.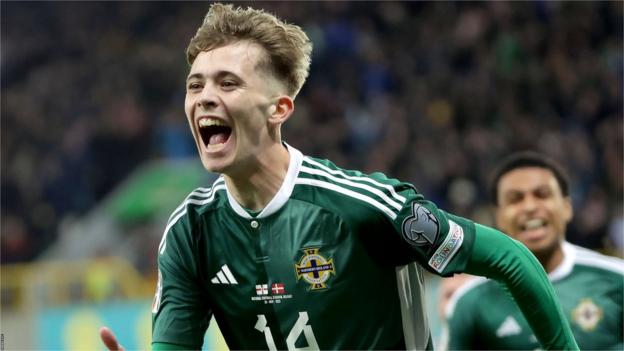 Isaac Price opened the scoring with his second international goal
Having had to explain three crushing 1-0 home defeats by Finland, Kazakhstan and Slovenia, Monday night offered him the opportunity to reflect on Northern Ireland beating a nation 56 places above them in the world rankings - albeit missing a number of key players and having already secured their passage to the finals three days earlier.
O'Neill was also able to enjoy a Windsor Park that was rocking once again for the majority of the second half in a fashion not fully witnessed since the successful nights of the manager's first reign.
"It's great to see the stadium full," he said. "We want to be a team that people get behind, that they enjoy seeing. When we were at our best, home form was massive to us and it's going to be massive again going forward.
"I know what it means to people here and what it means to win here. It's been a challenging campaign for me. I've had to look at myself. Are we doing the right things? I believe we are.
"It might not show at this moment in time, but hopefully this gives us a glimpse of what maybe lies ahead."
'Maybe lots of possession doesn't suit us'
Interestingly, if Monday night was a glimpse into the future, and with O'Neill being open about thinking about how best for his team to play, then the shape the team was set up in against Denmark could be one he deploys more often.
He admitted he had set the team up in a defensive manner, which he acknowledged might not be easy at home and potentially be difficult for the crowd to accept, but that it may be a way to achieve success.
"The biggest thing for me is the understanding of how we can compete at this level and how we can win," the former Stoke City boss said.
"For 40 minutes in the game on Friday [a 4-0 loss to Finland in Helsinki] we played in a similar way and I was pleased with that. The problem is when we go behind, how we manage that and how you deal with that.
"When you go ahead it energises you and gives you something to hang on to, something to protect. We have to recognise when we play teams of a certain level this is how we're going to have to play."
He added: "We have to look back at the earlier games in the group when we had quite a lot of possession and maybe that doesn't suit us.
"Maybe we play better as a counter-attacking team. Those are all things we're trying to work out with this group of players."
A difficult campaign to judge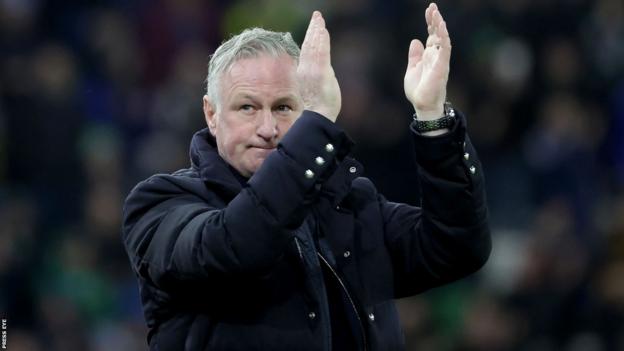 Michael O'Neill returned as Northern Ireland manager last December
And that notion of still working things out in terms of players and their strengths is why O'Neill believes the campaign that has just finished is a very difficult one to judge.
"You're not judging this team. It's not like we started with this team that played the whole way through," he said.
"To be competitive in any qualifying campaign we will need consistency of selection. There's no getting away from that.
"We don't have the depth to our squad. If we lose a player at a certain level then we can't bring a player in who plays his football at the same level, we don't have it.
"When we came into this campaign, we felt we were going to have a different team and we would have younger players around it that would really energise it and give us a lift when we needed it.
"Really, though, what we've ended up doing is playing a lot of those younger players more than we expected to have to play them, but they have been terrific."
They certainly were terrific in securing that 2-0 win over Denmark. Northern Ireland fans will be hoping that is what offers a glimpse into the future, and not a lot of what the team served up before.

This news item was provided by the BBC Sport - Football website - the original link is: https://www.bbc.co.uk/sport/football/67482295?at_medium=RSS&at_campaign=KARANGA