Pep Guardiola: Man City boss denies Roy Keane claim player talks are 'for show'
3 November 2023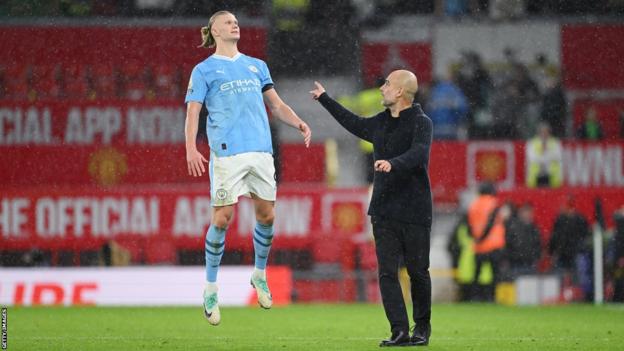 Pep Guardiola discussed a chance Erling Haaland had failed to score with the striker moments after their 3-0 derby win
Manchester City boss Pep Guardiola has dismissed Roy Keane's claim that his on-pitch conversations with players after games is "all for show".
Ex-United captain Keane, speaking on Sky Sports, said Guardiola should "get down the tunnel, enjoy your victory".
"I don't need at my age to do something for the people," Guardiola replied.
"I respect a lot Roy Keane. Sometimes I finish the game and go inside, sometimes I stay there. When I find a player we chat about the game. I know the camera is there.
"At that moment I was outside, wanted to [celebrate] with the fans.
"We chat about the second goal, the miss [when Andre Onana saved his header]. The header [could be] stronger to put the ball in the back of the net with more power. It happened with Erling in Burnley.
"I don't think after the game to go to the players to do some spectacle for the people.
"I could have done it inside, of course. I've done it many times in the locker room."
Former Borussia Dortmund striker Haaland, 23, has scored 13 goals in 15 games for City this season following last campaign's record-breaking 52-goal haul.
"He's so important for us, he feels really fit now," Guardiola said. "Sometimes he had niggles, he came from Dortmund. Now it's completely the opposite, he feels free.
"Today I saw him training with incredible energy. I don't think about March, April, May. We try to win games to be contenders for the competitions.
"We will see, if he goes down, he takes a rest. Now, he's feeling good. Having him on the pitch gives us confidence and is an incredible threat."





This news item was provided by the BBC Sport - Football website - the original link is: https://www.bbc.co.uk/sport/football/67314729?at_medium=RSS&at_campaign=KARANGA