Summerville, Maresca win October Championship awards
10 November 2023
Leeds United winger Crysencio Summerville has been named the Sky Bet Championship Player of the Month for October.  
He has registered five goals and three assists from five games, all delivered with blistering pace and thrilling dribbling ability. He has sparked Leeds' stellar month, typified by his run from the halfway line and shot to cap the 3-2 comeback win at Norwich.
Leeds manager Daniel Farke said: "I'm happy for Crysencio because he 100 per cent deserves it and for the player, it's a confidence boost. It's well deserved, not just because of his goals, assists and really good performances, but also because of the workload and the shift he's put in."
Summerville said: "I feel good, it's a boost for me and the team. I hope I can keep going now and let the people and team enjoy it, I want to help the team even more."
Leicester City manager Enzo Maresca has been named the Sky Bet Championship Manager of the Month for October.
A perfect month for a Leicester side that continues to adapt seamlessly to Maresca's methods. The positional interchangeability of his team was mesmerising at times as they amassed 18 points and 15 goals from their six games.
Maresca said: "It's great to be recognised with this award again - it shows we are moving in the right direction. As I said before, though, it's a joint effort - the players have really bought into what we are trying to achieve, and I have a great team of staff behind me.
"It's still early in the season - there's still a long way to go and much still to improve on, but if we continue in this way, I will be very happy."
Sky Bet League One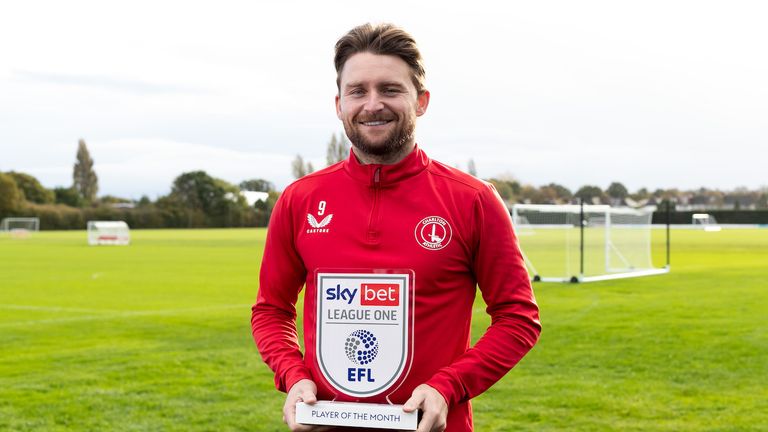 Player: Alfie May, Charlton Athletic
Charlton Athletic striker Alfie May has been named the Sky Bet League One Player of the Month for October.
Dropped into a new role behind Charlton's main striker by Michael Appleton, May's poaching ability to sniff out chances has been enhanced, while his lightning reflexes remain as sharp as ever, calmly slotting home seven goals in six games.
Charlton manager Michael Appleton said: "Alfie deserves the recognition after a month where he played really well and scored seven league goals. He has such a hunger for the game and has been a real pleasure to work with since I joined the club.
"He scored a lot of his goals last month playing in the number 10 role. It's a position we felt with his ability, work rate and football brain would suit him, and he has been excellent there - taking full advantage of the opportunities his teammates have been creating for him."
May said: "I'm delighted to win Player of the Month. It's an award that recognises your individual success as a player, but it also goes to your teammates because you can't succeed without them.
"Overall, in October, we did well, and I can share this one with the lads."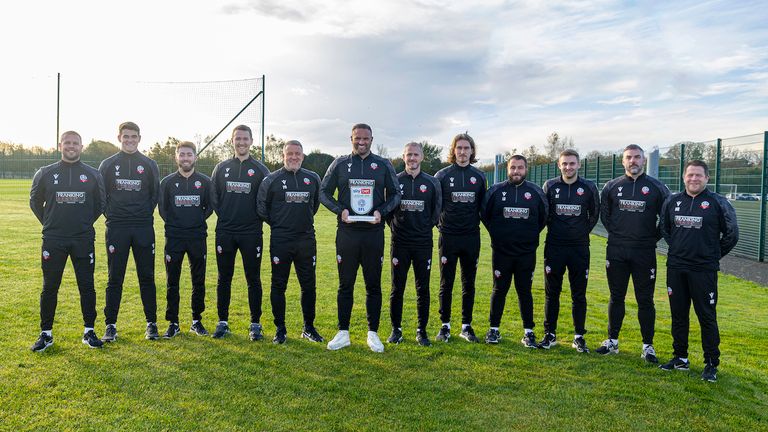 Manager: Ian Evatt, Bolton Wanderers
Bolton Wanderers manager Ian Evatt has been named the Sky Bet League One Manager of the Month for October.
Evatt's team discovered consistency in a month in which they won of their five games. Most impressive of all was the shared responsibility with eight different scorers accounting for their 11 goals as Wanderers moved into the top three.
Evatt said: "I'm honoured and proud to have won the award. October was a fantastic month for us. There was one little blip along the way, but I couldn't have asked any more of the players in the way they responded by coming back to win three games in eight days, including two tough away fixtures at Wycombe and Charlton.
"The run in October, which has thankfully continued up to now, has put us in a very good position but we know nothing has been achieved yet and we have to keep working hard and improving to build on our results so far. I know it's my name on the trophy, but the award is recognition of the work being done by everyone at Bolton Wanderers on and off the pitch."
"Consistency is always the key in a manager's eyes and the Bolton players have given that to Ian in October. Winning all five of their games and the added bonus of having eight different goal scorers will have given the manager a big smile on his face."
Sky Bet League Two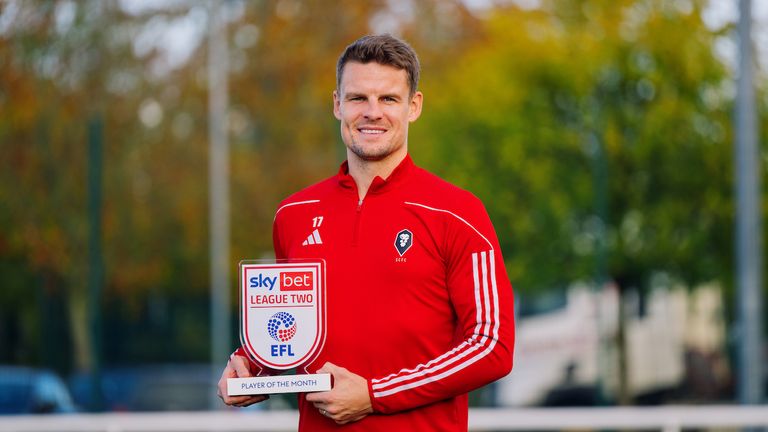 Player: Matt Smith, Salford City
Salford City striker Matt Smith has been named the Sky Bet League Two Player of the Month for October
Smith's aerial prowess, plus his ability to read crosses and position himself, brought him eight goals - five of them headers and a hat-trick at Doncaster - and two assists in six games. He was also a towering presence in defence at set pieces.
Salford manager Neil Wood said: "We are all really pleased for Smudge to win the Player of the Month after a brilliant haul in October. Like he has said, he can only take those chances when they're provided so it's something that the whole team can take pride in too."
Smith said: "I'm delighted to have picked up the award for October Player of the Month. I certainly couldn't have done it without my teammates, the award is more of a testament to the way we have all performed as a collective. We picked up some really good results during October and hopefully we can continue that into November."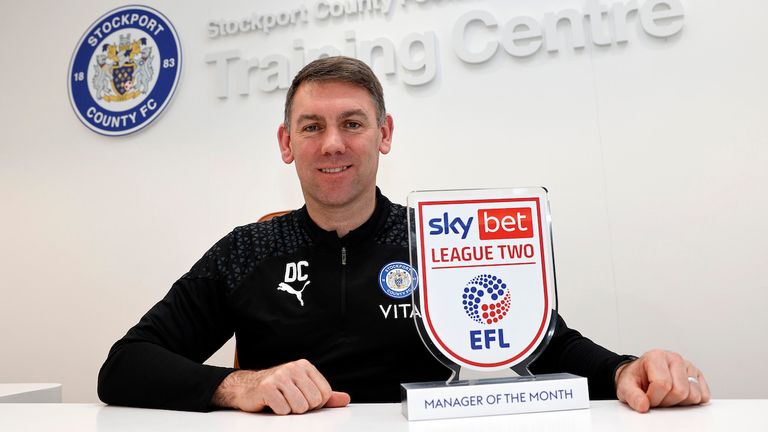 Manager: Dave Challinor, Stockport County
Stockport County manager Dave Challinor has been named the Sky Bet League Two Manager of the Month for October.
A winning run that began in September continued as County won all six of their fixtures in the month with a 13-3 goals differential. They even made light of losing striker Louie Barry to injury as Challinor's side took over leadership of League Two.
Challinor said: "To win the award back-to-back is a great achievement by everybody at the club, players and staff, and again reinforces that we're doing things well at the moment and we're getting the results to back that up.
"I still think the difference between our first six games and the last 10 games is minimal, but we've minimised the mistakes at the back and been ruthless and clinical at the other end. When you combine those two things, it's a pretty good recipe for winning football matches and that has to continue for us now, we have to ride this wave of momentum for as long as we possibly can."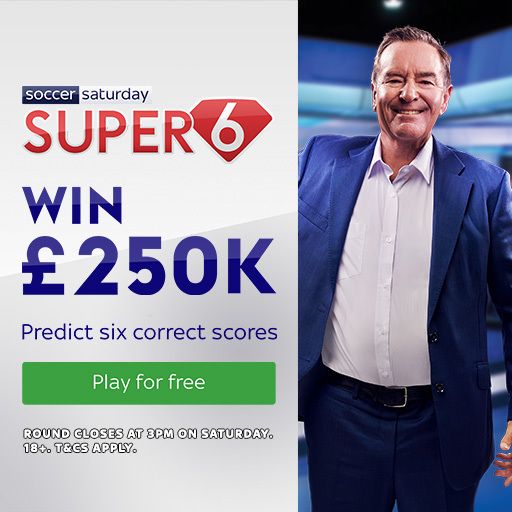 Win £250,000 for free on Saturday!
Do not miss your chance to land the £250,000 in Saturday's Super 6 round. Play for free, entries by 3pm.

This news item was provided by the SkySports | News website - the original link is: https://www.skysports.com/football/news/11688/13001850/leeds-crysencio-summerville-and-leicesters-enzo-maresca-win-sky-bet-championship-october-awards