Why are so many WSL teams undecided on their first-choice goalkeeper?
8 November 2023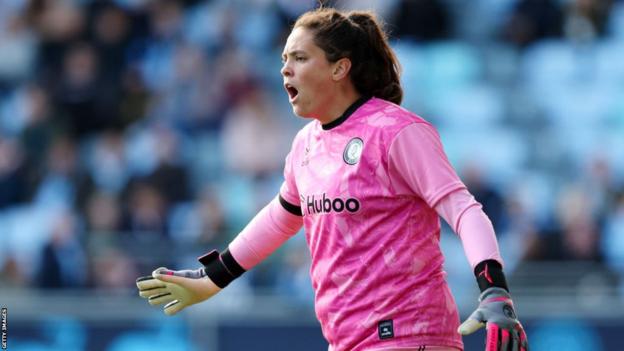 Bristol City have used three goalkeepers in five WSL games this season, including Kaylan Marckese
Who are the first-choice goalkeepers in the Women's Super League this season? Five games in, it is already apparent that at some clubs, the answer is not straightforward.
If you follow a men's team in the Premier League, you'll know that, more often than not, clubs stick with the same goalkeeper throughout the season.
In fact, 17 of the 20 Premier League teams have fielded the same keeper in at least 10 of their 11 matches so far.
But in the WSL, 18 goalkeepers have played after just five weeks of action and almost half of the league's 12 clubs appear undecided on their first choice.
Rotation? Injury issues? Consistency? BBC Sport takes a look at the reasons behind WSL managers' goalkeeper choices.
'Won't be her last mistake'
Manchester City are one of the seven teams who seem settled on their first-choice keeper this season, although that decision may have caused the most noise from fans.
Ellie Roebuck had been City's undisputed number one for the past five seasons, but has dropped down the pecking order with manager Gareth Taylor opting instead for Khiara Keating, who was on loan at Championship side Coventry United six months ago.
The 19-year-old's first four WSL starts this season, where she conceded just one goal, resulted in her first senior call-up to the Lionesses, but her fifth appearance on Sunday ended with a costly error.
After giving away and then saving a penalty in the first half, Keating was at fault for an 87th-minute Arsenal winner as she misjudged a clearance, allowing Stina Blackstenius through on goal to hand City their first defeat of the season.
"Keating will be OK. It's part and parcel of football. I've said to you guys [there might] be a moment when she'll make a mistake, and this won't be the last one," said Taylor after the game.
"It's unfortunate, but it's all good learning for her. That makes you as a player. She'll come through it and we'll support her in the right way."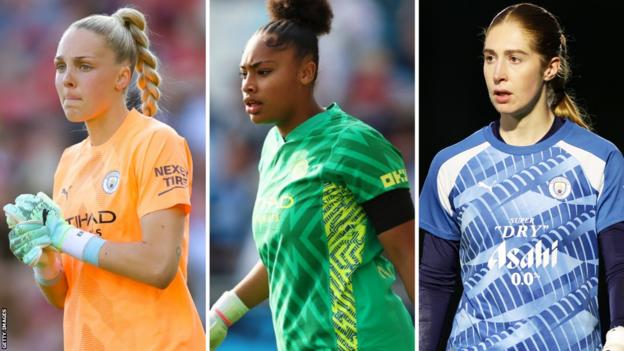 Roebuck (left) made 17 league appearances last season, while Keating (centre) and MacIver both made three
Roebuck has maintained her place in the England set-up for now, but she is yet to make a club appearance this season.
Sandy MacIver played in City's Continental Cup win over Everton and Roebuck was left out of the squad altogether for their 1-1 WSL draw with Chelsea and Sunday's defeat at Arsenal.
Like City, reigning champions Chelsea have also had a goalkeeping shake-up.
Ann-Katrin Berger, who started the majority of the Blues' WSL fixtures last season, made way for Zecira Musovic in the opening three games of the 2023-24 campaign.
However, we could see more of the Germany keeper after Emma Hayes reverted to Berger for their 4-2 victory against Brighton and Saturday's 6-0 win over Aston Villa.
Chelsea's goalkeeper conversation doesn't stop there. Third in line is Hannah Hampton, who joined Hayes' side in July after the expiry of her contract with Aston Villa - where she was the established number one.
Hampton has also kept her place in the England squad despite not yet appearing for Chelsea, but her arrival at Kingsmeadow did mean there was no room for Belgium keeper Nicky Evrard, signed in July and loaned to Brighton in September.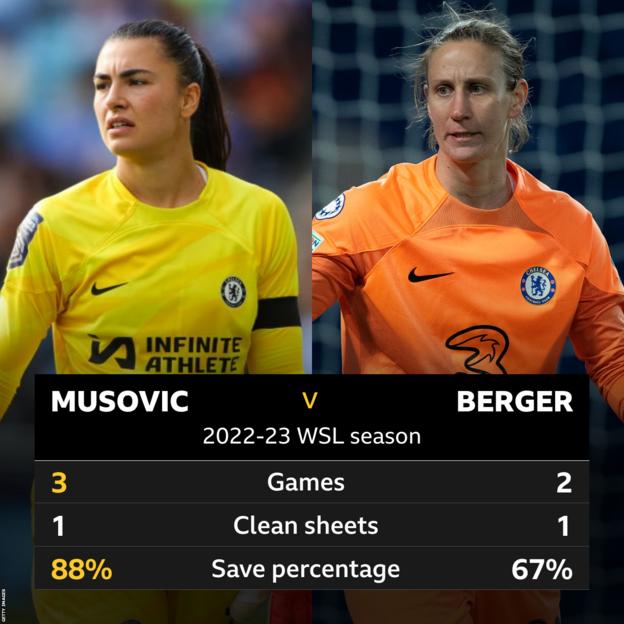 One team that have opted for consistency between the posts is Manchester United.
Mary Earps was this year fifth on the women's Ballon d'Or list, the highest-ever ranking for a goalkeeper.
The England international, 30, has played every minute of the 2023-24 WSL campaign so far, but United boss Marc Skinner says he understands why other managers rotate their keepers.
"They might have different skillsets to each other. When you prepare for teams, you prepare different systems and formations," Skinner said.
"Mary is quality in all of those areas and that's a great factor. We have a high-level goalkeeper that can build with the ball and stop opponents without. Not everyone has got that so I understand why they might rotate."
'No pattern' to keeper choice
Elsewhere, Brian Sorensen rotated between Courtney Brosnan and Emily Ramsey last season and the Everton manager has done so again so far this season.
"This year we decided to start with Emily because she did really well in pre-season so she had the first two games. Courtney is still an excellent keeper so she got the next two. It's not that there is a pattern on it or anything," Sorensen said.
"Both goalkeepers are good. It's more their skillsets in terms of what type of game we think it will be. Are we going to be on the ball a lot or is it more transitional? They are the things we take into consideration."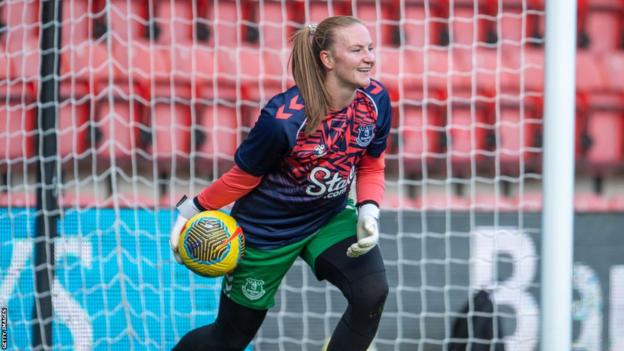 Brosnan (pictured) played 14 WSL games last season while Ramsey appeared in eight
Arsenal looked set to implement a rotation policy too this season when they switched between Manuela Zinsberger and Sabrina D'Angelo for the first two games.
However, D'Angelo has not appeared for the Gunners since her blunder, similar to that of Keating's, led to a Manchester United goal in their 2-2 draw on 6 October. Zinsberger has been Jonas Eidevall's number one ever since.
While some teams have had the luxury of deciding whether consistency or rotation is the better path, Bristol City have had injury problems to deal with.
The promoted side had to recall Olivia Clark from her loan with Watford after Fran Bentley picked up an injury in the first game of the season.
The Robins are the only side in the league to have used three goalkeepers so far this season, with Kaylan Marckese playing three games in Bentley's absence, while Clark filled in during their 2-1 defeat by Arsenal.
Goalkeeper

Games

Clean sheets

Goals conceded

Saves

Save percentage

Khiara Keating (Man City)

5

3

3

15

83%

Rachael Laws (Liverpool)

5

2

3

9

75%

Janina Leitzig (Leicester)

5

1

6

24

80%

Mary Earps (Man Utd)

5

1

6

14

70%

Mackenzie Arnold (West Ham)

5

1

8

20

70%

Daphne van Domselaar (Aston Villa)

5

0

16

22

58%

Rebecca Spencer (Tottenham)

5

0

7

17

71%

Manuela Zinsberger (Arsenal)

4

0

4

5

56%

Sophie Baggaley (Brighton)

4

0

9

20

69%

Zecira Musovic (Chelsea)

3

1

2

15

88%

Courtney Brosnan (Everton)

3

1

6

19

76%

Kaylan Marckese (Bristol City)

3

0

10

12

55%

Ann-Katrin Berger (Chelsea)

2

1

2

4

67%

Emily Ramsey (Everton)

2

0

3

4

57%

Nicky Evrard (Brighton)

1

0

3

2

40%

Sabrina D'Angelo (Arsenal)

1

0

2

2

50%

Olivia Clark (Bristol City)

1

0

2

6

75%

Fran Bentley (Bristol City)

1

0

4

4

50%

This news item was provided by the BBC Sport - Football website - the original link is: https://www.bbc.co.uk/sport/football/67230094?at_medium=RSS&at_campaign=KARANGA