Women's Super League: Jonas Eidevall says players who 'struggle' with pay is 'big problem'
17 November 2023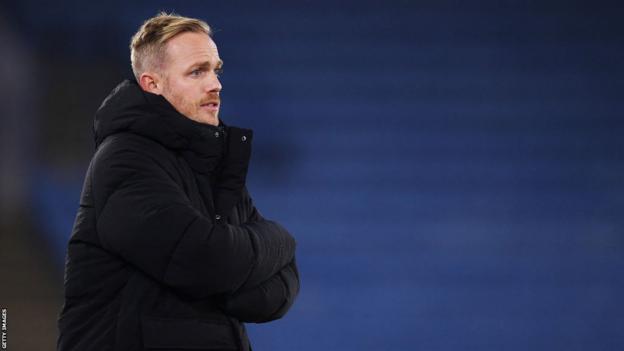 Jonas Eidevall does not think equal pay "at the very top of the game" is where it needs to be addressed
Arsenal boss Jonas Eidevall says Women's Super League players who "struggle" financially should be prioritised before equal pay at the top of the game is addressed.
However, some WSL players reportedly earn as little as £20,000 a year.
"I think we're making a mistake if we're only looking at the top of the game," said Eidevall.
Chelsea boss Hayes' contract as manager of the United States will see her become the world's highest-paid female manager when she takes up the role next summer.
England men's manager Gareth Southgate said equal pay was "important" but pointed out the complexities of the topic, adding: "The criteria depends on what the income is of the team".
The WSL has only been professional since the 2018-19 season. The Championship, England's second tier, is semi-professional.
BBC analysis in 2022 found the average salary of a WSL player to be £47,000 per year, but some salaries can be considerably lower.
In the same year the Telegraph reported that some players were making as little as £20,000 a year.
"I still think we have a situation - and the PFA [Professional Footballers' Association] has done a really good job highlighting that - of what the reality is for players in the WSL," Eidevall said.
"We still know there are a lot of players - not at Arsenal but in the league - who still struggle to get their whole life around playing professional football in the WSL.
"That for me is of course a big problem when we're trying to build the league and to do that."
The FA recently doubled the Women's FA Cup prize fund in a move closer to parity with the men's tournament.
Eidevall added: "We had the discussion about the FA Cup the other week and saying 'we increased prize money, the gap is still very big over here'. It's good there was an increase, but is it good enough?
"Where does the FA want that competition to go in the future? Do they see that can be an equal distribution, for example about prize money? They want to put that prize on equality in football as a driving force, or do they just say that what money we bring in is what we're going to distribute and 'let the market decide'.
"It's not an easy question and it's not an easy answer for it but I think we're making a mistake if we're only looking at the top of the game, I think there are lots of things to do at other parts of the game as well."

This news item was provided by the BBC Sport - Football website - the original link is: https://www.bbc.co.uk/sport/football/67438556?at_medium=RSS&at_campaign=KARANGA