Euro 2022: Inside England's camp before Wembley final
28 July 2022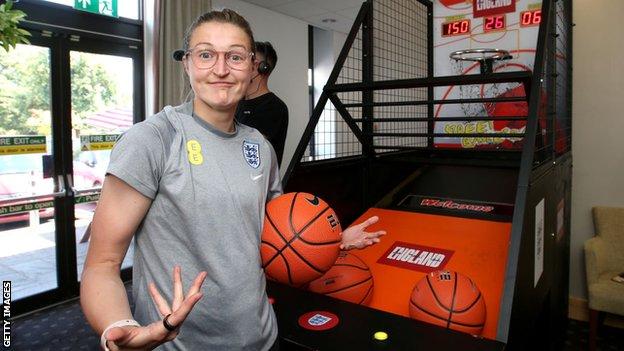 Ellen White is said to be one of the squad's best basketball players
The Lionesses may be preparing for the biggest match in their history - but they have also been keeping themselves busy behind the scenes.
England take on Germany in the Euro 2022 final on Sunday, hoping to win their first major tournament at a sold-out Wembley Stadium.
They have a base camp at the Lensbury Resort in Teddington, south-west London, where they eat, sleep, rest and train.
Darts, table tennis, basketball and cards are played regularly, while TikTok videos, changing room dance routines and bus karaoke singalongs are all part of the Lionesses' days off.
And some of the players have also revealed their enjoyment of more solitary - and somewhat unexpected - pastimes.
"It's pretty random but I love building Lego," says Manchester City midfielder Lauren Hemp. "I do it for a few hours a day. It's so relaxing."
"I randomly brought a typewriter Lego set and got it sent to the hotel. When you tap the keys and stuff it moves. It's like a real one!"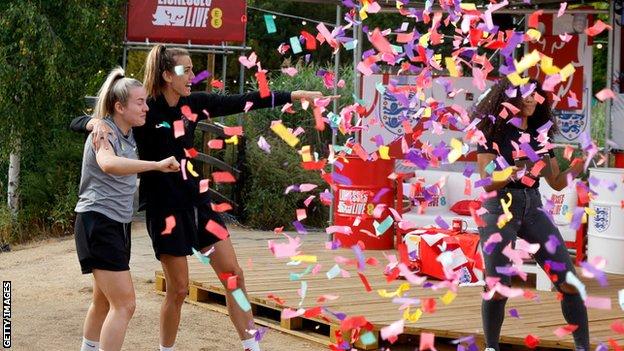 Lauren Hemp was the leader in the bean bag bucket challenge before Beth England set a new record this week
Hemp, who appears to be a jack of all trades, has also built a reputation as an impressive darts player.
"Hempo flies away with the win every time!" said club team-mate Chloe Kelly. "We've been playing 'around the world' and she'll be finished while I'm still on 12. I have some work to do..."
Kelly and Hemp have both taken on members of the media in a basketball challenge, along with their fellow City team-mate Ellen White - and it was the Lionesses' record goal scorer White who was comfortably the best.
Far from just a bit of fun, Fran Kirby later revealed that White had actually been practising for the occasion.
Volleyball games have also featured in camp, with Lucy Bronze particularly competitive, but it is Chelsea's Bethany England who seems to strike fear in her team-mates.
"She is good. She's an all-rounder," said Rachel Daly, although the defender was still dwelling on what she saw as questionable officiating.
"The red team cheated!" she said. "I was in the green team, it was 2-2 then the whistle blew and we needed a winner.
"I think Lotte Wubben-Moy threw it but you can't do it inside the red zone so it shouldn't have stood."
One of the less predictable team activities was the England staff's version of hide and seek, which saw staff members dress up as... foxes.
"They didn't really look like foxes," said midfielder Jill Scott.
Hemp added: "They looked like clowns. We walked around in pairs and you had to find a fox. They would give you a fact and you had to say whether it was true or false.
"If you got it wrong you would do a challenge - like a TikTok video."
Many of the players are well versed in that social media platform, although the trio of Daly, defender Millie Bright and goalkeeper Mary Earps are particularly fond of making videos.
"Millie is quite good," said Daly. "She's the best choreographer ever. She has to break it down for me step by step."
So who is the best?
"We don't like to boast... We're low-key," Bright hinted.
Away from competition, the players have been sent messages of support from friends and family, with Scott's mum posting a poem on social media.
Scott also likes to write and enjoyed one of the tasks set by staff where they had to write a note to a team-mate about what they have done well during the tournament.
Wubben-Moy, meanwhile, has kept a doodle diary throughout the tournament.
Meanwhile, Aston Villa goalkeeper Hannah Hampton has enjoyed taking walks in the local area, while several players have taken boat trips along the River Thames.
"They don't want us stuck inside because we are away for a maximum of 10 weeks," said Hampton.
"It's been nice, we've been having little walks around to coffee shops, which has been really refreshing."
Scott and defender Demi Stokes have had a few day trips with youngster Hemp, who describes them as her "second mums".
"We were out on the bikes earlier and we went around one of the parks. They look after me to be fair," said Hemp.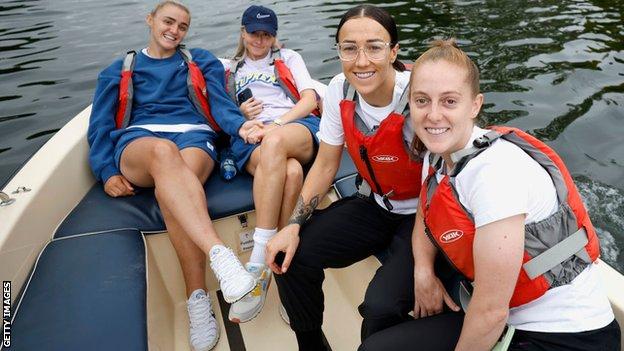 Georgia Stanway, Leah Williamson, Lucy Bronze and Keira Walsh on a boat trip along the River Thames
But it is not always relaxing - the players also love to party.
Captain Leah Williamson is the resident DJ, playing songs on the coach journey back from games, while defender Daly "gave a performance" in the changing room after the 8-0 win against Norway in the group stages.
"It was that good I can't remember what the song was! [Daly] went all out," said Manchester United striker Alessia Russo.
"We had the speaker on the whole way home and Leah was playing some good songs. My request was 'Listen' by Beyonce.
"[Leah] has some really good throwback songs and we love a singalong. She'll throw one on and everyone is like 'ah, we haven't heard this in years!'"
ABBA songs have been dressing room regulars - "Tooney's (Ella Toone) request," says Kelly.
After the semi-final win over Sweden, Williamson said: "A couple of songs were hinting at the fact we are heading to Wembley - which is the final destination, the one we always wanted to get to."

This news item was provided by the BBC Sport - Football website - the original link is: https://www.bbc.co.uk/sport/football/62148845?at_medium=RSS&at_campaign=KARANGA