Jack Clarke: The fresh-faced 'veteran' leading Sunderland's charge
23 October 2023
It is easy to forget that Jack Clarke is still so young, considering it feels like he has been around forever.
"I think at any other club I'd still be one of the youngsters! I'm only 22, but in this dressing room I'm almost a veteran," the Sunderland winger jokes, as he chats with Sky Sports after winning the Sky Bet Championship Player of the Month award for September.
"I don't see it as a burden, and there are experienced players here. But I've had enough games at this level now to know what this league demands, and I take it upon myself to pass that on to some of the younger lads who haven't been here quite as much. Every little can help."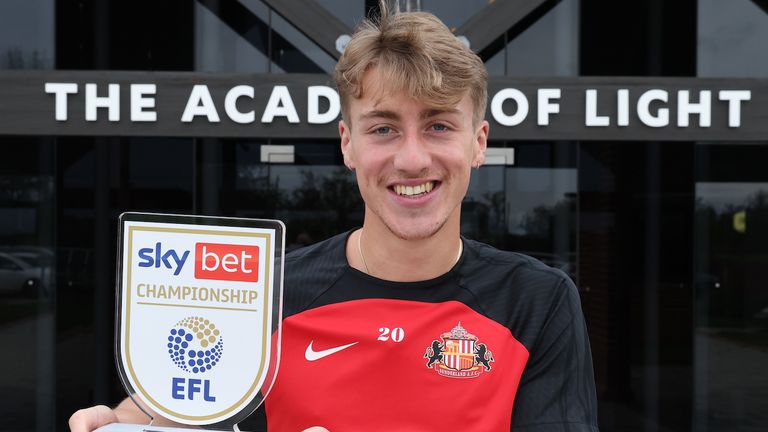 His youthful exuberance belies a player who originally broke through back in 2018, as a fresh-faced 17-year-old in Marcelo Bielsa's Leeds United side.
The years that followed saw his progression stunted, though. Tottenham under Jose Mourinho always looked a long shot for a raw teenager, while a loan back to Leeds and then switches to QPR and Stoke also saw him labour a little.
Then, a move to the Stadium of Light, initially on loan at the start of last year, has finally seen him find a home and start to realise his potential.
Tuesday 24th October 7:30pm
Kick off 8:00pm
Initially helping them win promotion under Alex Neil back from League One, Clarke has really come to the fore under Tony Mowbray.
He is now more than just one of the most exciting youngsters in the Championship, he is one of the best players in the league.
"I love playing for the gaffer," says Clarke. "He's been brilliant with me and all the other boys. For a young attacking player he gives you the freedom to express yourself, and that's all I want to do.
"I think he identified what our strengths are as a squad. We worked a lot on what we are good at and what will help in certain games. Getting the ball in the right areas, doing the right things at the right time.
"I'm going out there every week and trying my best. Sometimes things come off, and sometimes they don't. To experiment, and enjoy playing football. He gives you that platform."
Clarke takes in every game he can, and is always eager to watch some of the top performers in the Premier League who excel in his left-sided role.
"I love watching Jack Grealish, Heung-min Son and some of the other big names in my position," he says.
"I like to see their strengths and if you can identify what they do in your own game. Then, if you can't do it as well as them, ask yourself why. Then you go out and practice and work on it until you can. That is how I try to improve, and it can only make you a better player."
Clarke is currently the top scorer in the Championship with eight already this season. He only needs two more to surpass last season's league total.
Penalties have helped, with three of his tally coming from the spot. It is another facet to his game that has shown how capable he is of stepping up to the plate.
"I never really had my eye on penalties, but we made a rule at the start of the season that whoever wins it can take it," he says.
"I won the first one against Preston, and scored. Then I did the same against Blackburn. I've not missed one yet, so the gaffer says I can keep taking them.
"I always stay out after training to practice, and the day before a game I try and replicate what it would be like to take one. But there's a long queue of people doing the same hoping to take them off me!"
One who might have half an eye on them is one of his young team-mates. There are so many exciting performers at Sunderland learning their trade at a tender age, but a player who is really standing out in terms of reputation and performance is Jobe Bellingham.
Just 18, he has everything it takes to reach the top and has shown moments of real potential, starting every single one of Sunderland's games so far.
"He's been so good since he arrived," says Clarke. "He's got so much quality and so many strings to his bow.
"He just needs to finely tune and grow into the player he can be. We've seen glimpses of it, and on his day he's a joy to watch and a joy to play with."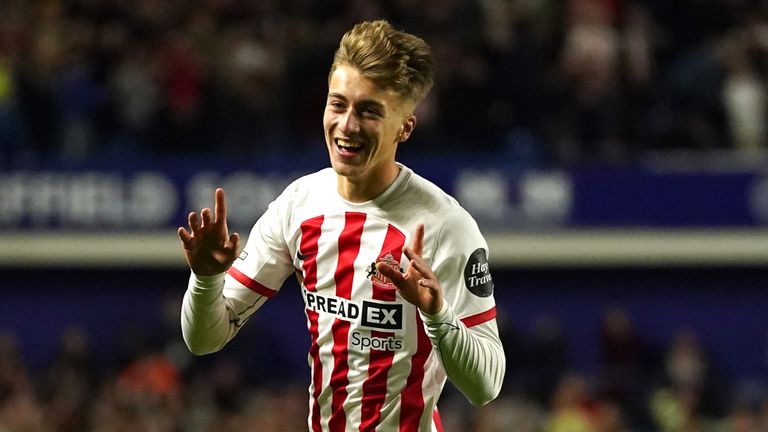 Bellingham is also one of the youngsters in the squad who arrived in the summer in the hope of helping them get over the heartache of losing in the play-offs last season - beaten by a Luton side that went on to reach Wembley and achieve promotion to the Premier League.
Despite the disappointment it was a season of real achievement for Sunderland, as they became the first newly-promoted side to finish in the Championship top six for eight years.
Clarke hopes they can use it as a platform to go one better this year.
"There were moments we can reflect upon and be proud of," he says. "But after we'd lost there was a lot of disappointment, and you've got to pick through that and see how well we've done.
"When you get that close you only think of what could have been, rather than what you've achieved.
"It took a while to get over that. But I don't like to think about too much because you can't change it. You can just try and put things right the next season, and try to get over the line.
"I've lost twice now in the play-off semi-finals, and you can only try and use that experience to your advantage, or it will eat away at you. It can be our stepping stone to be an even better team in this league this season.
"Hopefully we can get into the play-offs or higher and go one better this year, and finish on a real high."
Clarke never got onto the pitch to play in the Premier League during his years at Spurs, but one way or another he will be back there soon. For now Sunderland fans can continue to dream that it will be with them.

This news item was provided by the SkySports | News website - the original link is: https://www.skysports.com/football/news/11688/12990984/jack-clarke-interview-the-fresh-faced-veteran-leading-sunderlands-charge